---
Postbag 2018
---
| | | | | | | | | | | | | |
| --- | --- | --- | --- | --- | --- | --- | --- | --- | --- | --- | --- | --- |
| | | | | | | | | | | | | |
28 Mar 2018 - Walthamstow Pumphouse Museum
Hi Daniel, how is sunny Spain?
You may not be aware that Waltham Forest won the London Borough of Culture Award 2019. This included loans of money to spend or waste as the case may be. We are currently at the museum working with the council yes? on plans to redevelop the museum in 2020. No announcement yet but watch this space.

We are however planning to celebrate 50 years of the Victoria Line at the museum in September. The date will be the 1st and 2nd of September 50 years to the day that it happened. You may recall that it opened from Walthamstow Central to Highbury and Islington without a celebration? The interesting thing that also happened then was the introduction of the one-man buses and the automatd ticket machines.on the line.

We now have at the E17 Walthamstow Pumphouse Museum three Victoria Line Underground cars. A completely refurbished car 3186 and two sections 3016 and 3049. The latter we are now currently working on to restore them to their 1967 original condition hanging straps and all. We could do with some help and funds to do this so if you can put the word out on your web pages it would be great.

Can you also request if any of your members can send me some pictures of the above, please. I look forward to your reply
Kind Regards

27 Mar 2018 - Local History
Dear Daniel,

My name is Neil Pearce, I am a retired London Fireman and an out of trades member of the FBU. I am also the Chairman of the East London Branch of the Western Front Association (WW1 interest group).
I am writing to invite you ALL to the unveiling of a Memorial to 3 FIREGUARDS who were tragically killed in Beacontree Avenue during World War 2. Here is a little bit of history on the tragic event.

During WW2 the Government passed an act stating that due to the "Blitz" all areas of London should form Fire protection parties. These were known as Fire Street parties, Fire Watches & Fire Guards.
On the 19th of April 1941 William Howard of 9 Carnanton Road E17, along with his colleagues, handed over their shift to Sidney John Lee age 50 of 31 Beacontree Avenue, Edward Manning age 57 of 32 Beacontree Avenue & William Arthur Shadbolt age 34 of 30 Beacontree Avenue.
At 10.45pm a German parachute mine exploded killing all three men and Injuring 22 others.

Two years ago I was approached by a neighbour, (Mr William Howard, junior, aged 93) to see if some sort of memorial could be placed to remember their sacrifice. His father was part of the team of "FireGuards" patrolling our area during the Second World War.
For the last 2 years I have been trying to make this wish possible and recently, with the kind assistance of Chris Robbins,leader of Waltham Forest council at the time, I have finally been granted permission to erect a memorial.
On the 19th of April 2018, 77 years to the day, we plan to unveil the memorial. William Shadbolt's Daughter, who was born 5 months after this terrible tragedy, has agreed to perform the unveiling of the memorial.
The ceremony will take place on the site where these 3 men lost their lives, which is at the junction of Beacontree Avenue and Belle Vue Road, Walthamstow London E17 4BT.
There will be a Living History display of WW2 civil defence along with a Fire Engine from the period and WW2 Bomb disposal vehicle, ambulance and display. Local schoolchildren will also be attending.
The event will commence on Thursday 19th April at 11:30am with the time of the unveiling of the Memorial at approximately 1pm.
I sincerely hope that you will be able to attend, as we would like to make this a memorable community event.

Yours Sincerely

---
From Daniel: I really hope that many of our visitors/followers shall attend!
(Other emails to be added soon...)
(Other emails to be added soon...)
24 Jan 2018 - Walthamstow At War
Daniel - would it be possible for you to put up a request for information on your website (it is quite a lot, so get back to me if there is a problem).
I am the Librarian at Walthamstow School for Girls and I am currently researching World War I.
I have traced some families through our old school magazines and would like to know if anyone has any further information about the families.
Some of our ex-pupils at the time were boys and we have some information about their military service. The people I have discovered are:

Thomas Croft (father of Andree and Thomas -killed in the war), Charles Hodson, William Houghton (m. Muriel Rendle), Arthur Lindsey (m. Winnie Wildash), Roy Lucas (m. Margie Whittingham), Ernest Marchant (m. Elsie Cotching), Burton Pritchard (sisters, Christine and Ella), and Barry Simeon.

Chappell Family - Herbert John (Jack) Chappell (m. Beatrice Delforce). & John Chappell (m. Cora Bayne)
Reeve Family- G. Montier Reeve, Clara or Clare (Mrs D. Cunningham), Kathleen, F (Mrs J.R. Day), Louise H (Mrs Geoffrey H. Day), Mary (Mrs Walter Reynolds)
Shurmur Family - Frank Shurmur (m. Winnie Cross), Stanley Shurmur (there is a memorial to another Shurmur in St Marys Church), Dora (Mrs C. Cross (Stanley Lloyd))
Whittingham Family - Beatrice, Carrie (Mrs F Lucas), Evelyn, Hilda, Margie (Roy Herbert C Lucas), Muriel.

Other families also affected by the war were; Kate Day (Mrs L Reeve (later Mrs R. Lewis)), Louisa Giesen, H.B. Harding, Miss Kingsford (Teacher)

Foxon Family - Eric, Daisy, Emily, Minnie, Jessie (Mrs J. Arnold-Jones) , Ethel (a.k.a Girlie (Mrs J.C.Gie)), W.H. (marr. Kathleen Perry),
Griggs Family - C.H. (Charles, marr. Bessie Howlett), Frank, Kathleen (Mrs Donald Farrar, (N.G. Picken)), Margaret, Hilda (F.J. Parker),
Hayes Family - Kathleen (Mrs Hugo Munzinger), Dorothy Ward (Mrs Hayes), Marjorie.
Wise Family - Alice (Mrs Ogden), Enid, Marjorie

Thank you,
Hi Daniel / David
I started school at Mission Grove in 1955 and went through both infants and Juniors. In 1961 went in the William Morris in Gainsford Road.
The headmistress at Mission Grove Infants was the wonderful Miss Philpot. As David mentioned Ms. Wakefield and Mr Potter Ms Witherwick were still there during my time. I recall Ms. Cliss actually passed away whilst in her classroom around that time.
Add to the teachers Ms. Pat Gurr and Ms Tuckwell, - both had a strong influence on my early life.
David - I am the Librarian at Walthamstow School for Girls and did you know that your family printed our school magazines? Here is a scan of the back of the magazine dated Spring 1946, which is the first time the magazine was printed by your company and continued until 1971.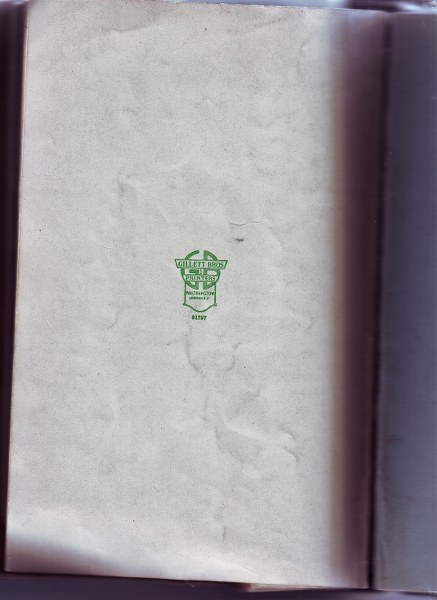 Do you know whether any of your family attended Walthamstow School for Girls?
Please feel free to contact me with any further information,
Kind Regards,
19 Jan 2018 - Personal Memories
I have been researching my family history, and noticed a Persornal memory posted on this site relating to 35/37 Hazelwood Road, written by Marjorie Pryor (nee) Collins that relates to my grandmother. My grandmother was the lady in the story that went back into the house during a lull in the air raid, sadly the house was bombed and she lost her life. My mother was 5 and just started school, she was collect by someone from school, she doesn't know who.My aunt and uncle were 4 and 2 and were in the shelter in the garden. My grandad was in the ARP on patrol at the time. A poignant story. I have tried to contact the author by email but as yet no response, obviously I appreciate that she may have passed away as the post was 2010.
19 Jan 2018 - Local History
I was born at Thorpe Coombe Hospital in 1954, and lived as far as I know in Leytonstone. at 101 Capworth Street, it was very near the Bakers Arms Pub. There was a woodyard next to it. I know the house has now been demolished but am trying to find a photograph of the house without any success so far. Any ideas would be greatly appreciated.
17 January 2018 - SITE NEWS
Dear Friends, Followers & occasional Visitors,

I wish you all a 2018 full of the things you love most.
On my side, I have a new computer: an important ingredient to keep the WM site going! Now what I need is a little bit of time, to catch up with all the updates that arre long due. With little Vicky (my granddaughter) going to school, I just might to manage some spare time I can use to this purpose.
As always, any comments and suggestions from you are most welcome but don't forget to share your memories and pictures!
Enjoy browsing your site & kindest regards

15 Jan 2018 - Family Search: May Gardiner
I used to holiday in Walthamstow with my mother's half sister, or Aunt as we called her, May Gardiner. Her husband was Tommy Gardiner who worked in the post office. May was a cook in a local school. She passed away in 1998 and was buried in Frinton on Sea where her daughter Valerie lived. I would love to know if anyone has any memories of her. My mother rarely spoke of her due to some long family argument but I used to travel up from North Wales a few times a year to see her. I believed she did a lot of voluntary work locally. I can supply a picture if it jogs anyone's memory. My brother now lives in Hatherly road and I still visit occasionally to keep my memories alive.
13 Jan 2018 - General: Bulk Storage
HI

Does anyone remember a company called Bulk Storage in the eighties?
9 Jan 2018 - Local History: Glass dump
HI

I was born in Walthamstow in St Johns Road, I would like to know what previously stood on the site of the old glass dump, it was just past the co-op which was on the left hand side. I can remember Wood Street very well as I went to Joseph Barret School (warwick). I'd be pleased if someone could let me know. My phone number is 01508 ***** (Privacy: email Daniel for phone no.).
8 Jan 2018 - Local Bands: Dante's Inferno
The drummer with Dante's Inferno was Eddie Bailey (21.2.46 to 25.5 12) and the guitarist on his left is Colin Deavin.
7 Jan 2018 - Local History: Glass dump
hi

Can anybody tell me what used to be before it became the old glass dump in Wood Street, it was on the left hand side just past the co-op I can remember it as a lad as I went to the Joseph Barret school.
3 Jan 2018 - Schooldays: McGuffie
I remember Mr Bull he taught maths and also tennis at Lloyd Park. Mrs Venn taught biology and she also lived next door to my Grandma in Kenilworth Avenue.
I can remember going to McGuffie and having to have my first term in Forest Road Infants school as two of rooms were unsafe owing to bThe drummer with Dante's Inferno was Eddie Bailey (21.2.46 to 25.5 12) and the guitarist on his left is Sean Deavin.omb damage.
I know I had a Mr Richards for a term and ended my school life with Miss Thripp. My name is Brenda Bonsor (née Fleming) I am 81 and live in Bournemouth Dorset. I attended McGuffie in 1947 to Christmas 1951.
Hope you get more feedback!
2 Jan 2018 - Schooldays: Chapel End
Hello there,

I am unable to get my email to function through your link. I would like to send greetings to a fellow schoolmate at Chapel End. He is Gerald (Gerry) Creasey who has uploaded some photos of the school classes of about my era. Can you help please. I was born in a Nursing Home at 19 Carisbrook Road, Walthamstow on 2/8/1935. I would like also to add myself to the list of former pupils as I was there from 1946 to 1949. I still remember most of the teachers, but some are not on your list of teachers for that period. No mention of the nasty former Head, Mr Hind, a grand master of the Stick as too were Mssrs Pettifer and Dixon. My hands are still suffering to this day. I do hope that Gerry is still around.
Best wishes,
---