The site stores people's memories but also acts as a bulletin-board service listing the numerous emails we receive - seeking help with everything from family research to "Do your remember... ?"
We list received emails with an email link to the sender. We will try to answer any queries, if we can, but in most instances we simply do not know the answers to the questions we receive - but... you never know who might!
Scroll down for more info on how this website works and what it contains.
Yes, all human existence is here - provided its roots lie in Walthamstow - lost but not forgotten!
18 December 2014 - From Daniel:

Dear Friends & Visitors,

I have ("At last!!" - you may say..) updated the 2014 Postbag, at least with emails up to the 30th of November. In the next few days I'll be able to complete the update, to include the December ones too.
Only a few days to Christmas, so accept my hearty good wishes: I hope you will be with your loved ones and share the magic of this special period.
Enjoy browsing your site & kindest regards
Daniel

7 November 2014 - From Daniel:

Dear Friends & Visitors,

Back home in Florence, after a most enjoyable (too short!) stay in UK. I was a few days in Somerset, then in London, where I visited the "Tower Poppies": a most impresive display of 888,246 poppies, one for each British life lost in WWI! Below I have merged 3 snaps in one to give a "panoramic view":
I have also, of course, visited briefly Walthamstow, where I met with our friend and contributor Dave Hughes and paid a due visit to my grandparents in Queen's Cemetry
Bill Bayliss has sent in another article: "Sun Trap on High Beach", posted in our "History Articles" Section
One last bit of good news: the Universal Church of the Kingdom of God has finally sold the EMD Cinema! Full details on the McGuffin website [here].
Enjoy browsing your site & kindest regards
Daniel

---
For old "What's New" messages [Click Here]

---
Read the emails for the current year in Postbag 2014
---
If, when you access this site, you find that the 'date updated' is rather old, try first 'refreshing' the page on your browser (browsers do tend to copy and save pages locally...) - pressing the F5 key usually does it...!
7 Nov 2014 - Help Needed for Combat Stress
Dear Daniel,
My father served with The Royal Dorsets in the North African Campaign against General Rommel. He was then replaced by the 8th Army led by Montgomery who shelled Rommel's army to pieces with 1,000 guns. My father then crossed the Med which he found easy going once he got to Italy, through Austria and finally into Germany. He finally told me that "we gave then hell", but also serving frontline all the way as a dispatch rider, and seeing all that he had seen and been through, I have no doubt that his mind had been affected.
As a small boy I remember that sometimes, he would put his head between his knees, hold both of his ears and sob, as though he was reliving the bombing and the shelling and the gunfire of the Nazis. It is now I believe, that my father was suffering from combat stress, I think probably many more did also.
Today, there are still many discharged soldiers from middle eastern war that have broken up their families, others sleeping out on the streets and many more who are incapable of living an ordinary life due to combat stress. My wife Andrea and I are planning ways to raise money for the organisation which is patronised by Prince Charles. If anyone would like to donate or help contact the charity Combat Stress; The Veterans Mental Health Charity as they still need a great deal of help http://www.combatstress.org.uk/
We have seen heroes riding about in wheelchairs and brave men so they are, but we see nothing of the psychologically damaged heroes who deserve applause also. As Remembrance Sunday approaches, I would like to thank you for your attention "lest we forget".
Regards
1 October 2014 - A new book: A Toynbee to Remember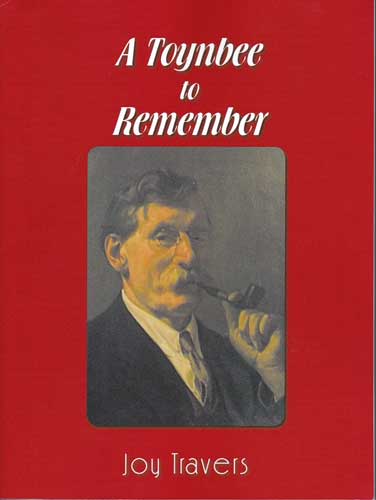 About the Author:
Joy Travers, born in 1926 in Walthamstow, was brought up by her Toynbee grandparents. Evacuated in 1939-1943 and returning with the school to London, she left with Higher School Certificate. In 1959 she married Michael Travers whose rare book collection she donated to Sussex University after his death in 1977. The Collection can be accessed on Internet.
BLUEINK Review:
A Toynbee to Remember offers unique insight into the First World War ... through the correspondence of working class East Londoners William and Lizzie Toynbee and their son Stan, a military clerk stationed in Egypt far away from the bloody trenches of combat. The correspondence begins when Stan volunteers for enlistment, but due to his physical ailments he never sees a battlefield. Meanwhile Will and Lizzie endure life in London, suffering everything from food shortages and illnesses to Zeppelin raids on civilians. The Toynbee household also experienced its own discord ... Will's hectic travelling schedule throughout the war (including Union organizer) speaker for the Voluntary Enlistment and War Savings Campaigns ... Lizzie's anxiety at her husband and son's illnesses, wartime chaos and raising her two daughters. ... Travers has a knack for historical prose ... since her writing effectively transforms ... family history into a lively narration of life during wartime ... the 500 Toynbee letters on which the book is based serve as an exceptional primary source to a conflict that has been culturally dwarfed by World War II.
KURKUS Review:
A Scholarly real-life portrait of an East London working-class family, during and after World War I. ..... Travers very ably places everything in a broader historical context that touches on the still-contemporary problem of equitable distribution of wealth. This elevates her work above mere memoir and achieves her goal of adding incrementally to the body of British working-class history. William began as a compositor ... but later co-founded a newspaper and eventually rose to elite status in Labour ranks ..... He and Elizabeth were also local organisers of the Brotherhood, a nontraditional church movement ..... During the war Will worked as a paid government orator all over Britain to drum up voluntary enlistment and, later, to promote what was called war savings ..... Happily Travers had the prescience to make copies of the lengthy correspondence ..... The originals, it seems, were burned by order of a new principal at Ruskin College, to which Travers had donated them.
CLARION Review:
Scholarly and precise exposition lets illuminating family letters take center stage. ... The book is organised by themes within the letters; voluntary enlistment, the politics of war, and the war's impact on the home. This approach is more effective at deriving meaning from the letters than a chronological approach would be. ... It is true Travers is a historian at heart – the book is full of well-researched information that connects the Toynbees' lives to the broarder world of their time. As such, her work will appeal most to others passionate about history or to those who trace their roots to working class England of the 1900s.
Short Extract (Zeppelins over Walthamstow):
"So Tuesday night was a night of terror for Walthamstow. On Wednesday night the Zeps [Zeppelin airships—ed.] came— again across Walthamstow—nearer to the City... This war on women and children continues... the effect on the people at home is very trying. You see, now you are away, there is not a male person in the house and everything is left to Ma, Eva, Dot or Marjorie. At times like these I should prefer someone to be there to whom Ma could look up for strength—you know, something a bit masculine and reassuring. You can understand how scared the whole place has been when I tell you that people will not go out at night or to bed before morning. The King's Hall [a music hall—ed.] in Hoe Street abandoned its second shoeing on some nights. That will indicate the intensity of the sensation produced."
---
"A Toynbee to remember" is available through Amazon.co.uk
25 Sep 2014 - Local History: Winston Churchill
Dear Daniel,

I hope you are well. John Knowles suggested that I email you.
I understand that you are involved with the Walthamstow Memories project.
We (Oxford Film and Television) are currently working on a documentary about Winston Churchill for BBC 2 to air next year. We are looking for people who might have a memory of the following event in 1945:
On 3rd July a vast crowd of 30,000 turned out to see Churchill speak in the dog-racing stadium in Walthamstow. Many of the crowd were undoubtedly East-Enders and had felt the full brunt of the Lutwaffe. They were not in the mood to be soft-soaped. A Movietone camera was present to catch Churchill's utter confusion as the jeering started. Few people ever saw Churchill disintegrate on the public platform. But it happened that day.
I wondered if you had any suggestions about how we might proceed, or if any contributors to your website might have this kind of memory? Do please feel free to call anytime on the numbers below, or to reply by email.
Thanks so much for your help.
John OWEN Assistant Producer, Oxford Film & Television
From Daniel: Please also see Bill Bayliss' email [here]
---
19 Sep 2014 - Local History: Whipps Cross Hospital
Dear Daniel,
I hope you are well. I am writing regarding a heritage project I am running for Eastside Community Heritage, based in Ilford.
We have obtained a small grant with the Heritage Lottery Fund, to run a project investigating Whipps Cross War Hospital during the First World War. As you may well be aware, the hospital was implemented as a war hospital for the wounded, and there a few interesting stories, one recurrent one including the visit of His Majesty in 1917. We are collecting photographs, memorabilia and hopefully interviewing any descendants of the hospitals staff or patients from this time. We will be holding reminiscence sessions at some stage, we hope, with both Waltham Forest Libraries, and within the hospital itself.
I was wondering, first of all if the Walthamstow Memories website may have any stories relating to the hospital from near this period? ( The hospital in the 1920s and early 20th century are also relevant to our research)
Secondly, I wonder if the Walthamstow Memories has any mailing lists, where I might put a call out for anyone with some social history of the place?
Thirdly, if I were to write a short article on our findings so far, would the website be able to publish it?
Kind regards
The "Walthamstow 'Snaps' offer"
If you would like a photograph of a particular spot in Walthamstow - for instance an ancestor's house or the road where you once lived - our friend Dave Hughes has offered to take one for you!
He lives in Walthamstow and often is out and about in the area taking pictures, for inclusion in the 'Walthamstow: Past & Present' project, which he's currently compiling.
Please email Dave with your request, providing it is in the E17 area, and he will take the picture and email it to you in jpeg format. There will be no charge for this, but perhaps just a bit of time to wait...
Most of the pictures will be added to the "Photo's of Walthamstow" section of the WPP project. The project's CD is available from Dave at a cost of £5.00 (Free p&p in the UK - £2.00 Elsewhere).




For those visiting this site for the first time, we suggest starting from the FAQ Page, which contains useful guidance.

Then you might like browsing the personal recollections and stories sent in by our visitors, often past residents of this London suburb, that was once part of Essex: the "Memories" tag on the menu at the top of this page will guide you there.

If you are 'digging your roots', the "Family History" section contains emails we received, grouped by Surname.

Our "Postbags" contain all the emails we have received up to now, conveniently arranged by years




The "Personal Stories" section is an archive of stories and photographs about institutions, local traders, places and historic events that form the history of Walthamstow and the surrounding area.

For those interested in music groups, the section "Local Bands" will delight you!

Please feel free to email any material on Walthamstow - we will always try to feature it.

We are particularly interested in photographs and copies of documents that relate to the history of Walthamstow and the neighbouring London suburbs of Leyton, Chingford, Woodford, Highams Park and Loughton.

All material should be emailed to either John or Daniel [daniel@walthamstowmemories.net]

Sit back and enjoy yourself!

---

Why are we doing this? Read our aims in here ...
---
Read the emails for the current year in Postbag 2014
---
NOTICE: Walthamstow Memories is not responsible for the content of the contributions it receives. Any queries concerning any aspect of the content of a published contribution should be addressed directly to the contributor. Walthamstow Memories will only remove a contribution if the contributor requests it or if the content is likely to create offence or contains racist or sexist sentiments or material that is likely to offend religious or faith groups.

Copyright notice: Images on this site are reproduced for the purposes of research and study only. Whilst every effort has been made to trace the Copyright holders, we would be grateful for any information concerning Copyright of the images and we will withdraw them immediately on Copyright holder's request.