---
Home Page
---
... to a website dedicated to recording the memories of those who were born, arrived, lived, worked or died in Walthamstow, formerly an Urban District, then a Municipal Borough in Essex, now part of the London Borough of Waltham Forest.

The site stores people's memories but also acts as a bulletin-board service listing the numerous emails we receive - seeking help with everything from family research to "Do your remember... ?"
We list received emails with an email link to the sender. We will try to answer any queries, if we can, but in most instances we simply do not know the answers to the questions we receive - but... you never know who might!
Scroll down for more info on how this website works and what it contains.
Yes, all human existence is here - provided its roots lie in Walthamstow - lost but not forgotten!
Send your emails to either the site originator, John Knowles at email or to our co-editor, Daniel Quinn daniel@walthamstowmemories.net. Daniel is providing a greater range of information and better feedback for all of us who contribute and use the site. If anybody else would like to join us then please get in touch - there is always plenty to do!


---
24 Aug 2014 - From Daniel:

Dear Friends & Visitors,
A very interesting article by Bill Bayliss "The London Rubber Company" now appears in the "Lost Trades" section: I suggest you read it for it contains many curiosities!
Our visitor Victoria Alexander has sent in some great pictures: see our 2014 Postbag.
Enjoy browsing your site & kindest regards
Daniel

11 Aug 2014 - From Daniel:

Dear Friends & Visitors,
As Len Hall mentions in his email, this site has considerably grown this year: the lenght of our 2014 Postbag is an evident proof of the increasing number of visitors/emails to our virtual "sitting room"... Many thanks to all those who generously share with us their memories and their knowledge of Walthamstow's past.
Site Navigation: A few years ago, to facilitate navigation through the postbags, I introduced a "month selection" menu. Now I've provided you with a little floating (or should I call it 'static'?) icon at the bottom left corner of the screen (Have you noticed it? I bet you have now!): in any position on the page, by clicking on it, you instantly move to the top, instead of frenetically hand-scrolling... I hope you find it useful. I will soon implement it on all long pages.
Enjoy browsing your site & kindest regards
Daniel

---
For old "What's New" messages [Click Here]

---
Read the emails for the current year in Postbag 2014
---
If, when you access this site, you find that the 'date updated' is rather old, try first 'refreshing' the page on your browser (browsers do tend to copy and save pages locally...) - pressing the F5 key usually does it...!
9 Aug 2014 - Local Events: Year of the Bus Event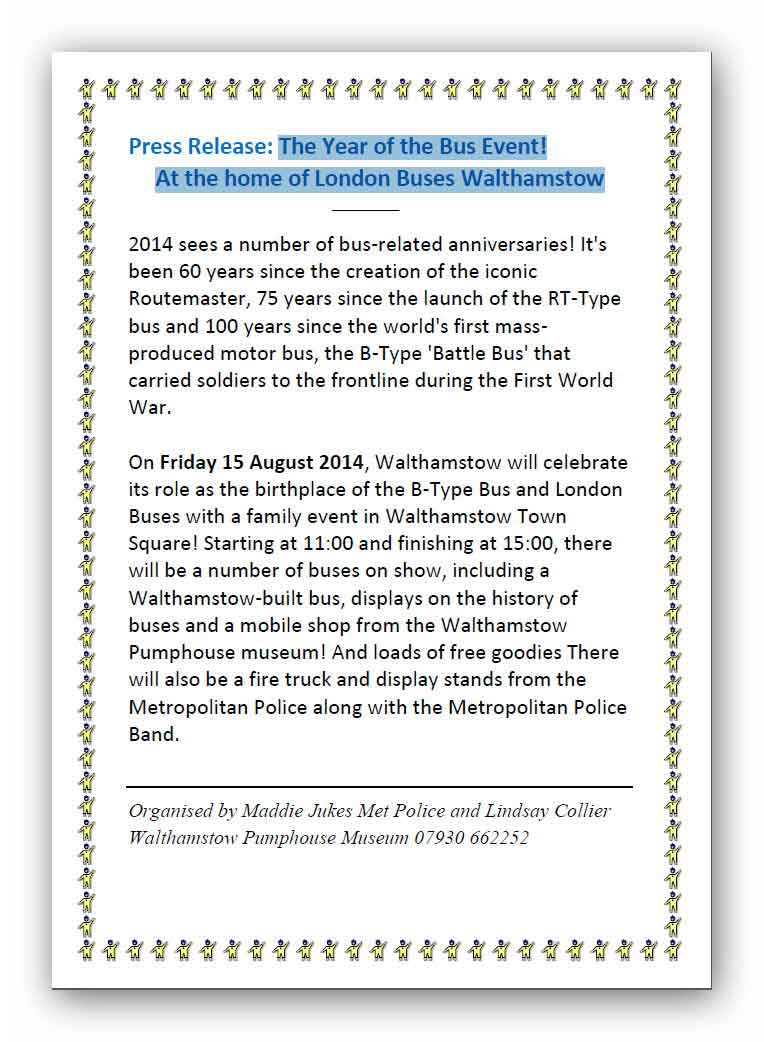 3 Jun 2014 - Local Events: E17 Art Trail
Hi Daniel & John,

I'm doing a local history talk on Saturday 14th June 2014 at Orford House as part of the E17 Art Trail History Strand.
It's on the Art Lending for the Home scheme run by Waltham Forest 1965-1990 from William Morris Gallery in 1965 and North Chingford and Leytonestone libraries in the mid 1970's.
Love to hear if you and your members know anything of it. (Can't see anything on website)

Cheers Nicolette (Nic) MURIN
21 May 2014 - Local History: Warner Estate
Dear Daniel,

Please see below details of a new exhibition on the Warner Estate which opens this week at the E17 Art Trail in Walthamstow. I thought the group might be interested!
Artists Lucy Harrison and Katherine Green have collaborated on a new project that surveys the former Warner Estate in the suburbs of east London. The artists have worked with the archive of the Walthamstow Historical Society and with local writer and researcher Kirstin Sibley to produce the first extensive survey of how these unique and distinctive 19th and early 20th-century properties are used in modern times. The results will be presented in an exhibition from 30 May – 15 June 2014 in London. To accompany the exhibition, a new limited edition book is also being published and there will be free walks, talks and events throughout.
Here's a link to the website: www.exwarnerproject.co.uk
Kind regards
15 May 2014 - Local Events: A Night At The Pictures
Dear Daniel,

On behalf of Slap Haddock, I would like to ask you to add some very exciting news to the Walthamstow Memories website. It is regarding our upcoming performances of A Night at the Pictures at the Wood Street Indoor Market between the 28-31 May.
A Night at the Pictures is a series of live, interactive, promenade performances based on the vibrant cinematic history of the Wood Street Indoor Market aimed at entertaining and inspiring the local community. The project is supported by Arts Council England and Soho Theatre.
View the Website HERE.

Our Trailer can be seen HERE.
Please find our press release attached along with a publicity image for your perusal. We hope you will be able to support this project and join us at the end of May for the live performances. If you have any questions please feel free to call me on 07906 666937.
Kind regards,
The "Walthamstow 'Snaps' offer"
If you would like a photograph of a particular spot in Walthamstow - for instance an ancestor's house or the road where you once lived - our friend Dave Hughes has offered to take one for you!
He lives in Walthamstow and often is out and about in the area taking pictures, for inclusion in the 'Walthamstow: Past & Present' project, which he's currently compiling.
Please email Dave with your request, providing it is in the E17 area, and he will take the picture and email it to you in jpeg format. There will be no charge for this, but perhaps just a bit of time to wait...
Most of the pictures will be added to the "Photo's of Walthamstow" section of the WPP project. The project's CD is available from Dave at a cost of £5.00 (Free p&p in the UK - £2.00 Elsewhere).




For those visiting this site for the first time, we suggest starting from the FAQ Page, which contains useful guidance.

Then you might like browsing the personal recollections and stories sent in by our visitors, often past residents of this London suburb, that was once part of Essex: the "Memories" tag on the menu at the top of this page will guide you there.

If you are 'digging your roots', the "Family History" section contains emails we received, grouped by Surname.

Our "Postbags" contain all the emails we have received up to now, conveniently arranged by years




The "Personal Stories" section is an archive of stories and photographs about institutions, local traders, places and historic events that form the history of Walthamstow and the surrounding area.

For those interested in music groups, the section "Local Bands" will delight you!

Please feel free to email any material on Walthamstow - we will always try to feature it.

We are particularly interested in photographs and copies of documents that relate to the history of Walthamstow and the neighbouring London suburbs of Leyton, Chingford, Woodford, Highams Park and Loughton.

All material should be emailed to either John or Daniel [daniel@walthamstowmemories.net]

Sit back and enjoy yourself!

---

Why are we doing this? Read our aims in here ...
---
Read the emails for the current year in Postbag 2014
---
NOTICE: Walthamstow Memories is not responsible for the content of the contributions it receives. Any queries concerning any aspect of the content of a published contribution should be addressed directly to the contributor. Walthamstow Memories will only remove a contribution if the contributor requests it or if the content is likely to create offence or contains racist or sexist sentiments or material that is likely to offend religious or faith groups.

Copyright notice: Images on this site are reproduced for the purposes of research and study only. Whilst every effort has been made to trace the Copyright holders, we would be grateful for any information concerning Copyright of the images and we will withdraw them immediately on Copyright holder's request.