---
Home Page
---
... to a website dedicated to recording the memories of those who were born, arrived, lived, worked or died in Walthamstow, formerly an Urban District, then a Municipal Borough in Essex, now part of the London Borough of Waltham Forest.

The site stores people's memories but also acts as a bulletin-board service listing the numerous emails we receive - seeking help with everything from family research to "Do your remember... ?"
We list received emails with an email link to the sender. We will try to answer any queries, if we can, but in most instances we simply do not know the answers to the questions we receive - but... you never know who might!
Scroll down for more info on how this website works and what it contains.
Yes, all human existence is here - provided its roots lie in Walthamstow - lost but not forgotten!
Send your emails to either the site originator, John Knowles at email or to our co-editor, Daniel Quinn daniel@walthamstowmemories.net. Daniel is providing a greater range of information and better feedback for all of us who contribute and use the site. If anybody else would like to join us then please get in touch - there is always plenty to do!


---
What's new [Top of page]
13 April 2014 - From Daniel:

Dear Friends & Visitors,


It will soon be Easter: our best wishes that it will be a joyful and peaceful one for all of you.
I have re-arranged the main menu, moving the "Maps" & "Walthamstow at War" sections under the more appropriate heading "History", and I've added a "List of Mayors" and a "Walthamstow Diary" to the "General" section, again under the heading of History.
Enjoy your site & kindest regards
Daniel

11 April 2014 - From Daniel:

Dear Friends & Visitors,


A few new pages will soon come up on our site (possibly in the next few days) - I hope you will appreciate our efforts to provide further references on Walthamstow's history.
An article has just been sent to us by Bill Bayliss, on occasion of the 100th Anniversary of WW1, entitled Jack Cornwell, Victoria Cross. As usual, you can also find it in the Personal stories Section. Thanks, Bill!
Enjoy your site & kindest regards
Daniel

For old "What's New" messages [Click Here]

---
Read the emails for the current year in Postbag 2014
---
If, when you access this site, you find that the 'date updated' is rather old, try first 'refreshing' the page on your browser (browsers do tend to copy and save pages locally...) - pressing the F5 key usually does it...!
Highlights [Top of page]
11 Mar 2014 - A new book: Walthamstow Through Time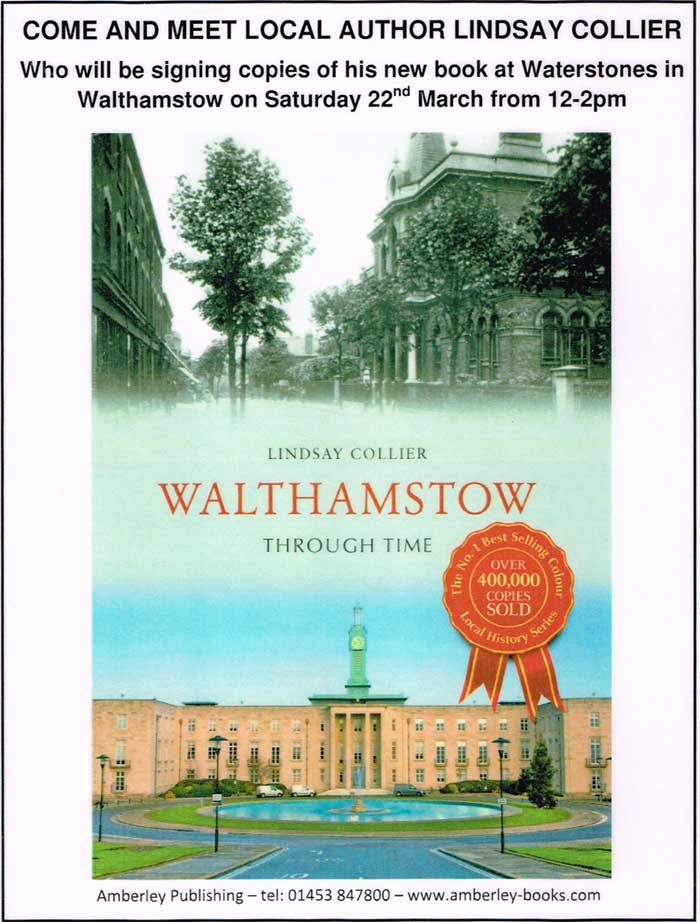 From "The Guardian":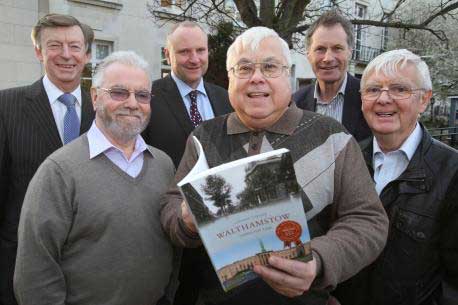 L-R: Councillor Michael Lewis, Walthamstow Pumphouse Museum chairman Bob Belam, Waltham Forest Council chief executive Martin Esom, Lindsay Collier, Ralph Ward and author Dr Jim Lewis.
A museum director believes a book he wrote on Walthamstow's history will amaze people and inspire learning about the lesser-known claims to fame in the area. Lindsay Collier, Walthamstow Pumphouse Museum director, historian and resident of 40 years, officially launched Walthamstow Through Time yesterday at the Waltham Forest Town Hall Social Club in Forest Road.
The 96-page book printed by Amberley Publishing, which features around 180 illustrations, tells the tales of Walthamstow's history, from pop band East 17 to the Anglo-Saxon origins of its name.
Walthamstow, originally derived from the Anglo-Saxon Wilcumestouue, means 'the welcome place' and was once noted for fine views, woodlands and wealthy estates. After Lea Bridge station opened in 1840 the borough developed into a centre for commercial industry and a vital link for London's transport system. Mr Collier added that he believes readers will get an insight into Walthamstow that they would never have found out otherwise. "Most people today would associate Walthamstow with William Morris, the High Street, the pop band East 17, and its famous greyhound stadium, known as 'the Stow'," he said. "Less well known is the town's rich transport heritage, being the home of Britain's first motor car and the home of London's buses." Mr Collier will appear at Waterstones in The Mall, Walthamstow, on March 22 between midday and 2pm to sign books.
11 Mar 2014 - A new book: FOR HIS LOVE OF AMELIA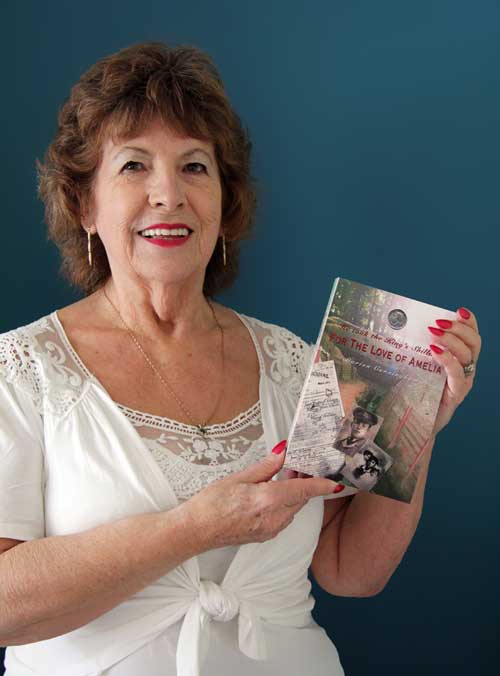 Although I now live at Canvey Island in Essex, my childhood and growing up years were spent in Walthamstow where I was born in 1942. I spent many happy hours listening to my grandparents as they talked about their early married life in Bethnal Green and then my grandmother's return to Walthamstow in 1915 on the day granddad went off to war.
My grandfather came home to Walthamstow after the war ended which thankfully against all odds he survived and they were to live there for over 50 years. After their deaths in the 1970's I began writing down and recording all the humorous and sometimes sad events that had taken place within the family.
They lived in Glenthorne Road until the end of the Second World War in 1945 and then moved on to Markhouse Road where they opened a French Polishing, Cabinet Makers and Upholstery shop. This was to become their family home for the next 21 years before eventually moving into a retirement flat. Hopefully this story will appeal to both men and women because not only does it tell of the horrors of W.W.1 but it also gives an insight into the way family life was for many people of Walthamstow during those times now long since passed.
The book will soon be available on Amazon and is now available on Marion's web page.
First Time Here? [Top of page]



For those visiting this site for the first time, we suggest starting from the FAQ Page, which contains useful guidance.

Then you might like browsing the personal recollections and stories sent in by our visitors, often past residents of this London suburb, that was once part of Essex: the "Memories" tag on the menu at the top of this page will guide you there.

If you are 'digging your roots', the "Family History" section contains emails we received, grouped by Surname.

Our "Postbags" contain all the emails we have received up to now, conveniently arranged by years




The "Personal Stories" section is an archive of stories and photographs about institutions, local traders, places and historic events that form the history of Walthamstow and the surrounding area.

For those interested in music groups, the section "Local Bands" will delight you!

Please feel free to email any material on Walthamstow - we will always try to feature it.

We are particularly interested in photographs and copies of documents that relate to the history of Walthamstow and the neighbouring London suburbs of Leyton, Chingford, Woodford, Highams Park and Loughton.

All material should be emailed to either John or Daniel [daniel@walthamstowmemories.net]

Sit back and enjoy yourself!

---

Why are we doing this? Read our aims in here ...
---
Read the emails for the current year in Postbag 2014
---
NOTICE: Walthamstow Memories is not responsible for the content of the contributions it receives. Any queries concerning any aspect of the content of a published contribution should be addressed directly to the contributor. Walthamstow Memories will only remove a contribution if the contributor requests it or if the content is likely to create offence or contains racist or sexist sentiments or material that is likely to offend religious or faith groups.

Copyright notice: Images on this site are reproduced for the purposes of research and study only. Whilst every effort has been made to trace the Copyright holders, we would be grateful for any information concerning Copyright of the images and we will withdraw them immediately on Copyright holder's request.