---
Mission Grove School
---
http://www.missiongroveschool.com/page/default.asp?title=Home&pid=1
Below - present day Mission Grove Primary School & Children's Centre
Address: Buxton Road, London E17 7EJ
Phone:020 8520 3487
Katie Jennings
B.Ed Hons, MA
Headteacher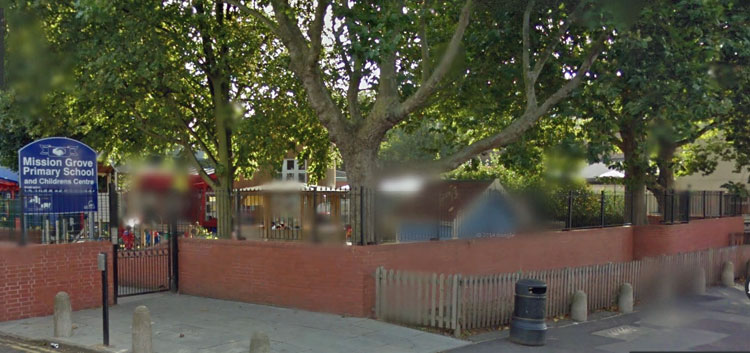 http://www.british-history.ac.uk/vch/essex/vol6/pp304-317#highlight-first

Mission Grove junior and infants school. Mission Grove council school was opened in 1906 for girls and infants. In 1932 the girls department was reorganized for mixed juniors. The junior department was taken over by the Ministry of Food in 1939, and reopened in 1946. http://www.education.gov.uk/edubase/establishment/summary.xhtml?urn=103077

Status: Open Establishment Type: Community School
URN: 103077 LA: Waltham ForestLA/Estab: 320/2074
Phase: Primary Gender: MixedAge Range: 3 - 11
Mission Grove Primary School
Buxton Road, Walthamstow, London E17 7EJ

Headteacher Miss Katie Jennings
Total Number of Children: 785
Nursery Provider: Has Nursery Classes
Sixth Form: Does not have a sixth form
Trust
UKPRN
Special Measures: Not in special measures
School Website: https://www.youtube.com/watch?v=rAbTxkyDuP0 Uploaded on Nov 11, 2009
International Development Minister, Mike Foster, visits Mission Grove Primary School in Walthamstow, London. The Minister spoke to the children about climate change and answered their questions.
---
Text & image kindly provided by Bill Bayliss
6 Sep 2015 - Schooldays: Mission Grove
Hi Daniel,

I started school at Mission Grove School in 1946 although I was nearly six was in the infants and the juniors I remember the teachers in the juniors as miss Wakefield miss Cliss miss Witherwick miss Gratten miss Digweed and Mr Potter and the headmaster was Mr Hoffman I left in 1951 and went Coppermill School. Happy days!
Hi Daniel / David
I started school at Mission Grove in 1955 and went through both infants and Juniors. In 1961 went in the William Morris in Gainsford Road.
The headmistress at Mission Grove Infants was the wonderful Miss Philpot. As David mentioned Ms. Wakefield and Mr Potter Ms Witherwick were still there during my time. I recall Ms. Cliss actually passed away whilst in her classroom around that time.
Add to the teachers Ms. Pat Gurr and Ms Tuckwell, - both had a strong influence on my early life.
---
Mission Grove School - List of Heads (alphabetical)
---
Mission Grove School - List of Teachers (alphabetical)
---
Mission Grove School - List of Staff (alphabetical)
---
Mission Grove School - List of Pupils (alphabetical)
---
Mission Grove School - Reunions
Sorry, no further information currently available, but if you wish to add your own memories about this school, email to Daniel at: [daniel@walthamstowmemories.net]
---