---
Tas Richardson
---
My mother's family lived next door to the Tower Stables on Hoe Street. My grandfather, Charles Miller was manager of the Stables. Some kind person e-mailed me who had a shop across the street and told me something of what had happened to the place over the years.

Unfortunately my computer crashed and I lost all my e-mails before I could thank him. I am now enclosing some photos. (Click on each photograph to see a larger version).

The first was taken outside St. Mary's Infant school probably about 1896. My mom, Dorothy Miller is marked with an X. She and her older sister, Oliveare wearing sailor suits.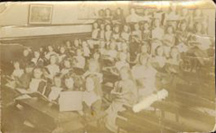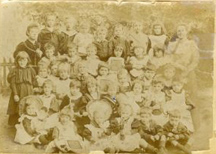 This is a class picture at
Maynard Road School about 1905.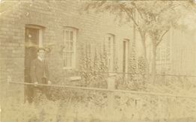 Then a picture of where she was born, at 9 Church Path. My grandfather standing by the door. Probably taken around 1890. It looks somewhat like the picture of the Almshouses by St. Mary's Church, or school.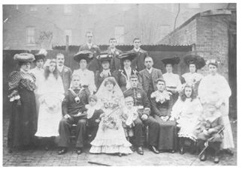 This is a wedding picture taken in the grounds of the Tower Stables in 1906. My mom's older brother, George's marriage to Eliza West. My mom in white dress, standing to the right of the bridegroom, who was in the Navy at the time. I hope the pictures are clear enough.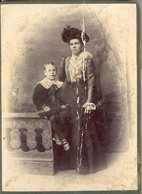 This photo is my grandmother, Elizabeth Miller, with her youngest child, Jim. I think it must have been taken about 1904. Jim as an adult worked for the Canadian Pacific Railroad in Saskatchewan and Manitoba.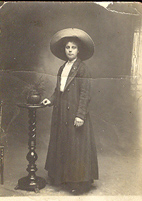 This is my mom, Dorothy Alice Miller, taken in 1911. That was the year the family emigrated to Canada. She would have been 19.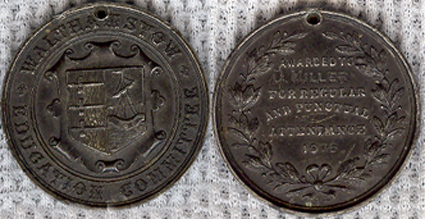 This photo shows both sides of a medal my mom received. The front shows the coat of arms of the city I presume, with three swords and a sailing ship, and the words: "Walthamstow Education Committee". The reverse has the words, "Awarded to D. Miller For Regular and Punctual Attendance, 1906", and surrounded by laural branches. She was attending Maynard Road school at this time, and must have been very proud to receive it. I doubt any schools give medals for regular attendance now.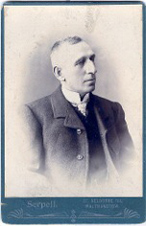 My grandfather, Charles Miller, always carried a cane. It had a concealed gun in it. One day he was walking in Epping Forest when he was confronted by a would-be robber. I believe he had a knife and demanded money from my grandfather, who then raised his cane and shot into the air. The ruffian took to his heels. He obviously didn't know it was a single-shot. Believe it or not, twenty-five years later, when my grandmother had passed away in Regina, Saskatchewan, and grandfather was living alone, a man came to his back door one night. He was masked and made him turn around. Charles peeked over his shoulder and saw the man un-coiling a rope to tie him up with. He lashed out at him with his cane and chased the man off. I am not sure if the cane wasn't loaded, or was a different one. Another story my mom told me was of a parrot the family had. Mom, as a teenager was working as a children's nanny for a family in Southend-on-sea. One weekend she was not expected to come home, and the family had been mentioning this in the parrot's hearing. But then she did get time off on the Sunday, and came home on the train. The house was empty when she walked in, but as she passed Polly's cage, the bird said to her, "You DID come home, Doll, you DID come home!" That was my mom's nickname, and shows that parrots don't just mimic voices. I remember my mom saying that Charles Miller was often mistaken for William Gladstone, the Prime Minister as he resembled him. (He must have had a prominent nose also!).

The next is my mom's older brother, Chris. He was in the army in the Boar War and later in ww1 where he was gassed and had shrapnel wounds. However her lived to the 1960's where he passed away at Rossland, British Columbia, Canada. The next is an old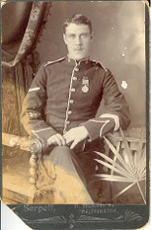 postcard of Chingford, Old Church. My mother's first job was as a children's nannyand on this card she wrote to her mother that she would be home on Wednesday and wanting to know if the family would be home. She must have been working in Chingford or nearby. The card is published by F. Frith & Co., Reigate.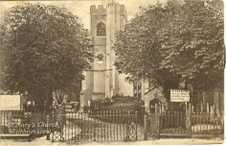 This is another postcard of St. Mary's Church, Walthamstow. This is where the family attended. Published by R. Snaith & Sons, 154 & 156 Wood Street, Walthamstow.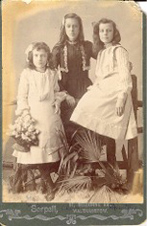 This is of my mom on right, sister's Olive in center and May on left. Serpell Photographic Studios, 37 Selborne Rd. They also used C.P. Daws, 162 High Street.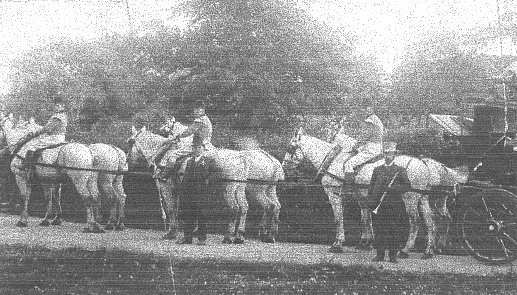 The last picture shows a smart team of horses pulling a break or carriage. My grandfather is standing to the left and his son, George behind him on the horse. It looks like it could have been for a parade in Walthamstow. All of these pictures are from late 1890's and up to about 1906 or so.

I have enjoyed reading the stories here so much, especially those of Robert Neville, and Les Cole, who I see lives not that far from me in Alberta, Canada. I of course was never in Walthamstow, but feel I know the place so well from hearing my mother's stories. At least how it was in those far away days.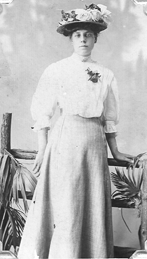 I would also like to add another photo of my mom, taken in 1911. That would have been the year she and her family left Walthamstow for their new life in western Canada. She was 19. I have also since learned from the 1901 U.K. census that two of my dad's great uncles, Walter and George Richardson were also living in Walthamstow at that time. They were both bricklayers. I am sure that my parents wouldn't have known that, as they didn't meet until 1928 in Oyen, Alberta. Incidentally, my dad was a bricklayer, as was his father and grandfather, and as I was until I retired.


Thanks, John, for allowing me to share these family memories, and pictures.

Tas Richardson email: email
---