This section is intended to contain extracts from old books, publications, etc. that pertain to Walthamstow's life.
Again, if you feel you can contribute, please contact Daniel email


---
New Books [Top of Page]
10 August 2017 - A new book: A Toynbee to Remember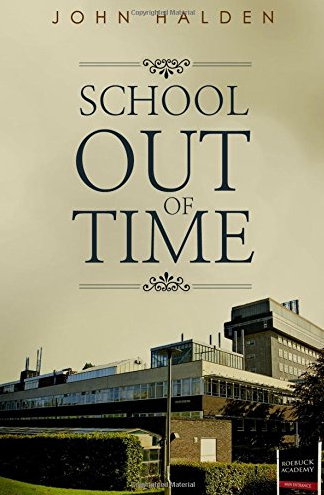 About the book:
Here John Halden (you may remember him as Peter Pleydell - William Morris pupil 1966-71) has given us an entertaining story aimed at youngsters but one which will also appeal to those older readers who were schoolchildren in the 1960s. The theme is time travel and the action goes back and forth between 1964 and 2018 as do Larry, Daniel and Abigail, the main protagonists. There are interesting and amusing consequences!
When 12-year-old Larry Bowler, living in 1964, listens to a mysterious recording, he finds himself transported from his home to his school – but 54 years into the future!
How can a boy from 1964 survive in a 2018 school? In any case, Larry is sure no one will believe that he is from 1964. He meets Abigail. She not only believes him, but does her best to help him fit into school.
But can Larry's new-found friend and her 21st century technology help him with his real problem – the nasty, bullying schoolmaster of 1964 who is making Larry's life a misery?
"School Out Of Time" is available through Amazon.co.uk
1 October 2014 - A new book: A Toynbee to Remember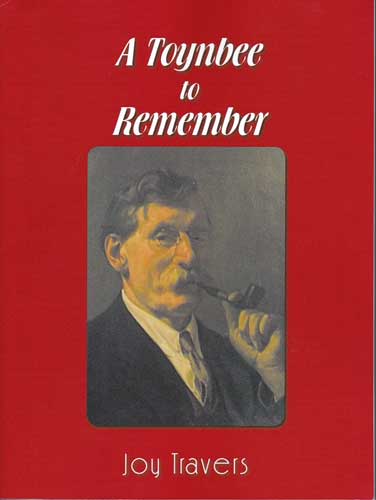 About the Author:
Joy Travers, born in 1926 in Walthamstow, was brought up by her Toynbee grandparents. Evacuated in 1939-1943 and returning with the school to London, she left with Higher School Certificate. In 1959 she married Michael Travers whose rare book collection she donated to Sussex University after his death in 1977. The Collection can be accessed on Internet.
BLUEINK Review:
A Toynbee to Remember offers unique insight into the First World War ... through the correspondence of working class East Londoners William and Lizzie Toynbee and their son Stan, a military clerk stationed in Egypt far away from the bloody trenches of combat. The correspondence begins when Stan volunteers for enlistment, but due to his physical ailments he never sees a battlefield. Meanwhile Will and Lizzie endure life in London, suffering everything from food shortages and illnesses to Zeppelin raids on civilians. The Toynbee household also experienced its own discord ... Will's hectic travelling schedule throughout the war (including Union organizer) speaker for the Voluntary Enlistment and War Savings Campaigns ... Lizzie's anxiety at her husband and son's illnesses, wartime chaos and raising her two daughters. ... Travers has a knack for historical prose ... since her writing effectively transforms ... family history into a lively narration of life during wartime ... the 500 Toynbee letters on which the book is based serve as an exceptional primary source to a conflict that has been culturally dwarfed by World War II.
KURKUS Review:
A Scholarly real-life portrait of an East London working-class family, during and after World War I. ..... Travers very ably places everything in a broader historical context that touches on the still-contemporary problem of equitable distribution of wealth. This elevates her work above mere memoir and achieves her goal of adding incrementally to the body of British working-class history. William began as a compositor ... but later co-founded a newspaper and eventually rose to elite status in Labour ranks ..... He and Elizabeth were also local organisers of the Brotherhood, a nontraditional church movement ..... During the war Will worked as a paid government orator all over Britain to drum up voluntary enlistment and, later, to promote what was called war savings ..... Happily Travers had the prescience to make copies of the lengthy correspondence ..... The originals, it seems, were burned by order of a new principal at Ruskin College, to which Travers had donated them.
CLARION Review:
Scholarly and precise exposition lets illuminating family letters take center stage. ... The book is organised by themes within the letters; voluntary enlistment, the politics of war, and the war's impact on the home. This approach is more effective at deriving meaning from the letters than a chronological approach would be. ... It is true Travers is a historian at heart – the book is full of well-researched information that connects the Toynbees' lives to the broarder world of their time. As such, her work will appeal most to others passionate about history or to those who trace their roots to working class England of the 1900s.
Short Extract (Zeppelins over Walthamstow):
"So Tuesday night was a night of terror for Walthamstow. On Wednesday night the Zeps [Zeppelin airships—ed.] came— again across Walthamstow—nearer to the City... This war on women and children continues... the effect on the people at home is very trying. You see, now you are away, there is not a male person in the house and everything is left to Ma, Eva, Dot or Marjorie. At times like these I should prefer someone to be there to whom Ma could look up for strength—you know, something a bit masculine and reassuring. You can understand how scared the whole place has been when I tell you that people will not go out at night or to bed before morning. The King's Hall [a music hall—ed.] in Hoe Street abandoned its second shoeing on some nights. That will indicate the intensity of the sensation produced."
---
"A Toynbee to remember" is available through Amazon.co.uk
11 Mar 2014 - A new book: Walthamstow Through Time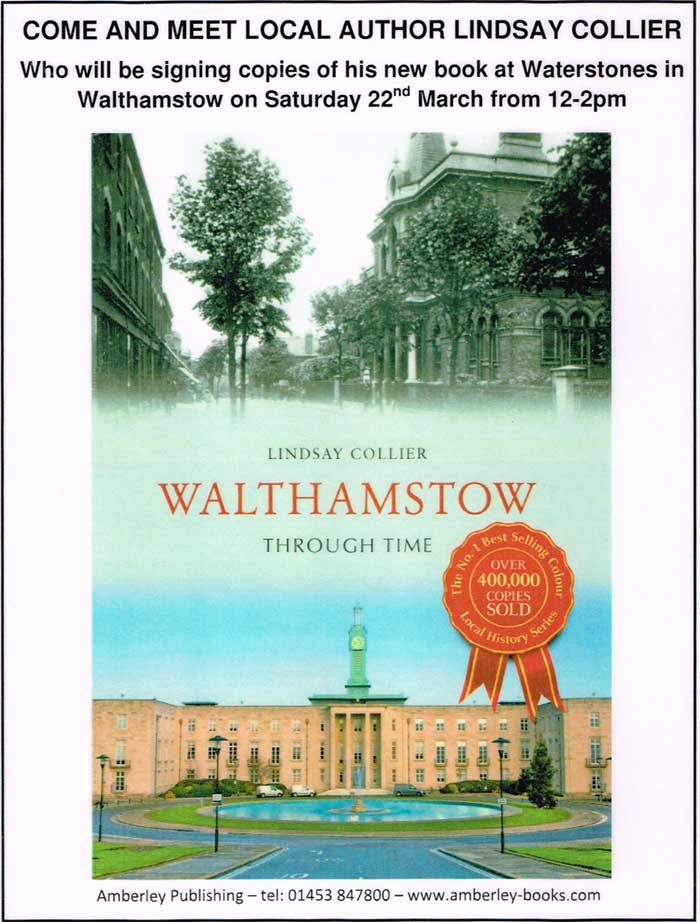 From "The Guardian":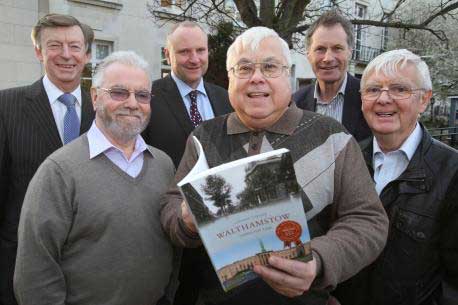 L-R: Councillor Michael Lewis, Walthamstow Pumphouse Museum chairman Bob Belam, Waltham Forest Council chief executive Martin Esom, Lindsay Collier, Ralph Ward and author Dr Jim Lewis.
A museum director believes a book he wrote on Walthamstow's history will amaze people and inspire learning about the lesser-known claims to fame in the area. Lindsay Collier, Walthamstow Pumphouse Museum director, historian and resident of 40 years, officially launched Walthamstow Through Time yesterday at the Waltham Forest Town Hall Social Club in Forest Road.
The 96-page book printed by Amberley Publishing, which features around 180 illustrations, tells the tales of Walthamstow's history, from pop band East 17 to the Anglo-Saxon origins of its name.
Walthamstow, originally derived from the Anglo-Saxon Wilcumestouue, means 'the welcome place' and was once noted for fine views, woodlands and wealthy estates. After Lea Bridge station opened in 1840 the borough developed into a centre for commercial industry and a vital link for London's transport system. Mr Collier added that he believes readers will get an insight into Walthamstow that they would never have found out otherwise. "Most people today would associate Walthamstow with William Morris, the High Street, the pop band East 17, and its famous greyhound stadium, known as 'the Stow'," he said. "Less well known is the town's rich transport heritage, being the home of Britain's first motor car and the home of London's buses." Mr Collier will appear at Waterstones in The Mall, Walthamstow, on March 22 between midday and 2pm to sign books.
11 Mar 2014 - A new book: FOR HIS LOVE OF AMELIA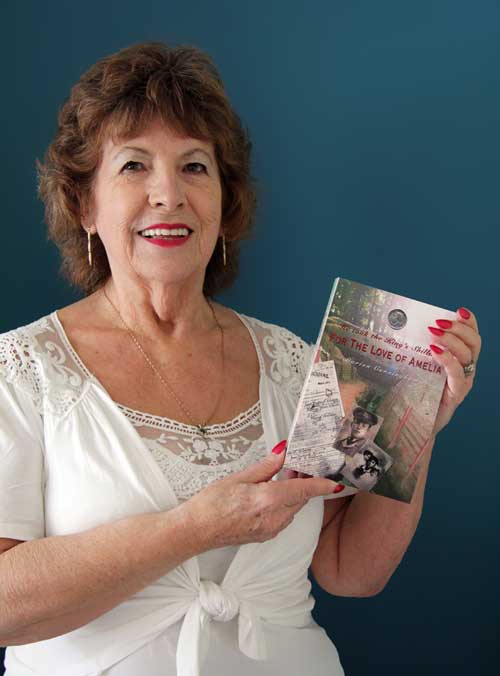 Although I now live at Canvey Island in Essex, my childhood and growing up years were spent in Walthamstow where I was born in 1942. I spent many happy hours listening to my grandparents as they talked about their early married life in Bethnal Green and then my grandmother's return to Walthamstow in 1915 on the day granddad went off to war.
My grandfather came home to Walthamstow after the war ended which thankfully against all odds he survived and they were to live there for over 50 years. After their deaths in the 1970's I began writing down and recording all the humorous and sometimes sad events that had taken place within the family.
They lived in Glenthorne Road until the end of the Second World War in 1945 and then moved on to Markhouse Road where they opened a French Polishing, Cabinet Makers and Upholstery shop. This was to become their family home for the next 21 years before eventually moving into a retirement flat. Hopefully this story will appeal to both men and women because not only does it tell of the horrors of W.W.1 but it also gives an insight into the way family life was for many people of Walthamstow during those times now long since passed.
The book will soon be available on Amazon and is now available on Marion's web page.
---
---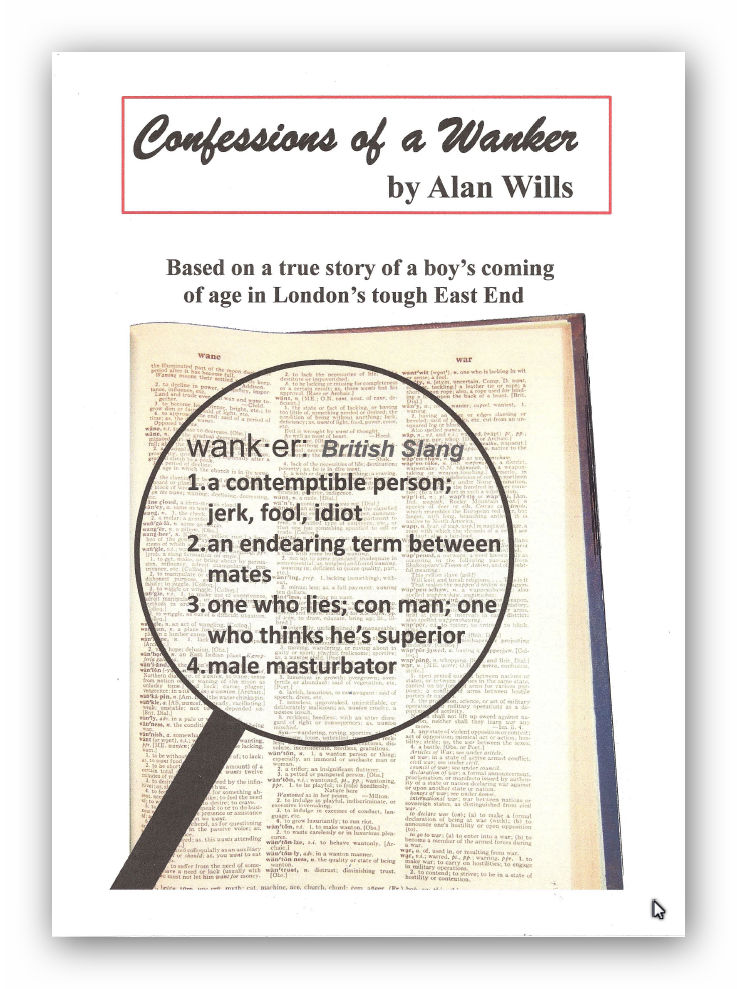 Alan Wills has very kindly given us permission to post 15 chapters on this site:
Read them here: "Confessions of a Wanker" Chapters 1 to 15 "

---
Detective's Note: Could this be the Miss Babcock (real name Jean Paddock) mentioned by Alan Wills?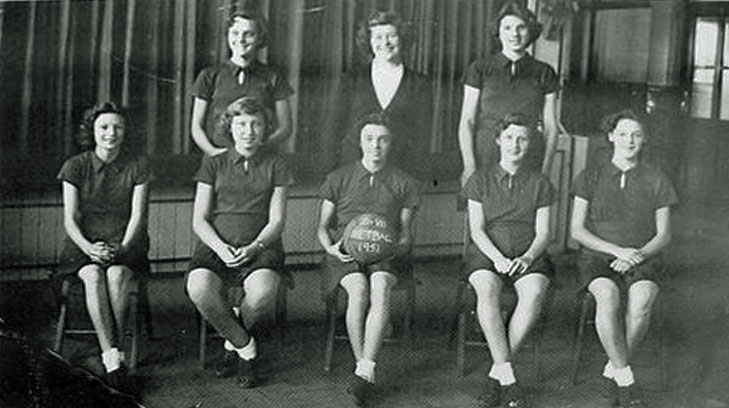 Miss Jean Paddock with the girls in the Jym (back row, centre)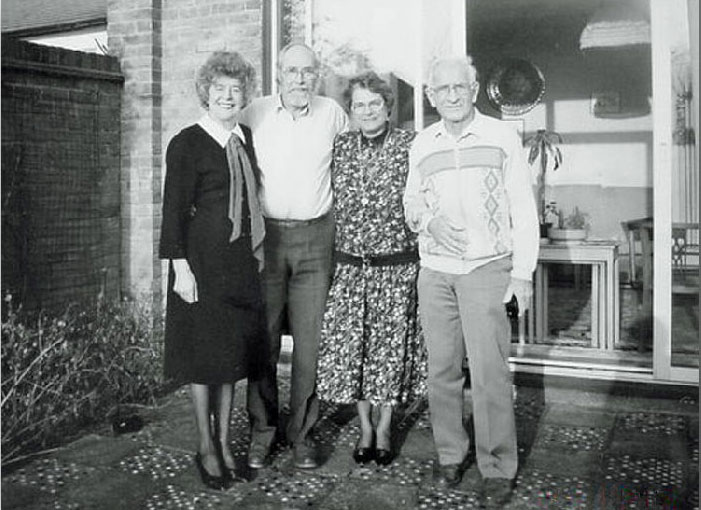 Ms Jean Paddock (first left) with other teachers.

---
Every effort has been made to ensure that copyright has been respected, in the event of any query please contact: Daniel.
---