---
Walthamstow History
---
---
The Crest of Walthamstow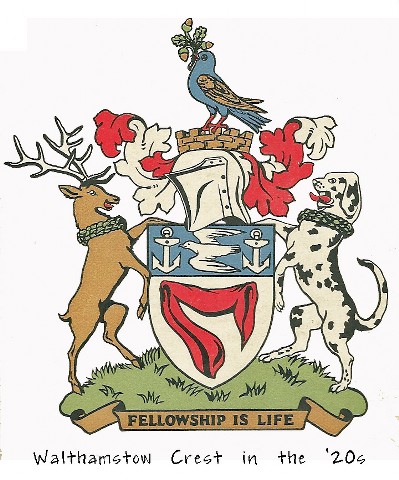 This is the official description of the Armorial Bearings of the Borough of Walthamstow:

Arms: Argent a Maunch Gules on a Chief Azure a Seamew volant between two Anchors Argent.
Crest: Upon a Mural Crown Or a Dove Azure beaked and legged Gules winged Or holding in the beak a sprig of Oak fructed proper.
Supporters: On the dexter side a Stag and on the sinister side a Pie-Bald Talbot, each gorged with a Wreath of Oak all proper.
Legend: "Fellowship is Life"


---
Apart from the fact that the Coat of Arms is a very beautiful piece of armorial designing, every item inclded has some direct reference to our town in bygone times.
THe Maunch, or Sleeve, wchich orrurs in the lower half of the shield, was the insignia of the Toni family, and as a representative of this family was the first Norman Lord of these parts, this piece of heraldy reminds us of Walthamstow in Norman days.
The Chief of the shield bears the familiar arms of George Monoux, further emphasized in the Bird with the Oak twig in its Beak, which forms the Crest of our Arms. These remind us not only of Walthamstow in Tudor times, but of a very worthy citizen whose benefactions are well known throughout the towm. Monovians, and other interested, may notice that the ground colour of the Monoux device appears in blue, not red as usual. This change of colours was made in compliment to the Maynard family, whose supporters - the Stag and Talbot - appear on either side of our Arms, and these features were introduced to memorialize a family connected with Walthamstow since the seventeenth century, particularly Henry Maynard, whose bequests to the Church, the school and the poor were generous and noteworthy.
The legend, "Fellowship is Life", comes from the pen of a celebrated citizen, William Morris, whose place in art, craftsmanship and letters is well recognized, and will be much enhanced with the passage of time.
The Walthamstow Coat of Arms is therefore something much more that a mere heraldic picture; it is a miniature of the history of the town throughout eight centuries, reminding us of its great epochs and commemorating prominent and public-spirited men who were connected with our parish.
The Coat of Arms is, in realty, the story in brief of Walthamstow from the Norman Conquests to the Victorian Era.
(The above picture and text is from: "The Story of Walthamstow", by G.E. Roebuck, 1952 The Walthamstow Corporation)


---
Glossary:
Gules

In heraldry, gules is the tincture with the colour red, and belongs to the class of dark tinctures called "colours". In engraving, it is sometimes depicted as a region of vertical lines or else marked with gu. as an abbreviation. The term gules derives from an Old French word goules or gueules meaning "throats" or referring to the mouth of an animal (whence comes the English gullet). The mouth and throat are red, hence the transfer of meaning.

Maunch

The maunch is a lady's sleeve of a very ancient pattern and it became used, in heraldry, from the custom of the knights who attended tournaments wearing their ladies sleeves, as "gages d'amour" in the lists. The maunch was the symbol suitable for a man whose heart had been captured by of a fair maiden.

Mural Crown

A crown modeled after the walls of a castle

Seamew

Any of various seagulls, especially Larus canus, of Europe.

Stag

An adult male deer.

Pie-Bald

Having patches of black and white or of other colors; parti-colored.

Talbot

A hound with long pendent ears.

Proper

(fr. au naturel): when a charge is borne of its natural colour it is said to be proper;
---
Walthamstow Census info
| Census Year | Chingford | Walthamstow | Leyton | Totals |
| --- | --- | --- | --- | --- |
| 1851 | 963 | 4,959 | 3,901 | 9,823 |
| 1871 | 1,268 | 11,092 | 10,394 | 22,754 |
| 1911 | 8,184 | 124,580 | 124,735 | 257,499 |
| 1931 | 22,053 | 132,972 | 128,313 | 283,338 |
| 1951 | 48,355 | 121,135 | 105,978 | 275,468 |
| 1961 | 45,777 | 108,845 | 93,959 | 248,581 |
| 1971 | only | global | figure | 233,525 |
---
Walthamstow Topography
Here are a few W'stow road names. Some have long disappeared - may be useful if your're tracing your ancestor's whereabouts!
(From "The Streets of Waltham Forest" Volume One: Walthamstow; by A.D. Law, A.M.A. - Published by The London Borough of Waltham Forest, 1974.)
More will be added in due course - if you have any special requests
email Daniel
Chestnut Walk

Named in 1871. Name changed to Lea Bridge Road in 1907. That part of the road between Grove Road and Whipps Cross. Named from the fact that it was lined with chestnut trees

Clarkson Road

Occupied in 1871. Made up 1878. Name changed to Marlowe Road in 1909.

Markhouse Avenue

Occupied 1887, made up 1891. Named after Mark House, which stood on the site of nos. 214-252, demolished in 1898.

Marsh Street

Earlier name of High Street; name changed 22nd December 1882. Originally included St. John's Street, first clearly separated in 1871. Directional naming: the street leading to the marshes.
---

Copyright notice: Images on this site are reproduced for the purposes of research and study only. Whilst every effort has been made to trace the Copyright holders, we would be grateful for any information concerning Copyright of the images and we will withdraw them immediately on Copyright holder's request.