---
Useful Web Links
---
Here are some links to sites that are in some way connected to Walthamstow.
If you would like to suggest more, please contact Daniel email


---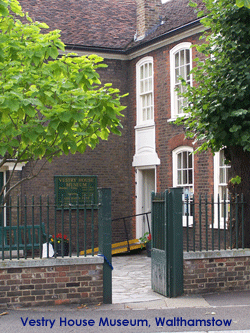 Hi John, I have been looking at the fascinating 'Walthamstow Memories' site.
The Vestry House Museum could help many people with their enquiries.
Would it be possible to create a link to the Vestry House museum - specifically the local studies library and Vestry House Archives?
Regards,
Mara Roberts

Marketing & Audience Development Officer - William Morris Gallery and Vestry House Museum
Tel. 020 8496 4391 - Email: vhm.enquiries@walthamforest.gov.uk
Take a virtual tour of the Vestry House Museum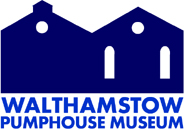 The Walthamstow Pumphouse Museum (formerly "The Lea Valley Experience Museum" - A Unique museum of pioneering achievements in Road, Rail, Air, River, Sea Transport and Industry in the Lea Valley from the early 1800's that have since been forgotten.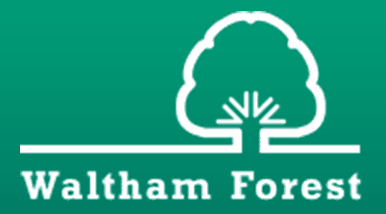 The Waltham Forest Council - General information on the Waltham Forest Area







The Guardian - Waltham Forest Edition - Read the latest news







Walthamstow Historical Society- Studies and books of local history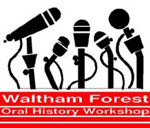 Waltham Forest Oral History Workshop- WFOHW began its work in 1983 and now has more than 600 recordings of life in Leyton, Leytonstone, Walthamstow and Chingford in north-east London




The William Morris Gallery - Collections on William Morris's life, work and influence

The Walthamstow Residents Association - A local community group of the Walthamstow Village

The Walthamstow War Memorial Project - Good place to lookup for men who died at War

Walthamstow Scene - Celebrating life, love and rock 'n' roll in E17, by Nick Bason

Walthamstow History - Richard Dunn's site with stories and pictures on old & new Walthamstow

WACC - Walthamstow Amateur Cinevideo Club - The only film-making left in Walthamstow...

Exploring East London - Info on "The Village"

MillingAround - a new e-magazine on Walthamstow

Office space in Walthamstow - A free and easy to use service to find office space in Walthamstow

The Old Monovians - Those who attended Sir George Monoux School in Walthamstow

Walthamstow Avenue FC - A site on the history of Walthamstow Avenue FC...

MAPCO Map And Plan Collection Online - A 1908 Map of Walthamstow ...



Ensign Cameras - History page

Europe's biggest camera & film factory was in Fulbourne Road, Walthamstow, in the early part of the 1900s..."






Tony Regan's Vintage Records Store

Tony has a huge 78s collection for sale! *new*






A Museum Finder (Old radios but not only that...)
Looking for an old radio?
HMS MARTIN G44
- Young men who gave their life for us in WW2
James McCauley's view of "Walthamstow Stadium"
(Picture gallery)
The Francis Frith Collection
- If you'd like to buy Historic photos, maps & books on Walthamstow
---
Other sites of ancestry/genealogy, etc... interest
(records on Censuses, Birth, Marriage, Death, Military, etc.. ):
Waltham Forest Family History - Interested in Family History?

Ancestry.co.uk
- Create & maintain your family tree...
The Genealogist
- Search online records...
The Official 1911 Census site
- Search online the 1911 UK Census
FindMyPast
- Start buliding your family tree...
UK Census Online
*new*
A good place to start, especially for beginners...
The S&N Genealogy Supplies
- Software, CDs, Books, etc...
---

If you are or want to become a writer... here's a super software full of tools to help you. It helps you to organize your ideas, scenes, characthers... the whole lot! You can try it free and the price is very reasonable. *new*
---
Other sites by John Knowles:
The Noël Coward Society
•
The Noël Coward Foundation
•
The Sir Noël Coward Official Site
The Sir Noël Coward Official Site (uk)
•
The Music of Noël Coward
The Lathom Park Trust
•
Savoire Faire - Gypsy Jazz
Rob Jackson Fotos
•
Must Close Saturday Records
•
Michael King Paintings
The 4heads
•
The Music of Julian Slade
Other sites by Daniel J. Quinn:
Daniel's personal site
•
Daniel's on-line shop
(italian) •
Daniel's Calligraphy site
(italian)
World Bands & Venues Project
---

Copyright notice: Images on this site are reproduced for the purposes of research and study only. Whilst every effort has been made to trace the Copyright holders, we would be grateful for any information concerning Copyright of the images and we will withdraw them immediately on Copyright holder's request.