---
William Elliott Whittingham - Boys Council School
---
Who was William Elliott Whittingham?
William Elliott Whittingham was born in Walthamstow in 1843 and married Margaret Richie from Scotland. He was a preserved provision maker and was in partnership with his brother in law as provision merchants.
He was closely involved with the renaissance of Monoux school when it was rebuilt and relocated in Walthamstow High Street and donated a laboratory and lecture room to the school in 1892. He died four years later in 1896.
(Text kindly provided by Bill Bayliss)

---
William Elliott Whittingham - Boys Council School, Higham Hill Road, opened in 1911. It was reorganized for senior boys in 1929 and closed in 1959.
I was there from 1947 to 1949. Mr Dobson, I remember well, as I do R. Nelson, art teacher, and Mr (mad) Thomson, metal work. Mr Green, 1a, Mr Baker 2a and Mr Watts, who kept a short cane in a bucket of water. I remember one day, during desk inspection, some boys had a handlers chart, under scores were made level by Mr Watts!
Mr Smith was Headmaster. I wonder how many boys are still around from Class 3a? See pic of Jan 17 of class 2a with Mr Green.
Mr Dobson was the wood work teacher. I was there 1944 to 48. On the front desk/worktop Mr Dobson had a ship which he was building. One thing I remember was you could not make anything until a drawing was done with relevent sizes and materials. My mother had a toasting fork with brass ferules etc and a mahogany tea tray which I made in his class and others which I cannot remember what happened to them
Regards
17 May 2015 - Schooldays: Whittingham School
I was at William Elliott from 1955 to December 1958 W.G. Acres (Bill but not to his face) was headmaster, Mr New took art, Mr C.J. Lines, Mr W.E. Green and "Bertie" Baker a real character who was at the school during the 2nd World War took geography were other masters.
Regards
24 Dec 2014 - Schooldays: W E Wittingham
Hi Daniel, thanks for getting back. The photo is "Mr Green 2a":
I was in Mr Bakers class and Mr Watts when I left in 1950.
Love your web site - what a lot of work!
Oh, by the way, have any knowledge of the Valley Ramblers Skiffle group I played tea chest.
Thanks
9 Dec 2014 - Schooldays: W E Wittingham
Hi I was at William Elliott Whittingham and in the photograph second row down on extreme left: Colin Hares.
I am 79 years old now living in Suffolk. Happy if anyone wants to reply...
Hi there.

I was at William Elliot school between 1952 and 1957 and I am sorry to say that I have no memory of a school photo being taken during that time. One of my memories of the football field was that it was on a hill, it was fine going down hill but hard going up the hill. I don't ever remember getting any encouragement from the teachers. I think we were regarded as factory fodder. Despite this poor start after having numerous jobs I ended up as a police officer for over 27 years
Regards
16 Jan 2014 - Personal Memories
Found your sight by accident last year, and have signed up. What a wonderful time I am having reading all the old letters, and finding an old friend as well!
I was born in Thorpe Coombe (as most of my family were) in 1935. I can recall all the places and streets folk mention. Lloyd park, catching newts in the pond, the High St. Palace, 6pence to sit in 'the gods' watching a show. The friendly stall holders, and Manzies pie and mash. Saturday morning pictures at the Granada, 8 cartoons a comedy & western at the Empire Bell corner.

I get down to Walthamstow 2 to 3 times a year, and my daughter takes me on a nostalgia tour, always ending in Manzes.. I could go on but another time perhaps.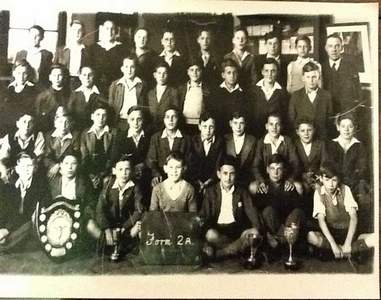 This photo is of 1947/48, William Elliott Whittingham boys. Who is still around today? Teacher was Mr.Green
Front row (L to R): Benson, Ron Stotter, Alex Herring, Me!, Dave Anderson (can't remember last two).
Next row up 1st: Morris Wood, 2,3,4,5 & 6 can't remember, 7 Willie Lee , 8?, 9 Reed, 10?.
Next row up and back row my memory fails me. Hope it helps!
(Click to enlarge)
God bless you all

Bernard HOWARD
4 Mar 2011 - William Elliott Whittingham School
Hi Daniel,

William Elliot School: from top left Mr Watts great Teacher, also there's an Oldfield, Sinfield, on the second row there's H. Smith, end of same row on right is F. Smith, T. Bernthal, front row right is B. Hull, J.Smith, then myself and front left is F. Collinson. I'm afraid I cant remember any more.

Cheers for now.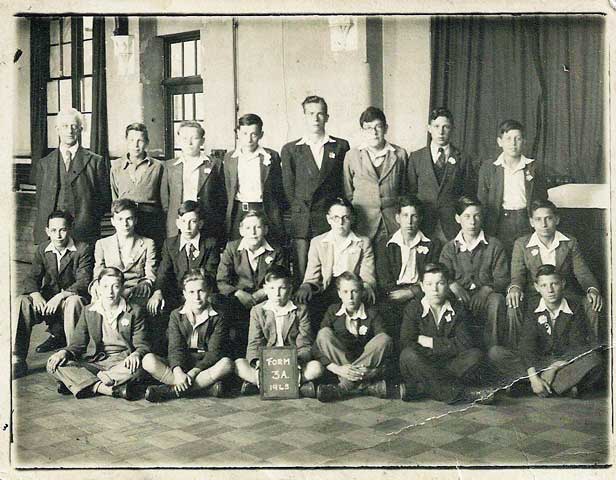 William Elliot Whittingham 1945 leaving class

---
Whittingham School - List of Heads (alphabetical)
| | | | |
| --- | --- | --- | --- |
| Acres, Mr. W.G. | Head | 1955-58 | (Bill) |
---
Whittingham School - List of Teachers (alphabetical)
| | | | |
| --- | --- | --- | --- |
| Name | Office | Years | Notes |
| Acres, Mr. W.G. | | 1955-58 | (Bill) |
| Baker, Mr. | Geography | 1940's-50's | (Bertie) |
| Green, Mr. W.E. | | 1947-58 | |
| Lines, Mr. C.J. | | 1947-48 | |
| New, Mr. | Art | 1955-58 | |
| Watts, Mr. | | 1940's-50's | |
---
Whittingham School - List of Staff (alphabetical)
---
Whittingham School - List of Pupils (alphabetical)
Name
Years
Notes
Anderson, Dave
1947/48
Benson, ?
1947/48
Bernthal, T.
?-1945
Collinson, F.
?-1945
Dennison, Ray
1952-57
Hares, Colin
1940's-1950
Herring, Alex
1947/48
Howard, Bernard
1947/48
Hull, B.
?-1945
Lee, William
1947/48
Oldfield,
?-1945
Reed, ?
1947/48
Smith, F.
?-1945
Smith, H.
?-1945
Smith, J.
?-1945
Stotter, Ron
1947/48
Wood, Morris
1947/48
Wybrow, Ed
?-1945
---
Whittingham School - Reunions
---
Sorry, no further information currently available: if you wish to add you memories on this school,
Contact Daniel [email]