William Morris school, Gainsford Road
Gainsford Road board school, opened in 1902, was renamed William Morris in 1903 because it was built on land adjoining Elm House, where he lived. In 1906 part of it became a higher elementary school, which was transferred in 1910 to Greenleaf Road. The remainder was reorganized in 1928 for senior boys, senior girls, and mixed juniors and closed in 1932.
William Morris school for the deaf, Hale End Road, opened in 1900 at Queen's Road school. In 1902 it moved to a new building for 20 children at William Morris school, Gainsford Road. It was combined with Hale End open air school in 1949 and moved to Hale End in 1952. It was closed in 1969, when Hawkswood school opened at Chingford.
An early photograph of the William Morris Schools when the Boys and Girls Schools were kept separate.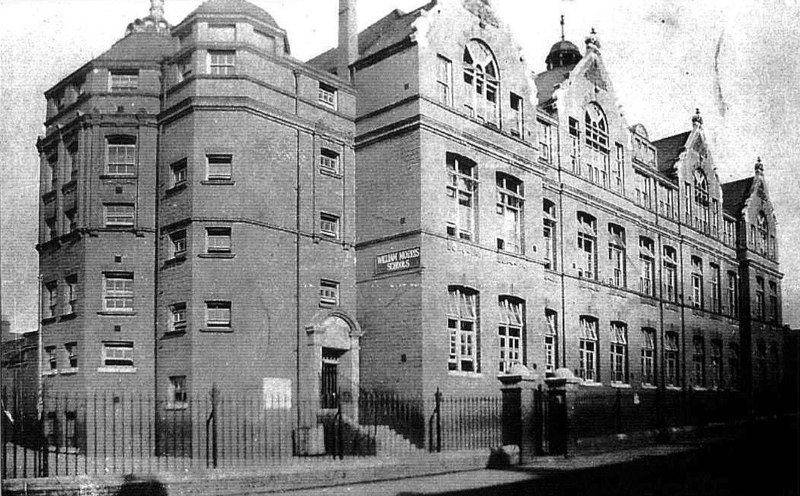 William Morris technical school, Gainsford Road, opened in 1933 as a senior school, in the previous elementary school buildings. It was reorganized as a mixed technical school in 1948.
Andy Simmonds has sent in the following informal school pictures taken of pupils at WMTS in the early 60's: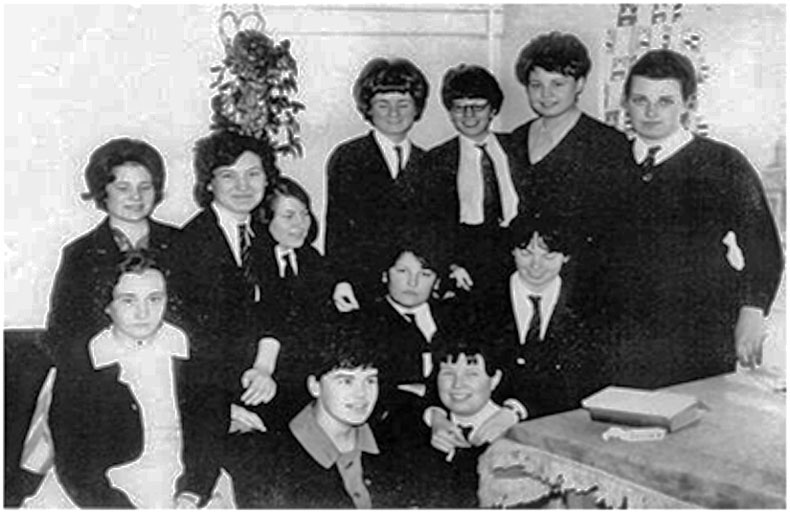 Kathleen Bellis, Janice Brady, Norma Clisby, Iris Harvey, Pat Linfoot, Pat Bambridge, Pam Lipscombe, Sylvia Rogers, Brenda Eldridge, Margaret Riley, Linda Ellerton and Heather Benton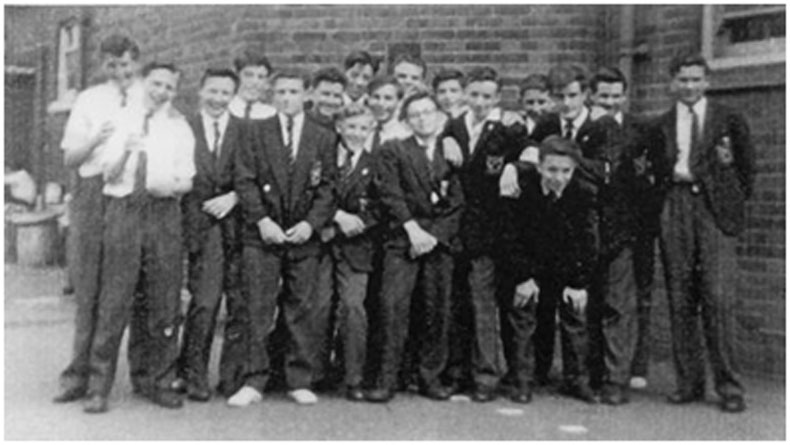 The only boy Andrew recognises is Jim Rooney who is middle back row. He has been told that David Barnwell is third from the right ... and Andy also thinks John Osborne is 9th from the left in the middle in front of Jim Rooney. Roger Clarkson is wearing white shoes at the front.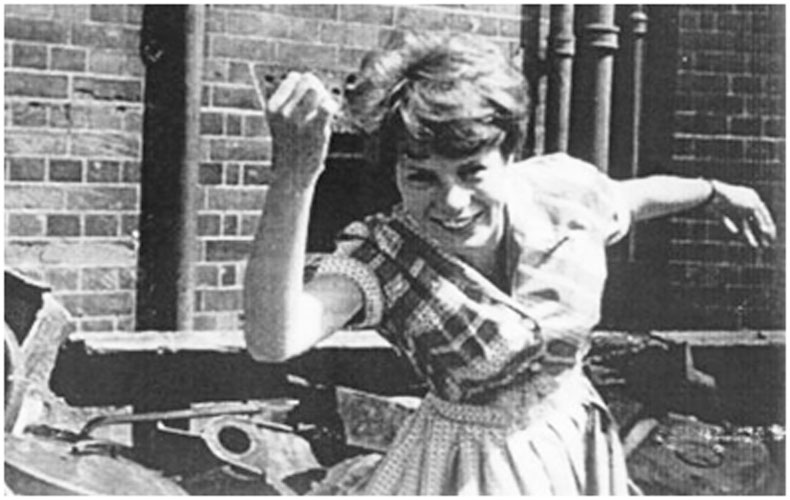 Heather Benton doing something dramatic?
---
The following pictures are photographs taken at WMTS between 1958 and 1962.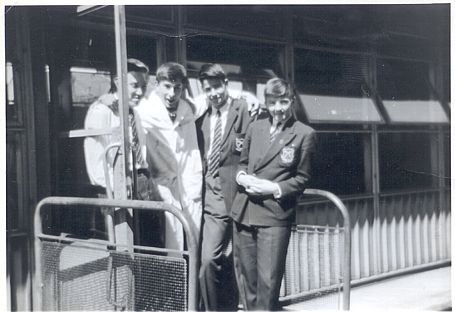 John Ryder, Phil Myers, David Woolley, John ? Biology lab.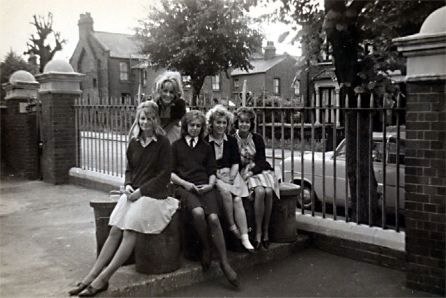 Girls on bins at WMTS (reminds of a song by Duran Duran!)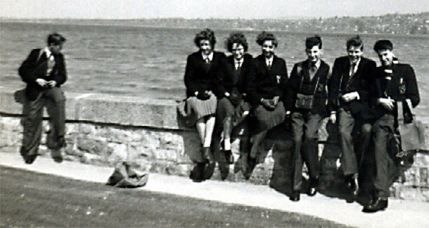 Swiss trip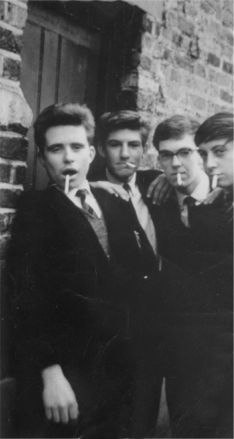 ... lads in the smoker's corner! (did their parents know?)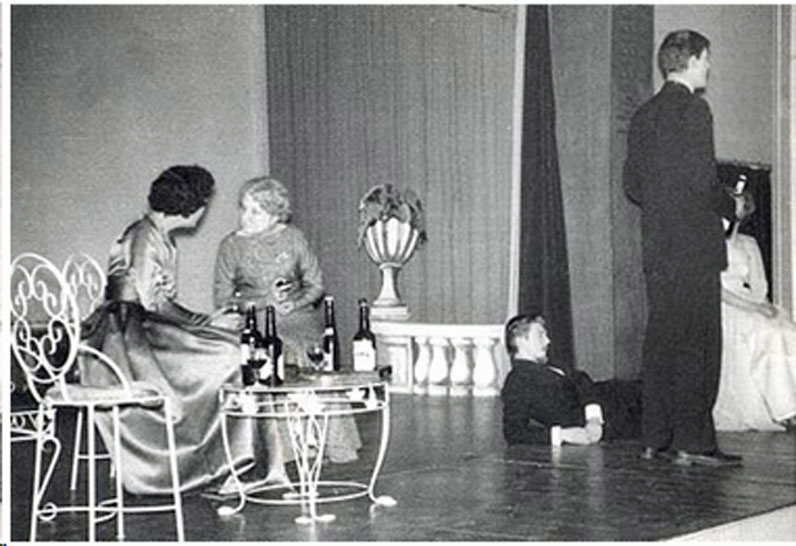 The River Line - performed by the WMTS Drama Club
directed by Dorothy Cornu in about 1961.
John Knowles and Pamela Killen far right.
---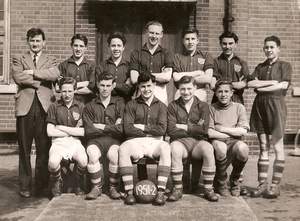 William Morris School football team 1951-52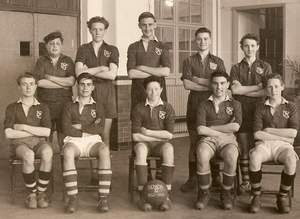 William Morris School football team 1952-53
---
18 Apr 2015 - William Morris School
Daniel, You're a glutton for punishment. More school photo's, eh?
This is my last school photo. It was taken at Sir William Morris school in Gainsford Road, Walthamstow. It was probably done in 1971 and it features the entire school year – the 6th. We all left soon after, I think.
The roll-call (with spelling mistakes) is:
Top row, left to right:
Tim Fletcher, Richard Gibbs, Jimmy Emmerick, Chris Ball, Martin Hollier, Geoff Dunkley, John Davey, Gary Marsh, Carol Leeson, Elaine Brennan, Sue Russell, Naomi Moore, Stella Gordon, Paula Vacher, Christine Gough, Cynthia Wellings
Next row down, left to right:
Christine Williamson, Joan Pledger, Sue Lofts, Linda Cutmore, Christine Davis, Jo Banderuha, Sandra Sparks, Christine Bremner, Roger Corson, John Timms, Sam Marcione, me, Graham Ratcliffe, Tony Murrell, Peter Clayden, Steve Porter
Next row down (standing on the floor) left to right:
Mr. Martindale (Head), Janet Broomfield, Shirley Duffell, Marjorie Fortune, Alex Ingram, Janet Lee, Angela Groom, Janice Bailey, Sue Brown, Lesley Talbot, Frances Dann, Margaret Hughes, Katrina Jarvis, Fiona Garrett, Christine Belmont, Norman Brooks, Dave Morton, David Luck, Mr. Mc Alpine (Year Head)
Front row (seated) left to right:
Jim Lawlor, Geoff Abrahams, Ian Brown, Abdul Pandari, Tony Kaye, John Hall, Rob Buck, Colin Wakeling, Richard bates, Chris Howard, Bill Jennings, June Low, Susanne Barr, June Kidd, Carole Wherry
4 Apr 2015 - Schooldays: William Morris
Daniel,
In response to your request for more local school pix, here's a snap of us 'young Turks' at Sir William Morris in about 1968: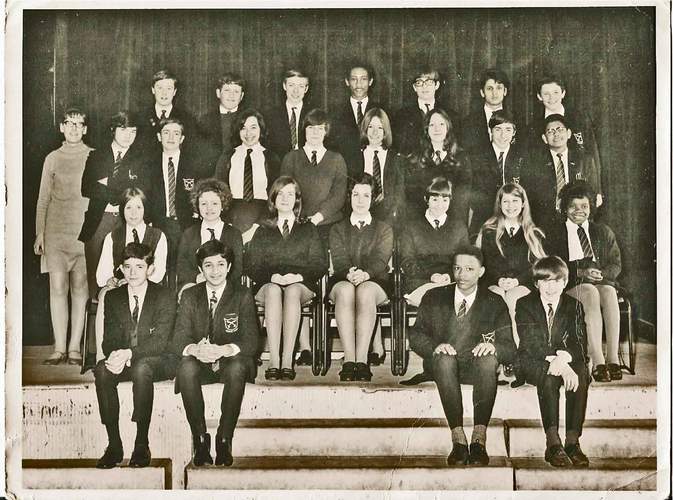 The hapless teacher was Miss Jones. She later married a fellow teacher at the school and became Mrs Coles. The names of my classmates are scribbled on the back of the photo and can be supplied to interested parties on request. I'm the grumpy kid in the back row, second from the left.
Hello Gary,
in the 1952/53 football photo in the back row left end is John Snell (tubby), next to him is me Henry Dunne (note the Kramer hair style from the Seinfield tv show). The tall guy is Alan Jones, I believe the end guy is Albert Vigar, in the front row left end is Terry Goodall, next to him is Ginger Martin, far right is David Taylor. We all graduated in July 1954. I have lived in the USA since 1963
Regards
Hi Gary,

I was one of the first comprehensive intake to William Morris having arrived from William (scruffy) McGuffie in (I think) 1967.
The teacher that you couldn't remember the name of was Mr Stockdale, who was my form tutor when I was in 4DO (Drawing Office)
You are right that everyone feared him as it was to him that you were sent, if you seriously broke the rules, for corporal punishment!
I enjoyed my time at William Morris, which was a much better school than 'scruffy', kids actually wanted to learn!
Regards.
Dec 2002 - Schooldays: William Morris Technical School
Although I lived in Chingford from 1953 until 1969, I went to William Morris Technical High School, Gainsford Road, Walthamstow, from first form until Lower Sixth. Leaving at Christmas 1969, having moved to Brentwood in Essex. I can remember some of the teachers very well, Mr Goddard (Daddy G), Scripture and Athletics, Miss Jones (Maths), Mr Kilgour (Maths), Mr Wilson (Physics) and Mr Baker (French, German and my last Form Teacher).
There was a wood work teacher who drove a Wartburg, had been a wrestler, who everyone feared and admired, but the name escapes me.
I can also remember some of the pupils from my class: Keith White, Tom Clark, David Slater, Chris Bereford ?, Robert George, Titchford, Mark Cox, Grant ?, Sue Tomkins, Kay ?, Linda ?
In the Lower sixth I had a Honda 250cc which I drove to school, parking in the bike sheds. I was in 'W' throughout the school, 1W, 2W etc. And I was in the year that when 5th formers we were all made prefects, at the time when it became a comprehensive and we had an influx of Ugandan Asians, some of which could not speak English well enough to do their lessons. I hope that some of the old class mates are still around and get to see this email. A reunion would be nice.
---
William Morris Technical School - List of Heads (alphabetical)
---
William Morris Technical School - List of Teachers (alphabetical)
| | | | |
| --- | --- | --- | --- |
| Name | Office | Years | Notes |
| Blakey, Mr. Christopher | | 1972-79 | |
| Booth, Mr. Mark | | 1988-89 | |
| Caton, Miss Margaret | | 1965-67 | Later Mrs. Barnard |
| Eden, Mr. Michael | | 1979-83 | |
| Foulkes, Ms. Catherine | | 1978-83 | |
| Good, Mr. Peter | | 1973-76 | |
| Morley, Miss Pam | | 1962-66 | Later Mrs. Stockwell |
| Rodgers, Mr. David | | 1973-76 | |
| Wright, Ms Sue | | 1976-80 | |
---
William Morris Technical School - List of Staff (alphabetical)
---
William Morris Technical School - List of Pupils (alphabetical)
| | | | |
| --- | --- | --- | --- |
| Pleydell, Peter | 1966-71 | | |
---
William Morris Technical School - Reunions
Sorry, no further information currently available, but if you wish to add your own memories about this school, email to Daniel at: [daniel@walthamstowmemories.net]
---