---
St. Mary's Infant School
---
History - St Mary's C of E Infant/Primary School
St. Mary's Infants School, Church End, was founded in 1824 in a barn by the vicar, William Wilson. He was encouraged by Samuel Wilderspin (1792?–1866), who conducted his brother Joseph Wilson's school at Spitalfields on the principles of Robert Owen. William Wilson became an advocate of infant education and his school quickly won a reputation at least equal to that of Wilderspin's.
In 1828 a school was built in the churchyard for 150 children between 2 and 7 years of age. Wilson followed closely Wilderspin's methods, stressing the value of 'instruction by amusement' and exhorting teachers to have an affectionate regard for the children. The school was a preparatory school for poor children, who went on to St. Mary's National school. The foundation of other infants schools in the parish may have contributed to the decline in attendance, to 76 in 1847, but by 1882 140 children attended and the school was known as the Central infants chool. It became a voluntary Controlled school in 1951. The building of 1828, standing west of the church, has a dignified 5-bay front of yellow brick. The three central bays, which contain the entrance porch and tall round-headed windows, project slightly under a raked parapet. The flanking bays, of which one has been altered, were both originally two-storeyed, the lower windows being set in arched recesses.
In 1928 the building was restored and later extended.

Chronology:
| | |
| --- | --- |
| 1824 | St Mary's Church school was founded by William Wilson. |
| 1828 | A new school building was built in the church yard, to accommodate 150 children aged 2 to 7 years old. |
| 1882 | 140 children attended the school, which was then known as The Central Infant School |
| 1951 | The school became a Voluntary Aided School. |
| 2011 | The school started to expand to 3-form entry, with the Reception children taking up residence in the new site at Brooke Road. |
| 2012 | St Mary's federated with St Saviour's School, Walthamstow, starting an exciting new partnership of church schools within the parish. |
This first picture (photo, kindly provided by Tas Richardson - see his page in Personal Stories) was taken outside St. Mary's Infant school probably about 1896. Dorothy Miller is marked with an X. She and her older sister, Olive are wearing sailor suits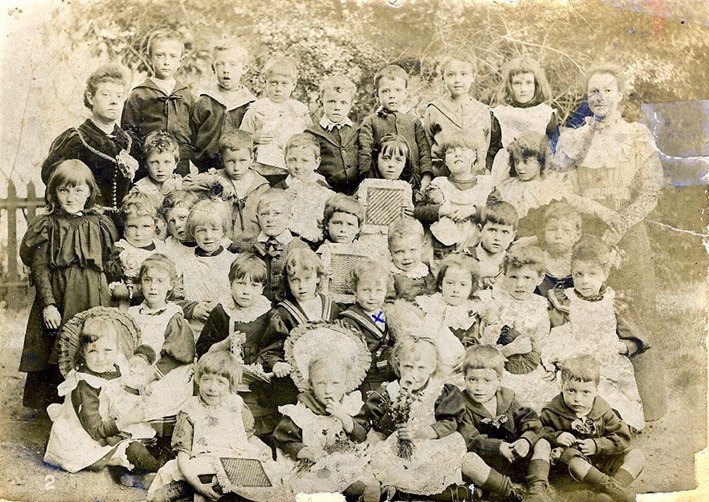 ---
St. Mary's Primary School

---
[
Back to Schooldays page
]
---
From Peter Gandolfi (see his page in Personal Stories): The picture below is of St Mary's Roman Catholic Primary School, on Shern Hall Street, and dates back to 1956 or 1957. I think the teachers name is Miss Boatman, but she could also be Miss Bridge. We used to have a short saying, "Miss Boatman's the boat who sails under Miss Bridge". Funny how some things stay with you!
I remember a lot of the faces, but not many names. In the second row is Loretta Nalley, Third row is Linda Mitchell and Paul Gandolfi, In the back row is Roger Durey and Vincent Manzi. I'm the one right in the middle, with a tie.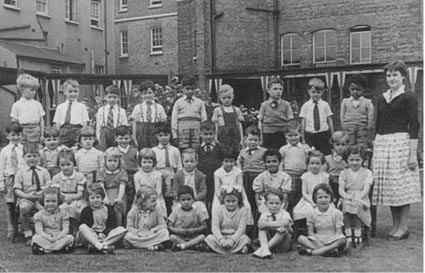 ---
St. Marys CoE Infant School - List of Heads (alphabetical)
Name
Office
Years
Notes
Rutter, Mrs Betty
Head
?-1970
---
St. Marys CoE Infant School - List of Teachers (alphabetical)
| | | | |
| --- | --- | --- | --- |
| Name | Office | Years | Notes |
| Boatman, Miss | | 1956-57 | |
| Bridge, Miss | | 1956-57 | |
| Clark-Thomas, Mrs | | 1986-90 | |
| Cracknell, Miss | | 1951 | |
| Davis, Miss | | 1950 | |
| Dawes, Miss | | 1967 | |
---
St. Marys CoE Infant School - List of Staff (alphabetical)
---
St. Marys CoE Primary School - List of Pupils (alphabetical)
| | | |
| --- | --- | --- |
| Name | Years | Notes |
| Durey, Roger | 1956-57 | |
| Gandolfi, Paul | 1956-57 | |
| Manzi, Vincent | 1956-57 | |
| Miller, Dorothy | 1896 | |
| Miller, Olive | 1896 | |
| Mithcell, Linda | 1956-57 | |
| Nalley, Loretta | 1956-57 | |
---
St. Marys CoE Infant School - Reunions
---