---
George Monoux Grammar School - General
---
Visit The Sir George Monoux College
Visit The Old Monovians Site

Who was George Monoux?

George Monoux (born in or before 1465; died 1544), was a younger son of John Monoux of Stanford, Worcestershire.

He was a successful merchant and a member of the Drapers Company. He was an alderman for Bassishaw ward in the City of London and was made Sheriff of London in 1509. He became the Lord Mayor of London in 1514.

To later generations, Monoux's most important purchase was that in 1527 of a few acres in the churchyard at Walthamstow upon which he built an almshouse and free school. He had a manor house in Billet Road and was a local benefactor who left money in trust to support almshouses and his school. Contrary to popular belief he was never knighted.


Sir George Monoux College, Walthamstow
(Click on image to enlarge)

On 15 June 1527, Monoux purchased land for almshouses and a school in Walthamstow. He left property worth £50 a year to pay the salaries of a schoolmaster and parish clerk, who were to pray for the souls of Monoux and his wives and to teach up to thirty children. This chantry endowment lasted until 1548 when it was suppressed in the Reformation.

He died in February 1544 and was buried at Walthamstow. He had married twice: firstly Joan, with whom he had a son and 2 daughters and secondly Anne, the daughter and coheiress of John Wood of Southwark, Surrey, and the widow of Robert Wattes of London.

The Monoux School, now Sir George Monoux College, traces its history back to that 1527 endowment as do the Monoux Hall almshouses in Church End, Walthamstow. In 1878, due to mismanagement of the charity by the trustees. the school closed. After some jiggery pokery by the Walthamstow Board with various charity finances, the school reopened in West Avenue in 1886. It then moved to an Essex County financed purpose built school building in the High Street in 1889. It outgrew these premises and moved to a much larger site in Chingford Road in 1927. From 1969 to1986 the school was a comprehensive, and in the late 1960s, it was ranked as the 11th best state school in the country. In 1986 the school became a Sixth Form College and girls were admitted for the first time. In 1993, Monoux became an Incorporated College, which is how it remains today.

(Text kindly provided by Bill Bayliss)
See Wikipedia entry
---
The Old Monovians Association contains loads of useful info and history.
I have a copy of the "Monovian" Magazine Vol.XIV No. 37 - Easter 1937 and shall be glad to lookup any info for you. Daniel [email]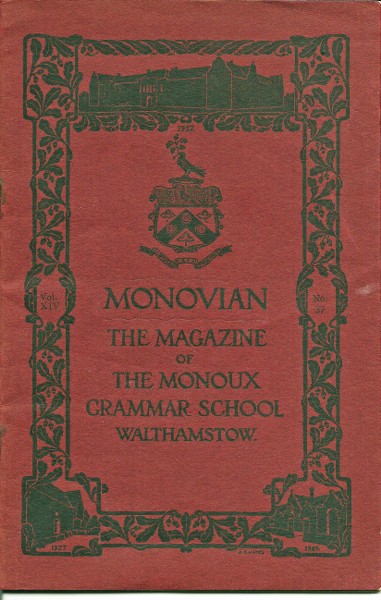 ---
George Monoux Grammar School - Emails
4 Jul 2010 - Schooldays: George Monoux
My dad, Eddie BANKS, was a pupil of the George Monoux School during the 1920s to 30s. I wonder if anyone has any memories or photos of the school?
Also, my dad, who lived on Billet Road, did art classes in the evening during the late 1930s. I wonder if anyone might have an inkling about where he might have studied? thanks for any help anyone can give.
---
George Monoux School - List of Heads (alphabetical)
---
George Monoux School - List of Teachers (alphabetical)
---
George Monoux School - List of Staff (alphabetical)
---
George Monoux School - List of Pupils (alphabetical)
| | | |
| --- | --- | --- |
| Name | Years | Notes |
| Banks, Eddie | 1920s/30s | |
---
George Monoux School - Reunions
---
Sorry, no further information currently available, but if you wish to add your own memories about this school, email to Daniel at: [daniel@walthamstowmemories.net]
---