---
The Riot Squad
---
This band was formed from The Spartans in the Summer of 1963 with the intention of touring for three months to the Hamburg nightspots and West German clubs (a la Beatles) with the object of getting some experiemce and returning to stronger gig prospects in the UK. In the end John Knowles and Howard Watling withdrew. John went to college and became a teacher and Howard a Coffee entrepreneur! Gerry Kirk had moved on earlier. This band had Tony Parnell on lead, Pete on drums and Allen on rhythm - John is playing bass but did not go on the tour and left the band.

The photographs below were taken as publicity shots for the tour but in the event were not used. Rumours that David Bowie sang with this Riot Squad are untrue. He did sing with a band called The Riot Squad, but they were a different band.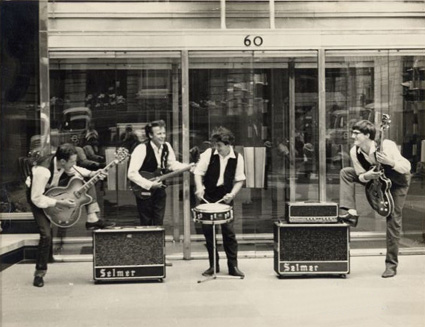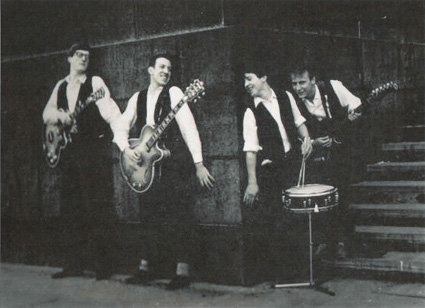 ---

Copyright notice: Images on this site are reproduced for the purposes of research and study only. Whilst every effort has been made to trace the Copyright holders, we would be grateful for any information concerning Copyright of the images and we will withdraw them immediately on Copyright holder's request.