---
Postbag 2012 (Last updated: Monday, December the 31st, 2012)
Choose month: Jan - Feb - Mar - Apr - May - Jun - Jul - Aug - Sep - Oct - Nov - Dec
---
DECEMBER MAILS - [Top]
NOVEMBER MAILS - [Top]
OCTOBER MAILS - [Top]
SEPTEMBER MAILS - [Top]
AUGUST MAILS - [Top]
JULY MAILS - [Top]
JUNE MAILS - [Top]
MAY MAILS - [Top]
APRIL MAILS - [Top]
MARCH MAILS - [Top]
31 Mar 2012 - Walthamstow at War:
Hello Daniel/John. I chanced upon your Newsletter and was most interested as I was born in Walthamstow in 1932. I thought you might be interested in the attached Picture.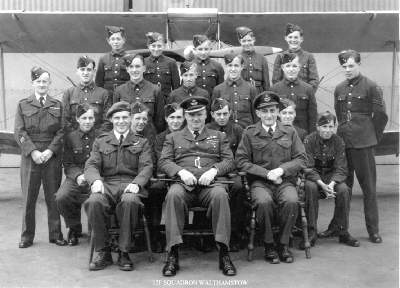 It was taken around 1948/9 whilst we were ata camp in Cambridgeshire. (I am 2nd from Right in middle row). If you would like further details re:- Wartime experiences in Wood Street, schools, evacuation etc. please let me know and I will try to rummage through my memory! Yours sincerely,
Donald PLATT,
---
31 Mar 2012 - Public Reply to Ted Breeze:
Hello, I was born in Thorpe Coombe in April 1942 and lived at 101 Kitchener Road until I got married in 1967.
I also went to Chapel End. I have attached a couple of class photos, but as you are a couple of years older than me you are unlikely to be in them.
I remember the circus in Lloyds Park. We used to go to the park all the time in the 1950's as it was a great place to play and cause mischief! Being chased by the Parkies for cycling on the footpaths was great fun.
Opposite our house in Kitchener Road used to be the London Transport Sports Ground. in the late 1940's they used to have an annual fairground held there essentially for LT staff but us kids always went. I remember there were lines of buses parked in road - red ones, green ones, single and double deckers - which brought the people to the fair.
The site is now built on with houses. Best wishes
Roy BEILEY,
---
31 Mar 2012 - Public Reply to Bill Bayliss:
Hello, I am a 'Stow born person, as is my wife, although we now live in deepest Norfolk. Some difference! Our neighbours were also born and bred in W'stow.
I have been logging on to your site for several years and have been fascinated by the wealth of info available. Seems that people born and bred in Walthamstow must have had an extra Gene in their makeup which keeps calling them back to re-visit their youth.
My wife's mother died recently aged 96 (also a Walthamstow gal) and we found a cache of photos in her belongings. One of these is of a VE Day party in Gosport Road outside no 114, which was her father's house. He was Alfred Lawrence. There are several members of his family in the photo who my wife recognises, but many who she does not as she was only 2 at the time!
I have attached a copy of the photo in the hope that visitors to your site my be able to put names to some of these faces..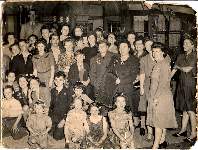 Keep up the good work of allowing us to share our collective memories. Best wishes
Roy BEILEY, formerly of 101 Kitchener Road 1942-1965
---
20 Mar 2012 - Public Reply to Roger BRIGHTEN:
Hello Roger,
With regard to your query concerning the jig saw puzzle maker, would this have been Tower Press? I understand that they made jig saw puzzles in West London up to 1960 when production moved to somewhere in Walthamstow. This company was subsequently taken over by Waddington.
Respects,
Bill BAYLISS
---
20 Mar 2012 - Local History:
I was born in Walthamstow in 1940 at 334 Brettenham Rd and attended Chapel End School. Can anyone remember the circus/fair that was held in Lloyds Park in the 1950's? Regards.
Edward (Ted) BREEZE
---
20 Mar 2012 - Local History:
Hello, We are working on a social history documentary which will explore the changing face of Britain by recreating a Queen's Coronation street party from 1953, during her Diamond Jubilee celebrations in June this year. The aim of the programme is to bring to life the spirit of Britain in the early 50's. With the help of local residents we'll dig deep into the past to discover and experience what home, family and community life were really like at that moment in history. Along with the modern residents we are hoping to find people who attended the original street party to add their memories of everyday life in the 50's. With this in mind we are searching for a street which held a party in 1953, and for which there is good archive material of the event. In an ideal world we would also like to find a street where someone who attended the original street party, still lives today. Their firsthand account, along with local historians and experts, will be crucial to authentically recreating the period. I would love the chance to discuss the project with you in more detail. Thank you in advance for any help you might be able to offer and I hope to hear from you soon. Regards
Alex SCOTT
---
18 Mar 2012 - Personal Memories:
Hi Daniel, As you will see I have been in contact with Dave Hughes, I would like you to include my article [read it here] on your Web site for others to read, the Web site is a wonderful thing and gives me so much pleasure to read about things that I can relate to. The photographs you come across are really nice and its nice to know that although Walthamstow is nothing like it used to be!! It is still in peoples memories!
Keep up the GOOD work. Regards
Neil WATLING
---
18 Mar 2012 - Local History:
Does anyone remember the company which was located off of Palmerstone road later to be bought out by Waddington's - it used to make wooden jigsaw puzzles from scratch. I worked there in the late 60's, I used to cut the plywood on the circular saw and also help set up the presses. I attended Chapel End School from infants to senior leaving in 1964. I lived in Sturge Ave no 138 until 1966. Anyone who remembers me please contact me. I have a lot of memories of Walthamstow from going to the Saturday morning pictures and the High Street and Wood Street areas and the assembly hall dances. Thanks
Roger BRIGHTEN
---
18 Mar 2012 - Public Reply to Jean BROWN:
Hello Jean,
Regarding your post about Achille Serre and your mother making curtains for Lonnie Donegan, I think that this must have been in the late 1950's after he had an enormous hit with 'Rock Island Line' that was released in 1956. Up until then he was one of a number of jazz musicians who struggled to make a living . An 'amusing' sidelight to the 'Rock Island Line' recording, was that Lonnie claimed the British copywrite for the song. In fact it was written by the great American blues singer Huddie Ledbetter, who is better known as 'Leadbelly'. That meant that after 1956, all the royalties from any British version of the song went to Lonnie Donegan.
His first marriage was to Maureen Tyler in 1955 in Stepney when he was with Chris Barber's band who were starting to become popular and were working regularly. I think that shortly after he married, they moved to East Ham. After his success with 'Rock Island Line' the money started to roll in and they moved to Chigwell.
The reason that I know this kind of stuff is because during my misspent youth, I was a fanatical traditional jazz and folk music fan and a would be musician. From 1954 (When I was 16 years old), I spent every weekend in Soho at either Ken Colyer's '51' club at Great Newport Street or at Cy Laurie's club in Great Windmill Street and later the Blues & Barrelhouse club in Wardour Street.
Afterwards we would go to the 'Cat's Whisker' in Kingly Street, the '2 i's' in Old Compton Street that had the 'Vipers' skiffle group, 'Le Macabre', Wardour Street which had coffin shaped tables and small skulls with candles as table decorations, the 'Cellar' in Greek Street, that had Chas McDevitt's skiffle group, the 'Breadbasket' in Cleveland Street, 'Gyre & Gimble' in John Adam Street where somebody told Tommy Steel to "shut that racket" and when he didn't, jumped on him.
Respects,
Bill BAYLISS
---
16 Mar 2012 - Local history: Achille Serre:
After reading Bill Bayliss' story on Achille Serre, reminded me that my Mum worked there making handmade curtains - It may have been the 40's or 50's - and she handmade curtains for Lonnie Donegan when he moved into a house at, I think, Chingford.
Jean BROWN (nee TRUMAN)
---
15 Mar 2012 - Family History: FRENCH:
I am hoping that someone may be able to help me find some information on my great great aunt, Emma Eliza FRENCH, who used to live in Hoe Street probably around the 1950s? My mother and uncle can remember visiting her only once when they were much younger. Does anyone know anything about her children - Alf (b 1898), Albert (b 1905), Cecilia (b 1907) and Edith (b 1915). I do know that Alf was in the Army up to about 1932, and may have had a son Peter. Any help would be gratefully appreciated. Thank you,
Susan BRATTON
---
12 Mar 2012 - Public Reply to Philippa Gallacher:
Hello Philippa, I have sent you a private email that gives your family genealogy which, I hope, answers some of your questions.. I particularly liked your ancestor who was a Professor of Dance in 1851 and his wife who was the Secretary of the Chichester Dorcas charity.
You might be interested to know that the James Dixon, who taught your Uncle George at George Gascoigne school was a very much loved and respected teacher who was the founder and voluntary leader of the Athan Boys Club in 1931 in Grove Road, Walthamstow. (Later renamed as the Cameron Athan Club and closed in 2008) He became headmaster at Chapel End and this is what Bob Edy, one of Walthamstow Memories contributors, wrote about him in 2005 ".....Mr James Dixon MA - a wonderful man. In the evening he was in charge of Chapel 38 Club (Boys), later on the Chapel 43 Club was founded under his chairmanship, this was for girls. We knew him as 'sir' at school, but Jim outside. Ah memories.... " In 1966 he was given an OBE for his work.
Respects,
Bill BAYLISS
---
11 Mar 2012 - Local Bands: The Riot Squad:
Hi Daniel Interesting reading in the Local Bands section.
As a member of The Riot Squad from late 1965 to Jan 1969 I wish to add a few facts.
The Larry Page Riot Squad disbanded in 1964. Original member Bob Evans (sax) joined forces with local band The Chevrons. 'Nero' Gladman vocals, Roger Crisp bass, Terry Clifford guitar, Butch Davis keyboards, all from Waltham Forest and Del Roll drums from Tottenham. They became the second RIOT SQUAD in Oct 1965. Bandleader Bob Evans secured a recording contract with wayward record producer Joe Meek and in 1966 had 4 records released on the PYE label. Your article states Jon Lord played on the Meek sessions, this is untrue, it was my good self Butch Davis on keyboards. After Joe Meeks untimely death in Feb 1967 the group split and continued with founder member Bob Evans along with local boys Butch Davis and Del Roll, joined by David Bowie, for 20 gigs and new musicians from Kent and Bucks. The band disbanded in early 1969.
I'm attaching a photo: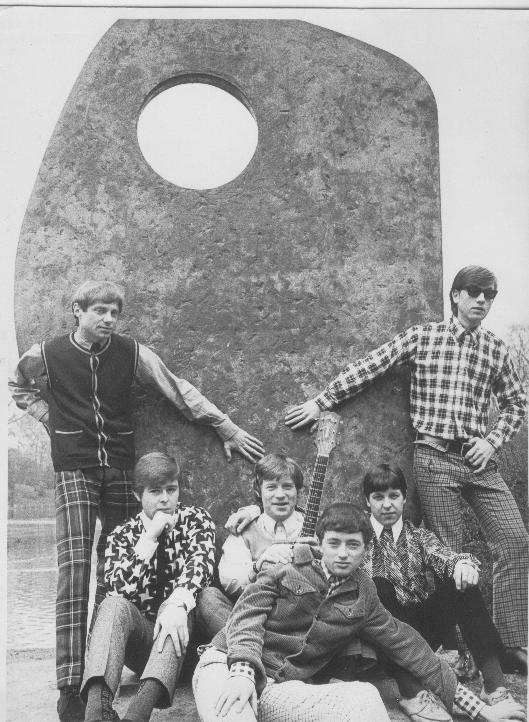 ---
9 Mar 2012 - Local History: The Associated Equipment Company (AEC):
Hello Daniel, The attachment is another in my series about bygone Walthamstow factories. Today, few people know that Walthamstow was once a major industrial producer of buses and industrial vehicles. In its day, the Associated Equipment Company (AEC) was one of the largest companies in Walthamstow and employed nearly 600 people building buses and other commercial vehicles.
The AEC factory site was huge. It covered the area between Ferry Lane and Hooker Road between Blackhorse Lane and High Maynard reservoir. It even had its own railway sidings!. After it closed in 1927, many other industrial companies located themselves on the site. Amongst these were; Ever Ready (Battery manufacturers, S Noton (Crown Luggage), Hammond & Champness (Lift Manufacturers) etc.
Respects,
Bill BAYLISS
---
9 Mar 2012 - Family History: Kerridge/White Family:
Hi Daniel, I found your web site and I am hoping that I might be able to find out some more about my family. I am looking for any information about my father's family. Particularly, his mother's side. My Grandmother was called Margaret Esther White and she was born in Oct 1894, she married my grandfather Philip Joseph Kerridge who was born in 1893 In Islington. They got married in Aug 1919 in Walthamstow I think it was St Barnabas Church in Walthamstow. They lived in Cambridge Road and also in Boundary Road. They had 5 children: Charles, George, Phyllis, Rose & Philip.
My Uncle George went to George Gascoigne Central School (Boys) and I have two school reports for him, Jan 1936 & July 1935, I think the Head teacher was David Norris or Morris, his form teachers were I think W Smith & James Dixon. I also have a school report for my dad Philip, he was at the William Morris Central School in January 1941. I was hoping that maybe someone would have school pictures from around that time.
Margaret Esther White's father was called Robert Martin Godwin White he was originally from Sussex, but moved to London. He was married twice, Margret's mother was called Eliza, I don't know her maiden name and she came from West Wickham she was born 1862 and died in 1929. They lived in 31 Benn Street Hackney in 1881 and had two other children George White & Roberta Amy White. Robert then went on to marry Rose A or Rosa I do not have surname either but they had two sons Frank E White (b c1876) & William H White (b c1879). I have not been able to find anything about them at all, I would love to know if they married and had children as these would be cousins I think as Frank and William would be my great uncles.
Robert White was a Decorator and lived at 51 Lennox Road Walthamstow in 1919.
Other members of my family are:

Frederick William Kerridge lived at 2 Myrtle Road Walthamstow he was a printers Despatch Foreman, he died 1945
Charles Kerridge of 47 Grange Road Walthamstow he was a textile packer he died 10 October 1942 he died at the Central Home in Leytonstone
Thomas Butler who married Roberta White
Jane Charlotte Richardson who married Charles Kerridge
James Charles Kerridge (c1885)
Nellie Esther Brown and Lydia Farthing both married to Frederick William Kerridge

If anyone has any information no matter how small I would be so grateful. Thanks
Philippa GALLACHER
---
6 Mar 2012 - Local History: E.N. Bray Ltd.:
Hi Daniel, If anyone has read my memoirs you will know that my first real job in Walthamstow was with a company known as E. N. Bray Ltd. And the firm was located at Whipps Cross in Wood Street in the same building where Alfred Hitchcock started to make moving pictures.
Now my question to anyone who knows the answer is who was Mr E. N. Bray? I would like to know if his relatives still exist and anything at all about the man himself. The company was well established in 1952 when I started to work there and Mr. Bray had invented lots of Marine type electrical switchgear for the Admiralty. The company then branched out into general electric motor control panels for industry all over the world.
The legend I heard was that he lived on a boat and invented or developed the switchgear there.
I have no idea when the company started up so I would like to know, so if any like Bill Bayliss (Hint) can help I would be very much obliged. Please make it a public reply as I am aware that there are other old employees still living out there.
Now the company did move to Waltham Cross with me included in the late 1950's and it was then taken over by other companies.
The company name still exists in the north of England as ENBRAY Pty. Ltd. and when I wrote to them with my questions my letters were just ignored, so you can forget that as a source of historical information.
Regards,
Len HALL
---
3 Mar 2012 - Local History::
Past members of my family lived in Walthamstow between 1870-1935 at various addresses; from Collard Road initially, to Church Hill Road. I have several items relating to their time there. I still hang my shirts on a coat hanger with the wording "The clothier - A.H. Pannell, 30 & 32 High Street" on it! I wondered if you had this business on your list?
Regards,
David J. BONSALL
---
FEBRUARY MAILS - [Top]
24 Feb 2012 - Local History: Achille Serre:
I remember working there in the late 1960's. Machine 'minders' could only work on them for (I think) 6 months at a time, before they had to work elsewhere for a while. This was because of the bleach/whatever that was used.
As a child, previous to this, a couple of my friends and me went out with our friend Rosemary's father in his van to travel around Essex in the evening, collecting the very large laundry bags from the shops. It was great fun rolling about in the back of the big lorries which collected these bags!
Regards
Dave HUGHES
---
24 Feb 2012 - Local History: Reginald King's Pictures:
Dear Daniel, Gosh, when you said you were going to put them on the website I didn't imagine anything so lovely - what an amazing job you have done with Reg's photos. The music is just perfect, he would have loved it.
I'm going to send the link out to the family, they will be so proud.
Thank you so much - Have shed a few tears!
Sue POWELL
---
22 Feb 2012 - General:
My name is Dave and about six years ago I started telling my grandson Ben, then 4 years old, stories that I basically made up as i went along. Over the years I wrote these done into short stories, featuring my grandson and his friends along with some characters I made up, who live under the ground. There are 10 short stories in total in what I call 'Series one'. My purpose in including this post is to ask if there is anyone out there who could re-write these in a more storylike way and maybe we could get them published as a joint venture? Any and all suggestions welcome. Regards
Dave HUGHES
---
22 Feb 2012 - Walthamstow at War - public reply to Rodney SILK:
Hi, I have just been searching online for anything relating to the play area in Stoneydown Park, when I stumbled across your post. We moved to 12 Essex Grove - on the corner next to Garages, adjacent to the railway and backing onto the Burton factory - in 1959 when I was 3. As a small boy I used to sneak into the lorry yard to play, which I guess was your uncle's. With my friends who lived across the road from the lorry yard, Richard and George, we used to go around on a hand-made 'jigger', on one occasion hitting the sign for the Essex Arms so hard (I was steering) that it knocked a lump off. The evidence was still there the last time I looked.
Stephen MORLEY
---
21 Feb 2012 - Walthamstow at War - public reply to Bill BAYLISS:
Hello Bill, I cannot add anything more to the report from "Walthamstow at War" on the V1 flying bomb incident at the top of the High Street apart from the nearest quote to a date of the incident is August 1944. For six years just after the war I would pass this spot on a bus on my way to school. It took many years before the damaged area was eventually cleared and a new development built on the site. I clearly remember seeing the badly damaged Burton tailors building on the corner of the High Street with the snooker tables still in place on the upper floor which was all open to the elements. It was interesting to discover, at the Walthamstow Memories gathering last June, that the new development had been demolished and the area from the High Street, and between Hoe Street and Cleveland Park Avenue and up to the old Granada restaurant, now the Victoria Pub, was completely open. Kind regards,
Rodney SILK
---
21 Feb 2012 - Walthamstow at War - public reply to John PRIDIGE:
Thank you very much, John, that answered a lot of questions.
Have just found out that whatever fell, a piece of shrapnel went through a rear window, through the house and out through the frontdoor. Passing on it's journey through both uprights of a wooden door frame in the passageway and finally out through the side frame of the front door. The holes were about the diameter of a pencil and were still there in 1965, when my Dad shew them to my Husband.
The above and those in our cat are the only pieces we know of.
Jean BROWN (nee Truman),
20 Feb 2012 - Local Bands:
Hi Daniel. I've just discovered the "Walthamstow" site and went straight to the bands section, which I found fascinating. Thought you might like to add Denis Payton, sax player with Dave Clark Five, who lived in Brettenham Road, E17. His Dad's name was Archibald and he was always pleased to chat to us teenage girls, when we knocked, uninvited, on their door. Sadly, Denis died of cancer, aged 63, in 2006.
Must get back to the site and have a trip down memory lane. Regards
Susan van MAANEN
---
20 Feb 2012 - Public Reply to Stuart George ELY (18-02-12):
Hello Stuart,
I have sent you a private reply that gives your paternal ancestry back to the 18th century. As you refer to the V1 flying bomb attack in WW2 at the top of the High Street, I thought that you might be interested in the following (This information comes from Ross Wilde's invaluable book 'War Over Walthamstow'):

The Hoe Street Fly Bomb
Hoe Street's real trouble came later with the bomb which fell in daylight outside Hitchman's distributing Centre in Hoe Street near Church Hill. The approach of the bomb was heard and people shopping in the vicinity took such shelter as was available; some dived into shops and doorways, others into an archway between two shops which led to a motor coach garage at the rear. By the worst of bad luck the bomb burst practically opposite to this archway collapsing the two floors above and burying people in the debris. The Incident was complicated by the fact that the bomb dropped just before 10 a.m. when shopping was in full swing, and it was not until after midnight that we were able to say just how many people were reported to be missing. The Rescue Service worked throughout the day and night and by 7 o'clock the next morning the last body had been recovered from the archway, the wall of one side of which was threatening all the time to collapse and bury the rescuers. On the other side of this same wall a lad of 15 was trapped by debris to the waist, and at the risk of their lives the Rescue men, a doctor and the Casualty Staff Officer worked for some four hours before the lad was rescued at about 2.45 p.m. uninjured, but suffering from shock. The last body (that of an office cleaner) was recovered from the iron staircase buried under the debris at the back of some office buildings at the bottom of Church. The casualty list at this Incident was our worst for Fly Bombs, there being 19 dead bodies recovered in addition to three other deaths which occurred in hospital subsequent to rescue. The total of casualties recorded for this one Fly was 144.

This account below is from Richard Dunn's excellent website (Walthamstow History):

From George.......Hertfordshire.........6th July 2002
I remember the Doodle bug (Buzzbomb)) that landed at the junction of the High St - Hoe St and Church Hill. It was on a Saturday morning and destroyed Hitchman's Dairy, Stoffers fish shop, Burtons tailors and the snooker hall. Sorry don't remember the date. Hope this is of some use. I also offer the following anecdote that also concerns a Fish shop (Actually a Fish & Chip shop) that is at the top of the High Street and was roughly opposite Walthamstow Baths. In 1944, during the WW2, David Williams and his wife were working for the owner of the Fish and Chip shop that he rented at the top of the High Street. This was a very profitable business because fish was not rationed and there were always a long queue of people outside of the shop. On the day of the V1 attack, the shop owner left the shop to do some shopping in Hoe Street. While he was out, the V1 flying bomb exploded. He never came back to the shop and it was assumed that he was one of the unidentified people who had died. David and his wife continued to operate the business. After several months when there still hadn't been any word from him, David Williams applied to the owner to rent the shop. After the war the profits enabled them to buy a car hire business for their son when he was demobbed from the RAF. Later they were able to finance their daughter and her husband to set up a fish and chip shop in Leyton and to do this for his brother-in-law who opened a fish and chip shop opposite Lloyds Park.
Respects
Bill BAYLISS
---
19 Feb 2012 - General:
Hi Daniel, Many thanks for your email and the inclusion to Walthamstow Memories.
Having read your home page and much of the postbag, I may be able to help some of the people seeking information.
Regards
Ken KING
---
18 Feb 2012 - General:
I was born and spent all of my life at 33 Milton Road up to the time I did my National Service in the Royal Signals. I spent all of the war in Walthamstow, although early on we had a coach to stay in a barn near Chingfod Plains to sleep at nights to get away from the raids. My father owned Stoffers fish shop in Hoe street and we were all there when the V1 fell onit in june 44. I went to George Gascoigne school and then the SW Technical college. I am 80 next week and live in Poole. I should love to hear from anyone. I had two children but regret my son was killed in an aircraft accident whilst we were on holiday in America in 1979. He is buried at St Johns Church Buckhurst Hill. I have a daughter and two grown up grandchildren I would love to hear from someone.
Stuart George ELY
---
17 Feb 2012 - General:
Came across your site whilst reseaching family history. I lived in W/stow from 1940-1998, lived in St Johns road, went to school at Chapel End and worked for E N BRAY & the AFA group. I would like to hear from any one who new me. WILL SUBSCIBE TO YOUR NEWSLETTER.
Ken KING
---
17 Feb 2012 - Walthamstow at War - public reply to Jean BROWN:
Hello Jean, I have done a little research, and can tell you that an ordinary High Explosive (HE) bomb landed in the gardens between Verulam Avenue and Tudor Court on 19th October 1940.
It is not possible at this stage to determine exactly what size of bomb it was. The most common was the SC-250 or the larger SC-500. However, the smaller SC-50 was also capable of making a fair sized hole in the ground! There is a small possibility that it was the SC-1000 (commonly known as a 'Hermann') but I would have expected this to cause severe damage to the structure of surrounding houses.
Of course, a little later in the war the Luftwaffe occasionally treated Londoners to the SC-1800 ('Satan') and the SC-2500 ('Max').
I hope this helps. Best Regards,
John PRIDIGE, V-Weapon Researcher, Walthamstow
---
16 Feb 2012 - Walthamstow at War - public reply to John PRIDIGE:
John, would you happen to know what fell in the back gardens between Verulam Avenue and Tudor Court during the war. Although I was evacuated during the war, I lived in Verulam Avenue and can remember coming home on one occasion to find a huge crater where our back garden should have been also, our cat Peter had shrapnel lodged in his neck from the blast which was never removed. Thank you,
Jean BROWN (nee Truman),
15 Feb 2012 - Local History:
Hello Daniel, I'm sending you this piece - which is actually about Chingford - because it is about a place that will have many happy memories for ex and present Walthamstow residents. I've also written a piece about Lloyd Park that I will have to send in several emails as it is too big (A number of pictures) for my email provider.
Respects and best wishes,
Bill BAYLISS
From Daniel: The article on "Larkswood open air pool" in the Personal Stories section
[
click here to read it
].
---
15 Feb 2012 - Local History:
Hello Daniel, hope it's a bit warmer in Florence now! At least it's prettier than here.....
I will post the CD with the pictures on tomorrow, I have only done some, as you were right about scanning, it takes a long time. I have put the pictures in folders, the ones in the St John's Road folder were definitely taken there. I would be grateful if anyone can identify the others as to location - the ones in the folder 'Near a shop' would be easy to locate if anyone remembered the shop, that will help me sort out the rest of the suitcase.
The photos were all taken by my Uncle. His name was Reginal King, and together with my Aunt Violet (King), they kept a shop at 93 St John's Road, from the '40's until they closed it, though they continued to live there. Reg had a side line as a photographer, & he photographed people, then put the pictures in the window so people could order copies if they liked them, which he then developed. Thus the ones in the St John's Road folder are people photographed in that street. The parade ones are from the 1953 Coronation of Queen Elizabeth.
I seem to remember that there were 3 shops in St John's Road, and the furniture removal business. Reg's shop was the one which didn't give credit - my Mum says that the shopkeeper from one of the other shops used to complain to Reg when people shopped with him after they had run out of credit, because they were spending money in Reg's which they owed! He always seemed very popular, people used to drop in to chat even if they weren't buying, and he would 'open up' at night if someone knocked on the door because they had run out of some essential.
It would be lovely if any of these photos were recognised by someone, it seems a waste to have them sitting in a suitcase. There are lots of others, weddings, poses etc, but I can't be sure if they are from Walthamstow, and then there is a whole collection taken in the East End, which I love.
Have attached 3 photos for you to look at now:
With best wishes, thank you for your time,
Sue POWELL
---
13 Feb 2012 - Local Bands::
Hello John and Daniel. I noticed in your postbag section on the 10th of February that a guy was looking for any members of the "Riot Squad" group. Both John Knowles and I were members, but I think that the band he is looking for is not us, as I do not recall making at that time any recordings. As it says in the article, David Bowie was the singer and I can't recall ever being in his backing band. Hope this helps. Regards.
Tony PARNELL
---
12 Feb 2012 - Personal Stories:
Hello Daniel, Please find attached some of my earliest memories of Walthamstow [read them here].
As I mentioned earlier my neighbours come from the Brunner Road and latterly the Drive area of Walthamstow. Bill was the manager of the Gas Board Showrooms at the corner of Cleveland Park road. You can imagine our delight when our history was compacted across the garden fence !!!!!
I still have numerous books on the area and the Lea Valley which I delve into occasionally. Needless to say, I still miss the area - having moved away in 1991. But it has changed somewhat. Thankfully the "shadows" of my youth can still be seen - I suppose, if you know where to look.
Thank you for allowing me to contribute to the site...... I have had many a few great hours reliving my home.
I hope that you will allow me to keep contributing?
Kindest regards
Sally PASSMORE
---
12 Feb 2012 - Walthamstow at War:
Hello Rodney, Yes, I have been corresponding privately with Len Hall, and have come to the same conclusion. We also discussed the possibility that Pam was dragged back towards the explosion by the resulting vacuum. This would occur if the rocket penetrated deeper than usual into the ground before exploding, thereby more of the blast would be directed upwards, creating a vacuum. The official report into this incident describes the ground where the crater occurred as "sand and loam" which would support this theory. I have also discovered that the rocket was launched by Batterie 1./485 from the Den Haag area of the Netherlands. The rocket serial number was 21 247.
Best Regards,
John PPRIDIGE, V-Weapon Researcher, Walthamstow
---
12 Feb 2012 - Walthamstow at War:
I agree with John Pridige's comment that the incident that Pam Hall experienced in Cheshunt was a V2 rocket. Because of the failure of Operation Market Garden in September 1944 to remove the Germans from the Netherlands the area around The Hague was used to launch V2s until the end of March 1945. If Pam was that close to the incident then she was most likely within the "Zone of Silence". In other words she would not have heard the explosion, as at ground level air is dragged towards the explosion to fill the vacuum created. I am afraid I have had experience of this phenomenon. I think I can pin-point the incident experienced by Pam: of the five rocket attacks recorded in Cheshunt I believe the one that Pam experienced was number 530 on the 14th January 1945 at 15.29 hours. This was a Sunday and the rocket fell in Bury Green Road, which is adjacent to the cemetery that Pam mentions. There were five civilian deaths recorded which included one couple a Mr. & Mrs. Lindsell. They were married in 1919 and, of their four children, the youngest was born in 1935. He was male and would have been 9 years of age at the time of the incident. The other four rocket incidents in Cheshunt appear to have no recorded fatalities. The number 530 is one of 1115 rocket attacks recorded which were known as Big Ben incidents. Kind regards
Rodney SILK
---
12 Feb 2012 - General:
I am a Walthamstow girl now living in Suffok, who would like to contribute to the memories pages. Could you please advise how I can become a member? Funnily enough my present next door neighbours in Suffolk hail from Walthamstow, Brunner Road and latterly the Drive. Now that's what I call a considence. Many thanks for a brilliant website. I've spent great times reading the pages. Kindest regards
Sally PASSMORE
---
11 Feb 2012 - General:
Hi! My name is Vic Lee - I am working with Waltham Forest Council on a regeneration project on Wood Street. Basically I am illustrating a piece of work that will go on hoarding outside the old loos, beside the library and the Woodside primary school. I am illustrating a piece that will be 18m x 2.5m high that shows Wood Street stories, some made up, some true - the odder the better.
I have been talking to a lot of the residents and picking up some great bites. Things like the cows that roamed round Wood Street, and the waterways putting in cattle grids to stop them getting on the North Circula. Old ma Flo who lived at 114 Wood St and her gang of horsethieves. How she would buy cheap eggs and stamp them with the Lion stamp and sell them as British. Chris at Electro Signs on Valentin Rd - his son played the baby in the first Superman film Dell boy from Wood streets market - his lad beat Joe Calzaghe in a boxing match when they were 13.
I am looking for funny, odd stories that only the locals know of. If you see my site (www.viclee.co.uk)and look at the East London Stories - it will be on this style.
Do you have or do you know of any great stories you could share?
Much obliged. And love reading peoples memories!
Vic LEE
---
10 Feb 2012 - Local Bands:
Hi Guys, Great website, I see you have a page dedicated to the Riot Squad. Do you have any contact with any members of the band??? I work for a record label www.acidjazz.co.uk based in East London and we'd like to get in touch with them about reissuing some of their recordings. Hope you can help. Best Wishes
Damian JONES
---
08 Feb 2012 - Walthamstow at War:
Hello Len, I found your 'Wartime Memories' article very interesting, in particular the references to V-Weapons. In this respect I hope you will find my comments useful.
First of all, I am convinced that Pam's reported 'close encounter' in 1945 was not with a V-1, but with a V-2. I have a number of reasons for this. Firstly, contrary to a widely-held belief, the V-1 was not a rocket but a pilotless aircraft powered by an Argus pulsejet engine which could be heard several miles away. Pam would therefore have certainly heard the approach of a V-1, whereas a V-2 arrived without warning. Secondly, I can find no record of a V-1 impacting in the Cheshunt area after 21st October 1944.
Several V-2's impacted in the Cheshunt area during the first three months of 1945 (rocket attacks on England ceased on 27th March). If either yourself or Pam could provide a more accurate date I may be able to provide more details. Incidentally, I would be interested to know if the crater from this incident was in a roadway or a field. The reason I ask this is because a V-2 would sometimes penetrate soft ground a little deeper before exploding, resulting in more of the blast being directed upwards than would normally be the case. If this happened at the incident in Cheshunt, then Pam is lucky to be alive. A V-2 strike on a concrete roadway would most likely kill anyone within a 75-yard radius.
By the way, all V-2's directed at England were launched from The Netherlands, not Germany. Most were launched from the areas of Den Haag and Hoek van Holland. A small number were launched from Rijsterbos aimed at East Anglia, while six were launched from the island of Walcheren.
Best Regards,
John PRIDIGE, V-Weapon Researcher, Walthamstow
---
07 Feb 2012 - Local History:
Hi, Interesting to see Rodney Silk's pics of Wingfield House, Hale End Road, E17 in July 2011 postbag. I have never seen a picture of the house before. As he described it was demolished in 1969. However not all of it was lost, the ornate curved window to the left hand side addition was bought by me for a fiver from the contractor and I promptly installed it in a property in Forest Rd E17, where it still lives today and looking as good as ever. (see pic). Hope this is of interest.
---
05 Feb 2012 - Local History:
Hello there, I have just found your website whilst looking for some information. It is wonderful. I have a collection of photographs taken by my uncle, Reginal King, who had a shop in Scales Road and then one in St John's Road - they probably date from the 40's to the 60's. He was a photographer, and also developed people's photos. I am unsure of the location of the photos, but they are all of people, and I think they are great. Several have a 'piano movers' premises in the background. If I scan them, would you be interested in having them on a CD or memory stick, in case they are useful for your site? Please let me know, because otherwise I guess I'll just put them back in the suitcase, I don't know who would be interested, as none of them have names or dates on the back. I'm trying to separate them into ones I think are from walthamstow, but it's hard for me to be certain. Many thanks for reading this.
Regards,
Sue POWELL
---
JANUARY MAILS - [Top]
31 Jan 2012 - Family History: Shepherd Family:
My Grandmother Florence Rhoda Shepherd was born in Wood Street Walthamstow. My Dad was told that she was born in a caravan near Leyton Station, so I wondered about the connection, but I have just found reference to an address given as Caravan in fields, Wood Street in relation to another family tree so there may be some validity in what my Dad was told. Also, I was told my Grandmother came from Traveller/circus people. I would be interested to hear from anyone who may know something about the history of the family.
Lorraine MATTHEWS
---
27 Jan 2012 - Lost & Found:
Does anyone have memories of or information on the Rev. Henry John Stone, who was vicar of St Michael and All Angels church, Walthamstow, until his death in 1962? His American great-niece is visiting Walthamstow in Summer 2012 and she would like to know more about him and his church work in our area. Many thanks,
Mark CARROLL
---
25 Jan 2012 - Local History:
Hello Daniel. In reply to Len Hall and Bill Bayliss' memories of the old Saturday Morning Cinema days, I well remember going to the Dominion with several other local boys to see the westerns and perhaps something like Flash Gordon. I think the westerns were sometimes pretty old even then (mid '50s) as Tom Mix often starred in them, and we would have preferred Roy Rogers or Hopalong Cassidy! Like Len, I also remember the side doors occasionally opening and flooding the darkened cinema with light, thus giving away the attempts to let in would-be freeloaders. At the end of the morning's show, and when we had watched the 7th Cavalry drive off the marauding Indians once again, we would leave the Cinema and make our way to the nearby bakers to get some rolls, either yesterday's at a halfpenny each, or some nice warm new ones at one penny. (No butter or anything, of course). We would then go around the corner into St. James Street and wait for the trolleybus to come along from Markhouse Rd. on it's way to the Billet.
If we were lucky, the next entertainment would be if the bus, when negotiating the tight s-bend at the bottom of the High St., would have it's overhead power arms come off the wires and so come to a halt. This was not an unusual occurence at this busy spot, and would mean the conductor would have to go round to the back of the bus, withdraw the long pole housed underneath and, to cheeky cries of encouragement from the passengers (us) attempt to replace the trolleybuses' power arm/arms onto the live wires above. I quite liked the old six-wheeler trolleys, they could take off with a surprising burst of acceleration, for such a large vehicle. Having mentioned the High Street, does anyone remember the Rossi's cafe at the bottom end of the market having a sign over the counter stating 'Only the best margarine is used in our buttered buns' It's true!! Happy Days.
Regards,
Jim PALING
---
24 Jan 2012 - 'Local History': 59 Melville Road
First of all, I would like to publicly thank Bill Bayliss for his valuable help in my research.
Following my fist email, some interesting details have emerged from official records about the previous occupants of my house. However, the information available is limited. Probably the best way to go now is to find the descendants of people who lived at the property. I am particularly interested in contacting any relatives of Eric Stanley Morris (at this address from 1906 to circa 1919) and Mabel L. Bunting (from 1932 to 1957). If any of them see this message, please get in touch.
Many thanks
Fernan GONZALEZ-TORRES
---
23 Jan 2012 - 'Family History' - Dowling/Barnaby:
Hi Daniel, have just come across your website, really fantastic. I grew up at 145 Barclay Road, and went to Warwick Secondary School for girls, being born in 1951 and was known then as Susan Doerffer... would dearly love to be in touch with girls that went to that school when I was there... in particular would like to hear from my friend Rosemarie Titterton. Hope you will be able to add this message to all the others......Thank you so much...people can get in touch with me with my email address.
Susan DUNNE
---
23 Jan 2012 - Public Reply to Len AARONS (10 Jan 2012):
Hello Len, This was the 'Be Bop A Lula' tour as below:
Gene Vincent tour 10th January 1960 at the Granada Walthamstow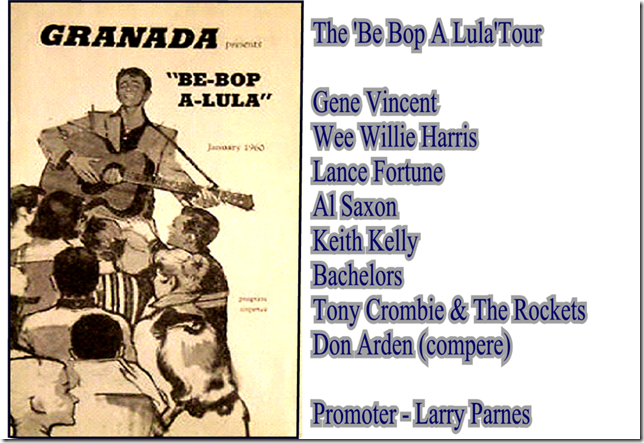 I met Wee Willie Harris in the late 1950's when he was resident at the 2i'S Coffee Bar. He was a great self publicist and seemed to turn up in all the skiffle and jazz clubs in the West End. At the beginning of the tour Lance Fortune was an aspiring pop star who had been 'discovered' by Larry Parnes in the 2is. (There's a common theme starting to emerge here). Later that year he had a pop hit with 'Be Mine' and released a number of other records that didn't sell so well.
Al Saxon was one of the resident singers in the TV pub variety show 'Stars & Garters', hosted by Ray Martine. (Other resident singers were: Vince Hill, Kathy Kirby, Tommy Bruce, Clinton Ford & Julie Rayne) He had chart success with 'The Days That The Rains Came' and 'There I've Said It Again'. I think that he went on to have his own band.
Keith Kelly (Who looked a bit like Buddy Holly) is another singer who was spotted (By George Martin) at the 2i's. He had a song 'Tease Me' that reached the lower end of the music charts.
Bachelors. I've no idea who these were. The famous Irish singers Con & Dec Clusky (Who formed the famous Bachelors group in 1962) were touring Ireland in 1960. Tony Crombie & The Rockets. Tony Crombie was a jazz musician . He formed a rock and roll band called 'The Rockets' in 1956 which was modelled on Bill Haley & The Comets. In 1956 he had a big chart success with 'Teach You To Rock'. Later he toured with famous artists that included Lena Horne & Tony Bennett.
I couldn't possibly finish without saying that it was only a few months later that Gene Vincent was injured in a car crash. With him was one of the greatest rock and roll artists of all time - Eddy Cochrane - who received brain injuries from which he died.
Respects
Bill BAYLISS
---
22 Jan 2012 - 'Family History' - Dowling/Barnaby:
Hi, I am trying to trace my mothers parents. My mother was adopted at an early age and all she has is a birth certificate and she was told her father was dying of TB when she was born. On her birth certificate, her father is Richard Henry Dowling, Motor Driver of 86 Pretoria Road, Leyton. The year is 1935. Her mother is Dorothy Dowling formerly Barnaby. The couple also had a son, Peter, in 1933. My mum's name is Marjorie. I cannot find their marriage or his death. I wondered if anyone remembers a motor driver of Pretoria Road in the 1930's. Thanks
Jenny SIMON
---
22 Jan 2012 - 'Personal Memories - Flossie Morriss':
Hi Daniel, Thank you for replying!
This is my nan's story, I spent many weeks with her when I was young, and heard many stories of the London bombings, air-raids and billeted soldiers. Somewhere within my family there exists a painting entitled "Ye Olde Corner Shoppe in Walthamstow". I remember my grandparents as kind. In particular, I remember my grandmother telling me that I never, ever had anything to fear, unless I had done something wrong. To this day I consider this the most wise piece of advice and intend to follow it to the grave.
What she never mentioned in her autobiography, which of course she could not because her death preceded the event, was the obliteration by bushfire in 2009 of the beautiful hand-crafted log cabin built by herself and Richard (Dick) Morriss when I was a child in Narbethong, Victoria, Australia. I was there, at age three, the day they laid the concrete slate, forty odd years ago.
I would love to hear from anybody who recognises someone in "Florrie's Story". In particular, I am trying to work out where 'Morriss' - with the double 'ss' diverts from or relates to any other Morris - people. I am looking for lost family.
I married into the name 'Magnifico'. My understanding is that it originates from "Magnafico" which probably means "Eat Figs", and may have been erroneously or humourously translated to the former by someone with poor translational skills or a good sense of humour.
Kind regards and looking forwward to a genuine reply,
Claire MAGNIFICO

From Daniel: You can read 'Florrie's Story' in the 'Personal Stories' section or clicking [here]
---
22 Jan 2012 - 'Personal Memories - Flossie Morriss':
Hello Daniel and John, My name is Claire Magnifico (nee Morriss) and I live in Melbourne, Victoria, Australia. I am a granddaughter of Dick Morriss (brother of Marjorie) and Florence Marter. My grandmother, Florrie Marter, moved into 18 Parkstone Road, Walthamstow in 1910 when she was one year old with her parents William and Ellen (nee Cobb) and two older sisters Nell (5) and Nancy (3).I recently came into possession of a copy of my grandmother's journal which she wrote in about 1989 detailing her life as a child in Parkstone Road, Walthamstow. It is quite detailed and talks about a lady, Ethel, who would come and collect things to take to the pawn shop, the organ-man, the coal-man and his draught horse, and a knife grinder man. William Marter was injured in France in 1915 and my grandmother wrote that she remembered visiting him in Middlesex Hospital in London and handing out packets of Woodbine cigarettes to the wounded in other beds and receiving kisses! She mentions Hollow Pond, Wood Street Baptist Chapel, a neighbour Mrs Tilling, seeing the first German Zeppelin in flames and Epping forest. Also an Uncle Jim a soldier who would come to stay when on leave from Burma or India. I thought after finding your site I would contact you in case any of your members recognise any of these names and are interested in having the full copy of the journal, which I would be happy to forward. Kind regards,
Claire MAGNIFICO
---
21 Jan 2012 - Public Reply to Fernan GONZALEZ-TORRES (18 Jan 2012):
As you know, I have sent you information about the occupancy of the 59, Meville Road in 1911 and 1901. I would also advise you that according to AD Law's 'The Streets of Waltham Forest'- Melville Road was first occupied in 1884 and the road was made up in 1894. It is named after Viscount Melville. Respects,
Bill BAYLISS
---
20 Jan 2012 - Public reply to Bill Bayliss: Saturday Morning Pictures:
I enjoyed Bill's latest article in the memories section about the Saturday Morning cinemas.
I was a regular at the Dominion in Buxton road and there were two things that Bill did not mention in his excellent (as always) article.
One was the huge theatre organs that would precede the cinema productions at the Grenada and the Dominion. They were splendid looking instruments that would rise up out of the bowels of the stage somehow and then the music would commence.
Another feature that I shall always remember was the thousands of concaved depressions in the outer wall of the Dominion, where over many years we had queued up waiting for the doors to open. What we would do is to get a coin, the bigger the better, and place it against the wall and rotate it backwards and forwards. The harder one pressed the more the brick dust fell down and so the depression was started and no doubt continued by the next person who stood and waited.
Another thing that occurred to me and that is... what our parents got up to whilst they had a few spare hours on a Saturday morning. Such joy to get rid of the kids for a few hours and all it cost was sixpence each!
Len HALL
---
19 Jan 2012 - Public reply to Bill Bayliss: Saturday Morning Pictures:
Many thanks for cinema memories! My best memory is the Granada password which we shouted ADANARG !!
Alec SMITH
---
19 Jan 2012 - 'Walthamstow: Past & Present':
I would like to say thank you to Jean Robinson for the information that she recently sent me on the shops that existed in Wood Street in the late 1950's/early 1960's. I have now added them to my latest project, 'Walthamstow: Past & Present'. Copies of this project are free in January 2012 to anyone who requests a copy. From the 1st February there will be a small charge of £3.00 to cover costs and postage. For more information about this project please email me.
Dave HUGHES
---
19 Jan 2012 - Public Reply to Margaret SMITH (3 Jan 2012):
Dear Daniel & John, I am representing the new e-magazine created by 4 pasionate journalists "Milling Around". We are a part of the new charity called "The Mill" located at Coppermill Lane (former Walthamstow library). We decided to collect all possible archives, memories, stories regarding Walthamstow and publish them online. I'm in touch with the Vestry House Museum and a few other organisations as well as a few bloggers. I have just found your fantastic website and I decided to get in touch with you. I was wondering whether I could get your permission to use some of your website content, of course, crediting every piece to you and linking your website to ours? It would also be interesting to meet you for an interview and talk to you about your project. Please let me know what do you think. Best regards
Filip CUPRYCH
---
19 Jan 2012 - Public Reply to Margaret SMITH (3 Jan 2012):
I have sent you a private reply with my rub-out of your Wager paternal family tree. I'm pretty sure that that Alexandra Street was in fact Alexandra Road and was one of the roads off Boundary Road near St Saviour's Church in Markhouse Road.. My logic for this is that on the 1901 Census your Wager family are listed as being in Alexandra Road and the entry above shows an address in Sylvester Road.
If you use Google maps you will see that there is now an Alexandra Avenue with a Sylvester Road at right angles to it on an estate that was built in the 80's.
Respects,
Bill BAYLISS
---
19 Jan 2012 - General:
Just a very quick message to say how delighted I am to have come across your site. I was born in Thorpe Coombe Hospital in 1963 and spent the first few years of my life living on the corner of Markhouse Road and Camden Road in flats that are still there (Now it's Ashford Close). I've not been anywhere near London for many years but your site is a joy to look through and gives me some good sense of my Walthamstow roots from up in north Lancashire. I'm looking forward to some long hours of browsing your pages.
Colin BARNES
---
19 Jan 2012 - Family History:
Hi, I am tracing my family tree I was wondering if anybody new anything about my great nan Doris May Newman and grandad John English, they were the first couple to have triplets in Waltham Forest on 17.11.1932. The triplets are called Beryl, Maureen, Royston, they also had Victor and Gordan. I believe they lived on Barcley Rd and Newbank road and Wood st way, if you have any info please email me many thanks
Emma MAHON
---
18 Jan 2012 - Local History:
Hi Daniel, I am trying to research the history of the house at 59 Melville Road, where I live at the moment. Any information and pictures will be greatly appreciated. Kind regards
Fernan GONZALEZ-TORRES
---
14 Jan 2012 - Topography:
Hello Daniel, I am trying to locate where my great grandparent lived: I think the address was 14 Alexandra Street Walthamstow. Does it still exist ? The family name is Wager. Thank you
Margaret SMITH
---
14 Jan 2012 - Local History: Saturday Morning Pictures:
Daniel,
While the campaign to re-open the EMD Cinema in Hoe Street (That I remember as the Granada) drags on, little attention is paid to the fact that Walthamstow once had many cinemas and that a big part of people's memories of Walthamstow cinemas are about their attendance at Saturday morning pictures. So.. I have written a short piece that I hope will jog the memories of those who remember the Walthamstow of their youth. [read it here]
Respect,
Bill BAYLISS
---
14 Jan 2012 - Lost & Found :
Daniel,
Many thanks! I have in the last week received a reply from somebody who knows Derek and he put us in touch. It has been wonderful to talk about our youth in the 1960's and we will be meeting up as soon as we can. A million thanks for the site and the help it afforded me in finding my old work mate.
John SERGEANT
From Daniel:
Thanks to who answered your 'cri de coeur'! I'm ever so happy that you were able to catch up with your friend!
---
10 Jan 2012 - Public reply to Bernard PRICE (06 Jul 2011):
Hello Daniel,
I just found Wathamstow Memories website..It's great! Anyway, I'm a Walthamstow born lad, Thorpe Coombe - 1945 and remember going to the Granada cinema in the 1950's.
The one live act I saw there around 1958 or 1959, if memory serves me well, was Gene Vincent and the Blue Caps (I thought it was Blue Jeans until I just Googled him). My pals and I were big fans of his then and our parents finally bought the tickets for us to see him, after much badgering I must say.
The place was filled to capacity and the atmosphere was electric as we waited for the show to start. I don't remember if there were other acts beforehand but when Gene was about to come on, there was an announcement over the speakers to say that Gene Vincent was unable to perform due to illness. The whole place erupted in groans and general disappointment noises, when all of a sudden we heard "Be-Pop-A-Lula" being sung slowly with no one on stage. Gene was singing off-stage and the crowd went nuts as he limped on stage singing his trademark song. It was fantastic! He actually brought the place down, what a great show.
That was my first ever live concert and I have never forgotten it, what a thrill! So thanks for jogging my memory about the Granada Walthamstow.
Len AARONS
---
10 Jan 2012 - 1st time writer :
I would like this to be added to you interesting website.
I was born at Thorp Coombe hospital 22 April 1950. Both my parents, grandparent and great grandparents are from Walthamstow on both sides of my family.
During and after the war my dad's parents and my parents lived on Diana Rd numbers (14 and 39) and then 9 months later we moved to Mansel Grove. My older sister and I attended Chapel End and, according to my grandmother, she was one of the first students to attend the opening. My great grandmother lived on Nettle Rd. Both my parents when to George Monoux school and my dad Fredrick Thompson was a schoolboy champion swimmer. My mother's maiden name was Wilson and she was one of 14 (not a typo!) kids who lived in Walthamstow.
At age 8 we moved to Chingford but my grandparents, Mary and Fred Thompson continued to live on Diana Rd until she died age 82. I would stay with here often and usually would buy her beer from the off license on the corner of Diana and Forest Rd or sweets from across the road at the sweet shop on Forest Rd. Which leads me to and interesting story.
I was in my 20's when as usual I stopped at the sweet shop on my way to visited Nan (grandmother) on Sunday afternoon when I noticed that it had hardly any sweets or newspapers for sale and instead it had handmade pottery on the shelves. The proprietor, Miss Elizabeth Elton and I got to chatting as I was also interested in pottery having gone to Loughton College in the 60's to learn to be a graphic designer. She seemed very old at the time with lots of gray hair's, probably in her 50's. After a while she invited me to her living area above the shop and we literally talked all night. She wanted to live her dream to become a pottery and if that meant living on cabbage and potatoes so be it. She was friends with other quite famous potters and several articles were written about her during that time. Alas I have not more information about her. I would love to know more about her as she was an inspiring women.
I moved to California in 1978 where I live today.
I have so many stories. Many war time ones from my 100 year old aunt who is still as sharp as a tack. Emails are welcome.
Sincerely,
Jacqueline THOMPSON
---
08 Jan 2012 - War over Walthamstow :
Hi Daniel and WM friends,
As you are aware my wife and I live in Perth in Western Australia. This week I had a call from one of my grandsons named James Hall aged 10 who lives in Hassocks which is in West Sussex. He told me that he has a school assignment this week and the task is to ask your grandparents for their wartime experiences. I wonder how many of our members have been asked for something like that. And so I have written down here what my wife and I sent to him yesterday.
I must say that I have heard my wife's story many times but it was only when I put it into writing that I realized just how close our 'Hall dynasty' came to being non existent.
-------------------> [ Read Len's article here, on the 'Personal Stories' section]
Len HALL
---
08 Jan 2012 - Lost & Found :
I am looking for any information on my relatives 'Hilliar' who lived in Brookdale road. Can anyone help please?
Jane HALLIDAY
---
08 Jan 2012 - Public Reply to Gerry Creasey (03 Jan 2012):
I am in two of these photographs, one in primary and the other in secondary. My name is Pete Perry, and I used to draw a comic called 'Komic Kapers Weekly' (known by everyone as 'The KK') every Tuesday since I was 11 years old.
There are copies of it on our website: http://www.widgeripoo.net
Go into the link and then on to 'Archives' or go to straight to: http://www.widgeripoo.net/home/archive_part_one
Pete PERRY
---
05 Jan 2012 - Public Reply to Grant Edwards (03 Jan 2012):
Hello Daniel,
I can only concur with my old school colleague Grant Edwards regarding the borough status of Walthamstow. I was born in Walthamstow just before the war and as thus I am an Essex man. To be born today you will be a Londoner. From 1894 until 1926 Walthamstow was an Urban District, when it became a Municipal Borough. This is how Wikipendia describes Walthamstow though, as we all know, the Royal Charter was not received by Sir Courteney Warner until the 10th October 1929. The London Borough of Waltham Forest came into being in 1965 with the demise of the old London County Council and the formation of the 32 London boroughs which in the east took in parts of Essex.
The expansion and formation of London and its various boroughs, Urban, Municipal and Metropolitan, is rather complex, but can be followed by using search engines on the subject.
Apart from the error of calling Walthamstow a County Borough there is sometimes confusion as to the boundaries of Walthamstow. Some people believe that Walthamstow consists only of the E.17 post code. Not so! The Post Office had its own agenda, when deciding on its post code boundaries...
Though most of Walthamstow is in the post code of E.17 there is a part of Leyton that has this post code and, on the east side, there is part of the E.4 district that is in Walthamstow. The boundary with Leyton is indeed Boundary Road continuing along that line and only includes the part of Lea Bridge Road from Grove Road to Wood Street. My family's old home, near to the Walthamstow Stadium, had a South Chingford E.4 post code but was in fact within the boundary of Walthamstow. The E.4. district boundary with E.17 was along Wadham Road and Walthamstow Avenue, which became the North Circular Road. So from that boundary and up to Highams Station Avenue was part of Walthamstow as is Highams Park and Hale End both with the E.4. post code. A good reference map of Walthamstow can be found in the book War Over Walthamstow by Ross Wyld and I believe the same map was used by Brian Evans in his book Bygone Walthamstow.
Kind regards,
Rodney SILK
---
05 Jan 2012 - General:
Tote Bag received today, many thanks, and for the enclosures. Just for the record, I have always had a special interest in the Borough, I was born in Gosport Road at the junction of Ringwood Road in Dec., 1932. Spent most of my growing up years in Brettenham Road. Was educated at Chapel End School, commencing at 4years old and leaving when 14 years old. Was married in the Methodist Church (sadly no longer there) in Penrhyn Crescent. Left the Borough round about 1959 for the Southend area and moved to the East Midlands with the Company I worked for in 1973. Have so many happy memories of Walthamstow. I wish you all well.
Ted EMERY
---
05 Jan 2012 - Walthamstow at War:
I have just been reading Bill's account of airships during the war, and what a stirring story it was, however it also has a very sad side that was not mentioned: we always think about wars from a very one sided viewpoint, but there are two sides to every story.
I was born in 1937 and I grew up with a father who hated Germans, and he also considered Winston Churchill to be a war monger what ever that meant. And so I have to admit that I reached maturity almost wearing 'blinkers' and hearing my dear old dad's strong beliefs forced upon me.
However, the other side of the story I hinted at was the families of those guys who were burnt to death in the airship: were their sons there voluntarily or just forced to fight because they were able to do so. My eyes were opened up recently when I read a book called 'The Book Thief' written by Markus Zuzak, who resides in Sydney. The book is a New York best seller and well worth reading. The story is narrated by 'Death' himself which makes the story very interesting.
If you are aware of 'the Anne Frank Diaries', then you will have some idea about what 'the book thief' is about. Yes it is a story about Germans who lived in Nazi Germany and saved Jewish people and, in this case, by hiding one such Jew for years in their cellar. The girl who is actually the book thief grows up stealing a few books and that is where the title comes from. Please try and get a copy of this book, which is available on Amazon (or in my case in the library) and read about the other side to the story. And remember that there is never anything glorious about a war, just lots of death and suffering for both sides.
Also, I have come across an article about rationing during the last war. Rationing commenced in Britain in 1940, not long after the onset of world war two, with petrol being the first item rationed. However, no one was allowed to buy petrol anyway without a special permit and that petrol was coloured to make it difficult to purchase on the black market. Nearly everything became rationed, most foodstuffs, clothing etc. Bread was not rationed until after the end of the war, but people used to get what was called 'austerity bread', which used the entire ear of wheat and was almost black and was quite indigestible. Even after the war, rationing continued in Britain. It was not until July 1948 that flour came off rationing. Then each year after that, rationing was stopped on various commodities, such as soap (never worried the poms LOL) clothes, sweets, and sugar, and then tea, with the last of the food rationing ending in July 1954.
Len HALL
---
04 Jan 2012 - Local History:
Hello Daniel,
My thanks to Rodney Silk for at last solving the riddle of where, locally, was the Lamb's car showroom mentioned in previous postings. My interest in this is that the company seems to have had some very expensive cars on offer just pre-war. The Cord has already been seen. The attached photo, taken at the same date, shows that Lamb's also had at least two Rolls Royce cars on offer at this time. The Rolls Royce Enthusiasts Club have identified the cars as both being 1937-ish Phantom IIIs, making them the most expensive model then produced (one of them survives to this day in Switzerland, the other is 'fate unknown'). I believe the third car visible is a Packard. These are the sort of cars one might expect to find in a top London dealership or showroom, but not, perhaps, so close to home.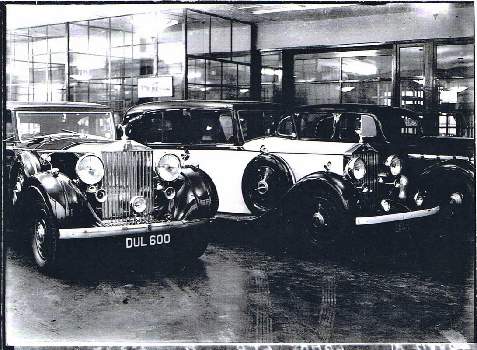 Lamb's car showroom - Rolls Royces
(Click to enlarge)

Thanks also to Rodney for the nice picture of his Uncle's Buick, which would be an 8 cylinder car as Buick stopped making 6s in about 1931/32, producing only eight cylinder cars for the following 30 years. The car is almost certainly a 'McLaughlin' Buick, meaning that it was produced at the company's plant in Canada, and in right-hand drive form. As a Canadian product, these cars were able to avoid the import duty levied on similar vehicles made at General Motor's Flint, Michigan, Buick factory, when brought into the U.K.
Two fine examples of this make have been in our immediate area for a very long time. A 1939 convertible lives in Chingford, and is still regularly used by it's long term owner, who restored it many years ago from a very poor condition, and a 1937 sedan lived in the Higham Hill area of Walthamstow for about 40 years until 4 years ago, when the couple who have owned it all that time, moved to Australia, and took the old car with them. It seems Buick cars inspire long-term ownership!
Jim PALING
---
04 Jan 2012 - History Project:
Hello, my name is David Hughes and I have recently undertaken a project about Walthamstow called, 'Walthamstow: Past & Present'. This project will be in Word and Excel formats and will be in several files, listing businesses that have ever existed in Walthamstow, names of roads and streets from the past to the present day and bands/performers that have ever appeared at a Walthamstow venue. So far i have 46 live music venues listed, along with a listing of who played there and when, 1,954 businesses, 696 roads and 4,837 performers who have performed live in the borough. Obviously this project is well in its infancy and lots of work will need to be done. All and any help would be very welcome.
During January 2012, if anyone living in the UK would like a free copy of the project to date, please email me your address and I will forward you a copy. From the 1st February there will be a small fee, including p&p. Thank you, Regards
Dave HUGHES
---
03 Jan 2012 - Public reply to Derek Polligton (10 May 2011):
Hi Derek, I too was a student at Mission Grove School in the fifties. I was born in 1947 in Thorpe Combe hospital in ForestRd. I remember my first day at school quite clearly. Miss Franklin was the teacher, and I remember a David King who had the job of looking after me, the new girl. I was head girl for one term, although I don't think Miss Witherwick approved! I also had Miss Pope, I think she was in the infants, although I'm not sure. Miss Ralph was my favourite, she later married and became Mrs. Pettit. We lived in Selborne Rd opposite the railway line. We used to ride on the train between Hoe St. and St. James St. and wave out of the window to our friends. Saturday morning was spent at the Granada, and then down the High St. for a bag of chips and a sarsprilla, cold in the summer, hot in winter. We moved away when I was 12 but those childhood memories stick. Susan WHITE(nee NEWITT)
---
03 Jan 2012 - General:
Hi Daniel
Just a note to thank you and your editorial staff for this splendid publication. You do a grand job, bringing back so many memories for us "oldies" who have begun to forget just what it was to grow up in Walthamstow (Highams Park in my case) during and shortly after the war.
Only those even older than I am will remember the trams running through the borough (until as late as 1940 on one route, I believe), but one of my Christmas presents this year was a copy of "Walthamstow and Leyton Tramways" by Robert Harley from the Middleton Press (ISBN 1 873793 65 0), which I can thoroughly recommend to readers. It was published back in 1995 and is full of fascinating photos, in which not only the trams but also the street scenes make interesting viewing, especially under a magnifying glass, as they show so much detail. Whether new copies of the book are still available, I don't know, but I dare say Amazon will help to locate good second-hand ones if not.
Do you mind if I mention one inaccuracy on the home page? At a risk of nit-picking I think I ought to point out that Walthamstow was never a county borough, even though after the second world war I remember there was talk of it applying to become one. There were only ever three county boroughs in Essex. West Ham was created one in 1889, Southend-on-Sea in 1914, and East Ham in 1915 (against the wishes of Essex County Council). This can be verified by looking at the Wikipedia entry for Essex or googling "Essex county boroughs".
I think it was in 1974 that the title of county borough was discontinued when the local government reorganization took place.
Incidentally, I was interested to find the christening of one of my former classmates from Selwyn Avenue Junior School on the list of marriages, baptisms and funerals taken from the St Gabriel's parish magazine. I assume his family must have moved out to Highams Park by the mid-1940s.
All the best. Keep up the good work! Sincerely,
Grant EDWARDS


From Daniel: Your thanks should go to all our visitors, some very keen and helpful, who provide me with their stories and pictures: without them, I would be without anything to show!
I'm glad you spotted the "borough" subject: sure it will raise some feedback by our 'historian' visitors: so I will let a few days go by, to see reactions...
---
03 Jan 2012 - Lost & Found:
Hi, My name is Gerald (Gerry) Creasey - these photos are from 1946 to 1951 in no particular order. They are all from Chapel End Secondary Modern except for the one from 1946 which was from Chapel End Primary. I have been in contact with a few of the faces, but if anyone recognise themselves would like to hear from them. These photo's cover the A_B_C & D stream of my year. I was in the B stream and I still remember the names of at least 80% of the class mates.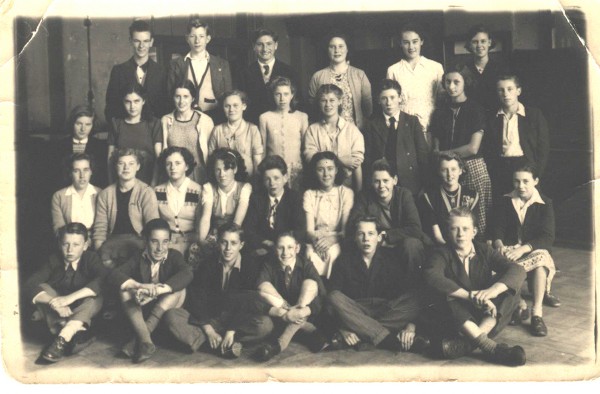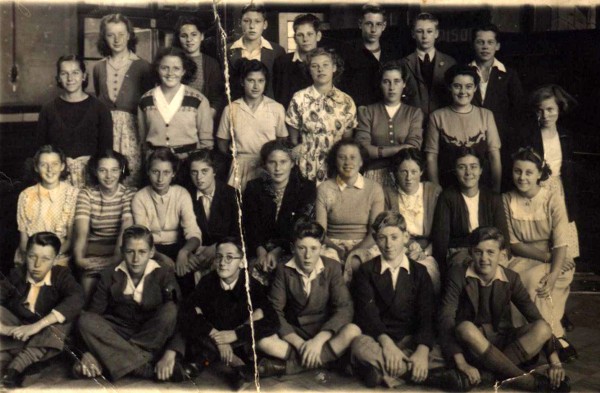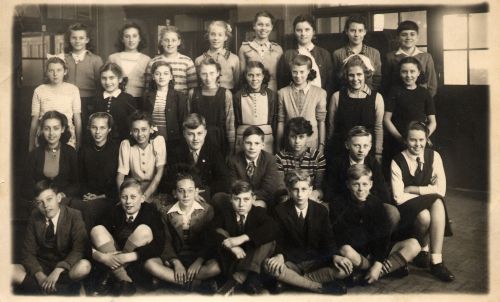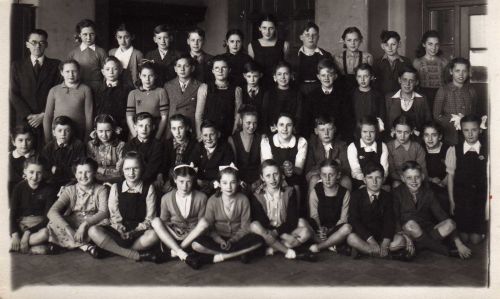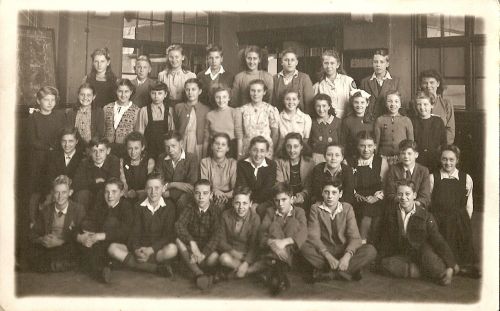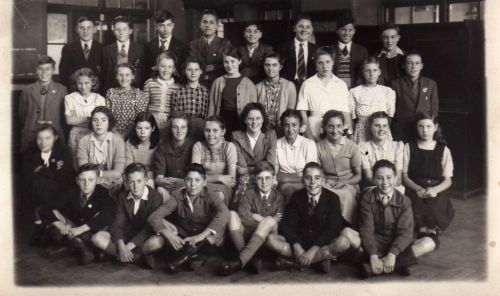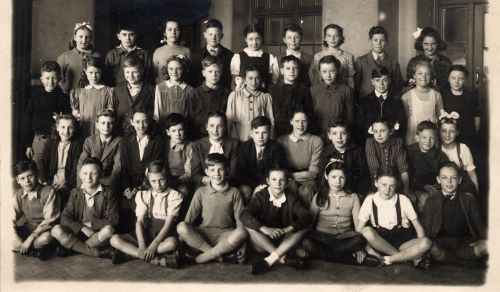 (I'm the 2nd on top row from left)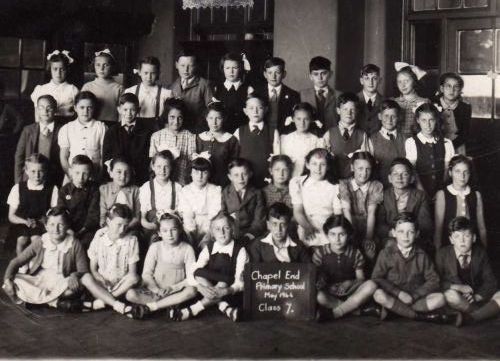 (I'm the 4th on top row from right)

---
03 Jan 2012 - Lost & Found:
Thank you for producing this great site, so interesting for ex-E17ers. I am trying to locate a long lost childhood friend Barry(ie) Reader. We lived next door to each other from 1937-1940-ish. He lived at 80 Beulah Rd. I at 78 Beulah Rd. We attended Maynard Rd Primary School together. From there he went to Joseph Barrett from about 1948-1953. This is when we lost touch. I'd love to hear from anyone who knew or knows any thing about Barry.
Malcom BECK
---
02 Jan 2012 - Public reply to Jim PALING:
Hello Daniel,
It was interesting to see the photos of the large American built limousines parked outside the Monoux Almshouses near to St. Mary's Church posted by Jim Paling. My uncle owned such a limousine in the 1950s which was purchased by him privately and used as a family car. This was a Buick 6 cylinder and looks to be a 1939 Special. The photo attached shows the car with two of my uncle's daughters and friends enjoying a day out in it.
I asked my uncle is he knew of a local car hire firm that used American limousines, perhaps just after the war, but unfortunately he did not. He indicated that the cars were relatively cheap to buy but were expensive to run due to their large engines so they were out of reach for most people. I remember a car hire firm situated at the top of Orford Road, just after the bend near Summit Road. I cannot remember its name but I never saw any American limousines parked there. The registration DYE 1 does not give much clue to ownership as a cousin of mine, a vintage car restorer, says that old registration records were destroyed. However, his book on registrations suggest that that number was issued in Hastings. Jim may be interested to know that my uncle owned two other American cars. A Hudson Terraplane drophead coupe and a 1938 22HP Ford V8-62. This last car was passed onto my father and it was a very comfortable and smooth runner. This American made model was taken up by Fords at Dagenham and, using the same body shell, produced the successful V8 Pilot.

With regard to the Lamb's garage question, the following is an extract from the 1938 London telephone directory.
Lamb's Ltd., Motor Agents
Opp. Hoe Street Station, E17 WALthamstow 2525
245, High Road, Ilford ILFord 0038
Standard House, Southend Road, Woodford Green WANstead 0123
In 1948 The Hoe Street address was dropped and there was an entry for 37, Station Road, Chingford E4 SILverthorn 1042

The Larkswood telephone exchange building was on the corner of Brookscroft Road and Roberts Road. It was opened in January 1934 and later took in the Walthamstow and Silverthorn numbers. The Woodford Green Wanstead exchange remained just after the war but was later absorbed into the Crescent exchange which took in Barkingside and Redbridge. I purchased the first of my Triumph cars from the Lamb's showroom at Woodford Green in 1968 and I attach a copy of part of the invoice which bears the Crescent telephone number. You may think this car, a Triumph 2000 Mk 1 looks cheap, but I had to dig deep to afford it at that time. Though Triumphs no longer exist, as sadly so do all other British makes of cars, I still run a 1973 Triumph Stag with the original engine.
Kind regards,
Rodney SILK
---
02 Jan 2012 - Family History:
I was born in Walthamstow.... Thorpe Coombe maternity hospital, in 1946. I lived in Gosport Road until I was almost 11 with my parents Tom and Marion Stow, and had two brothers Brian and Philip.
My photo was in the Guardian newspaper in 1953, as I was the smallest brownie in Walthamstow, having a form of dwarfism. I would dearly love to get a copy of that cutting, my original one got lost with moves etc., I understand you have to go to the archive office yourself to look. However, as I live near Colchester now that is not possible. If there is a chance that anyone has a copy of that newspaper, which I know is a "shot in the dark" I would really love a copy, paying expenses of course. Many thanks
Valerie SIMS (nee STOW)
---
01 Jan 2012 - Topography:
Hello there! I know I might be asking an impossible question, but this has been bugging me for years now. I grew up and went to school in Walthamstow. I attended Kelmscott school from 1990 to 1995. At the rear of Kelmscott school you have Longfellow rd which leads to a dead end/ Alexandra rd. I noticed that there was some writing on the road saying "bus stop". I can only assume that years ago there was no dead end as the housing estate in Alexandra rd is quite recent (mid 70's). By using google earth the writing on the road is no longer there. The question I am asking is: "Do you know which bus route used to pass through this area?". I've tried to use variuos sites but to no avail. Thanks.
Shaffick JHAUREE
---
01 Jan 2012 - Good Wishes:
Just to wish you a special New Year mate and hope all is well.
WMTS reunions still going strong. Regards
John NEWELL
---