---
18 Aug 2011 - MÜLLER: Seeking a miracle... ... to find the birthplace of my Gt. Grandpa Heinrich Christopher MÜLLER.
The Evangelical German Church of St Pauls [1880 London] Baptism Register of my Gt.Uncle, records (in German) includes the following details -

ELTERN - Heinrich Christopher MÜLLER - (parents)
Arbeiter aus - (looks like) EUPL, HANOVER - (Worker from)

He married 1874 in London, age 24 - his father's name was recorded as Peter MÜLLER, A Mariner

For some years my Gt.Grandpa worked as a Sugar Baker.
In 2010 I sought the expertise of a German Genealogist, based in Bremen, who extensively researched the archives for possible birth records in the parishes of ENDEL, ENSEN, EISSEL, ESSEL + INSEL for a Heinrich Christoph[er] MÜLLER, with a father named as Peter MÜLLER. It proved to be a very expensive exercise, without a positive result.
So, as a Worker from somewhere in Hanover, where might he have been born & in which parish? If there's a fellow ancestral researcher in Germany, who would find my quest a challenge too-good-to-ignore, please let me know. After a few year's of research in England, I have now found & purchased various certificates & documents of him, his Scottish wife & some of their children, to identify him as my Gt.Grandpa, linking me via my father's lineage. The records show that their German names were fully anglicised by the 1881 London census records.
Pam RAY [Private Reply] [Public Reply]
---
MCMILLAN family
22-Sep-2009: Hi! I just came upon your site during my search for information about my ancestors. My great grandfather, William John McMillan, and his family apparently lived in Walthamstow up until about 1920. His son, Henry (my grandfather), was an apprentice toolmaker at the AEC plant there. I think they may have lived at 40 Grosvenor Park Road because I came across that address scribbled on a WWI military record that may relate to his brother, Alfred, who worked for a music store before they all moved to Australia. I do know that my grandmother, Winifred Hope, met Henry while he was living in Walthamstow and followed him to Australia to marry in 1924. Her father, John James Hope, was a printer and the family lived at 26 Higham Hill Road. I am told the family attended a Baptist church in Higham Hill Road. Any information about either family would be most appreciated. Best wishes,
Jeff Bird, from Australia email

---
MONDAY family
28-Jun-2009: Hi Daniel and John, I would love some more information if possible to help fill in the life of my grandfather George Charles MONDAY. I found him on the 1911 census working and living at the COMMON GATE HOTEL, Markhouse Road, Walthamstow. He was 31 years of age at the time and later that year he married and immigrated to Australia. The licensed Victuallers were Alfred TOYE snr and jnr. The information from the census was so interesting as I have my granparent's autograph book signed by the TOYE family and many other people from Walthamstow - Steve BARKER, Clara SHORT, Thomas WEBSTER, Mrs DOILEY, Mr E. HASLER, J.P. NOLAN, F. G. HENNINGS, J. STEPHENSON (old ship-mate)?, F.C. SANDERS. Any information would be much appreciated.
Lynette, Sydney, Australia email

---
MAY family
22-Apr-2009: Hello from Downunder. Not sure if you are the right person to email. Just found your site. Am searching for information on my ancestors, the MAY family, specifically Charles and his family, who lived in Selborne Terrace and West Ave Road in the 1880's and 1890's. Charles was a member of the Brethren and a silversmith/clock/copper worker, who also had links to Birmingham. I have some census returns, but would like to know a lot more.
On the offchance there is anyone in cyberspace with some information or interest, would love to hear from them. Cheers!
Ruth Keane email

---
MORLEY family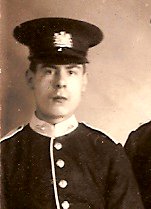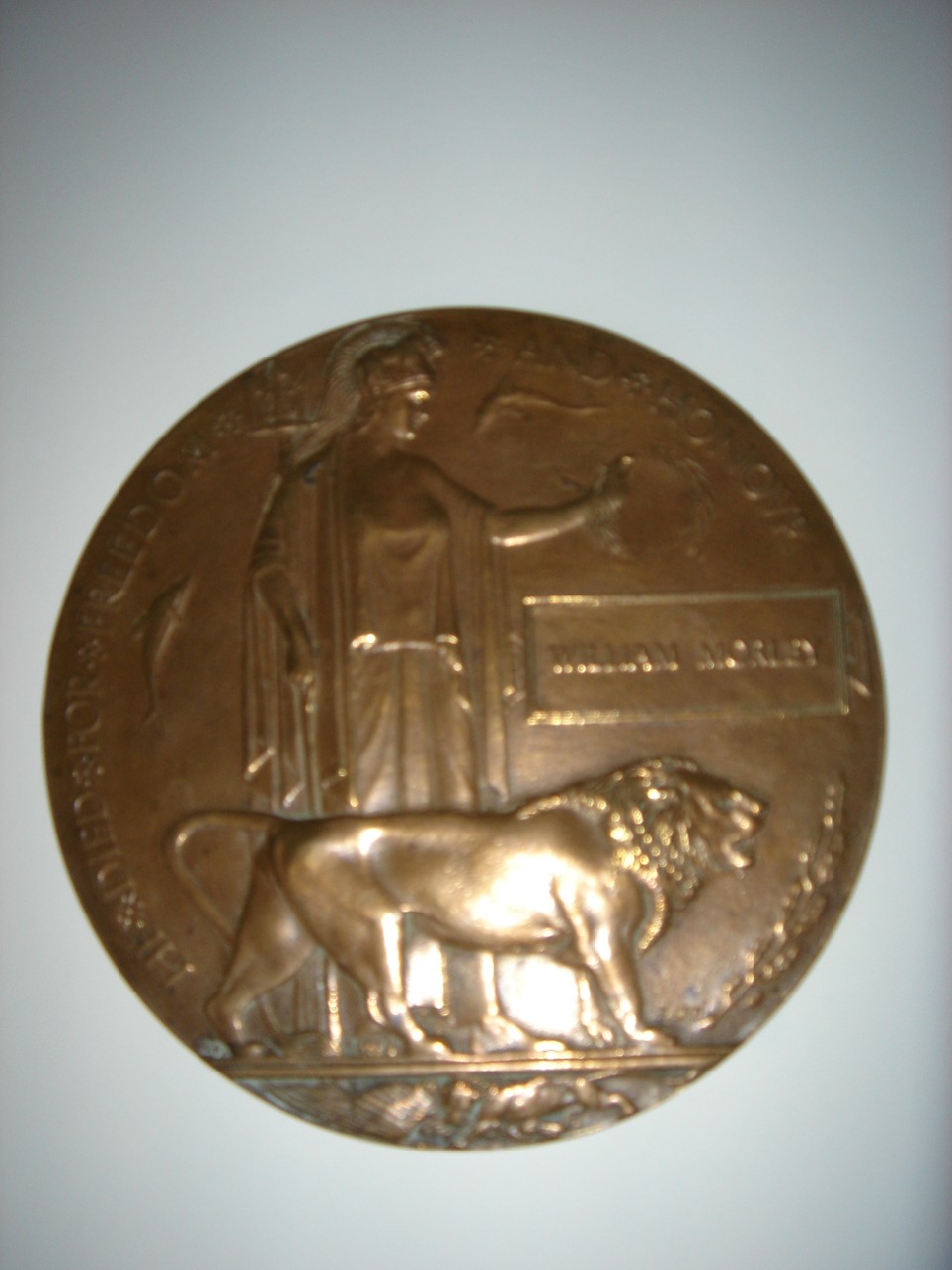 19 Apr 2009 Hello, I am attaching the promised photo of my uncle William Rhoden Morley, of 160 Forest Road, Walthamstow, son of William Theophilus Morley and Jessie Morley, who died in the battle of the Somme on July 8th 1916, aged 18. Also attached, for interest, is a photo of his memorial plaque. These bronze plaques were presented to the families of all who fell in the 1914-18 war. (I once saw one on display among a collection of horse brasses surrounding the fireplace of a pub in Surrey! However, I said nothing because I felt nobody would care, or understand, why I was so appalled! I also have a picture of my grandfather's boot and shoe repair shop at 160 Forest Road, but can't lay my hands on it for the moment. Vestry House has a copy, though.
Keep up the good work - the Walthamstow Memories will be an important social document and local history resource one day. If I can help in any way, please let me know. Kind regards,
Pam Stockwell email



---
MILLER/MULLER/STEWART/SCOTT - UPDATED VERSION AS AT 10 June 2010 - My paternal Gt.Grandpa's birth name was Heinrich Christopher MULLER (b)c1850 somewhere in Germany. He met & (m) Jane Eliza SCOTT [b.c1854 somewhere in Scotland] in St Georges in the East, London 1874 - his father was recorded as being Peter MULLER, a Mariner & hers was James SCOTT, a Soldier - but neither acted as a witness, so assume not present.
According to the various census, Gt.Grandpa's occupation changed quite a bit ie Sugar Baker, Labourer, Carman (transport), Shop Keeper & died in 1911 whilst working as a Gate Keeper for a firm in West Ham.
According to the various census, Gt.Grandma Jane Eliza often reversed &/or swapped the use of her first names. Also, their surname was Anglicised to MILLER by the time of the 1881 census. They had 7 children in all but some died very young. Their son Heinrich Johann MULLER [aka Henry John MILLER] (b) 1880 in St Georges in the East, London, was a sailor (not sure which service , but think he might have travelled to the Pacific - possibly as a passenger whilst in the navy!? He was living in Russell Rd, Custom House, West Ham when he died in Hospital, as a 'Retired' Seaman 1953. There don't appear to be any records to indicate that he had ever been married &/or had any children!?
Gt.Uncle Henry John was the older brother to my Grandpa Peter F MILLER (b) 1883 in St Georges in the East, London (m) Beatrice Mary STEWART in Walthamstow 1909 & (d) 1935 in West Ham. He'd been injured out of the Army c1914. My Grandparents Peter & Beatrice MILLER also had several children, some died very young but I now have certs of my Dad, Peter Henry MILLER, his brother Jim + sisters Harriet (aka Lily) & Elizabeth (aka Betty), all of whom I'd met at family gatherings, etc. Alas! All long gone now.
If anyone is PERSONALLY able to ancestrally link with above-mentioned souls to help me to add to &/or fill in some gaps, do please get in touch. I'd be more than happy to swap & share info with you.
[PS.: additional ancestral related details under: STEWART/SCOTT/MILLER/MULLER .]
Pam Ray (of Bristol) email
---
MILLERS family
Hello John, Since posting my Walthamstow memories of my mother's family, the Millers, at Tower Stables, my e-mail address has changed and could you please change it to tasjude@airenet.com I would also like to add another photo of my mom, taken in 1911. That would have been the year she and her family left Walthamstow for their new life in western Canada. She was 19. I have also since learned from the 1901 U.K. census that two of my dad's great uncles, Walter and George Richardson were also living in Walthamstow at that time. They were both bricklayers. I am sure that my parents wouldn't have known that, as they didn't meet until 1928 in Oyen, Alberta. Incidentally, my dad was a bricklayer, as was his father and grandfather, and as I was until I retired.
I would also like to thank Bill Bayliss again for contacting me with information about Tower Stables, the history of the area, and web sites that gave me pictures of the area. Walthamstow Memories is a wonderful, friendly place to visit again and again.
Thanks John, and all the best in 2007.
Tas Richardson email
---
MARKS/DANIELS
I am trying to find information about my great, grandparents Joseph and Mary-Anne Marks. Mary Annes maiden name was Daniels. Their daughter Doris (my nan) was born in Walthamstow in 1920, which makes me think they were living there at the time. They later had a son called Sidney. Any information regarding them, especially when and where they were married would be gratefully recieved. Many thanks,
Jenny Horrigan email
---
CARTWRIGHT & MONK
Both sets of great Grandparents come from Walthamstow. Monk and Cartwright. I am now trying to find out info on the Cartwright side. Alfred James Cartwright married Eliza Washington and lived at 27 Hartington Road Walthamstow in 1895. They had 11 or 12 children I only have Ethel's birth date.
1. Ethel born March 05, 1896 *** this is the direct relative Immigrated to Canada in May of 1919
2. Edith married Fred Aug 22, 1918
3. Rose
4. Minnie married a Harry Williams 3 children: Minnie, May, Alfred
Have a picture of Minnie with the Queen I am assuming it is Minnie's 90 or 100th birthday
5. Violet
6. Daisy
7. Violet have a picture of her with a goat
8. Alice: picture of her with daughter ?? May and son Ward
8. Herbert
9. Percival
10. Alfred
11. Thomas
12. Male
If anyone has info on this family I would be grateful to obtain any of it.
I have many pictures of the 1920-40 years of Walthamstow which I would be willing to share.
Debra Monk email
---
MARRIOTT AND PATON - I grew up in Walthamstow in the 1920's and 1930's and lived on Fleeming Close and went to Winn's Avenue School and lived near Lloyd Park. I am looking for people related to my Marriotts and Patons and also a school friend named June Keen.
Erica Paton Marriott (Harnett) now living in Canada email
---
MAZENGARBS
I am researching any Mazengarbs and connecting familiesmy grandmother Constance lived with her brother and sisters and parents Mary Ann and John Henry Mazengarb in the old school house, Vestry Road which is opposite Vestry House Museum. John Henry was a butcher, one in a long line of butchers going back through the generations. One being Charles Mazengarb from Essex transported to Australia for sheep stealing. During research I have found the early Mazengarbs/Massingarbs to be from either France of the Low Country (Belgium) Hugeunots/Walloons. Any information will be greatly appreciated, also happy to swop info.
Brenda Riddle email
---
MARTLEW
Please find attached a picture of my Great Grandmother Elizabeth Martlew (nee Cluff) that was taken when she was one year old in 1903. Pictured with her in the photo is her mother Elizabeth Cluff. My Great Grandmother celebrated her 102 birthday last Sunday 25th July 2004. Dear sir, Yours sincerely,Kylie Gilbert Port Augusta South Australia, Australia email
---
MINNS/DAMES
Hello, What a wonderful web site! I'm hoping someone is able to help me. My gt uncle John Royall Minns married Annie Elizabeth Dames at St Mary's church, Walthamstow in Sept 1888. He was described as a cook living at 9 Ravenswood Road and she as a servant of the same address. They subsequently emigrated to the USA via Australia and the Falkland Islands. The American side of the family have always believed that they were married in a church that was "owned" or on land owned by the Royall Minns family. Can anybody throw any light on this story? Or tell me if Ravenswood Rd still exists? I believe the Dames were cabinet makers in the area. Thanking you in anticipation. M Charlston email
---
MARSHALL
I must firstly congratulate you on your site. I came across this purely by accident and became so engrossed that I forgot my own mission. The letters and articles have evoked many a memory forgotten. I was born in Walthamstow in 1946 and lived at 5 Elm Road until the middle 70's. I too like many others am searching for the ancestors. My grandmother Frances 'Kate' Marshall (nee Walker) and granddad Frederick Marshall lived at 14 Selbourne Avenue from around 1909/10 until their respective deaths, granddad in 1929 and nanny in 1972. They had 8 children, Fred, Lilian (Parsons- my mother), George, Albert, Iris (Keene), Joyce (Smith), Flo (Mitchell, I think) and Bill. All of these children had children of their own, except Fred, so somewhere out there I have many first cousins that I have not seen or heard from for at least a quarter of a century. I am in the process of getting together the family tree but have so far been relatively unsuccessful on this side. I know that nanny was born in Alysham, Norfolk on 21/9/1885. If there is anyone out there that may remember this family or indeed are related to it, I would love to hear from you. Also whilst writing, I note that you have a number of letters from folks that now live abroad. I would also like to contact Dawn Collins who also lived in Elm Road until her mother Jean and brother Stephen moved to Australia in 1957. Dawn, or anyone who may have kept in touch with her, please drop me a line.
Your site is now on my list of favourites and I look forward to maybe being able to contribute from time to time.
Pat Durrant email

I emailed you a while back and you were kind enough to print my letter, asking for information on my grandparents. I have made the discovery that they had 9 children and not 8 and the one I missed was Edith 'Edie' (Ogden), who also live with her husband Fred and son Douglas in the same house. Doug married Helen (I think) who lived opposite and they then moved to the Lake district. Pat Durrant.
---
MELLUISH
My mother was born in Walthamstow in 1911 Myrtal st, near the lighthouse there were 7 in the family their father died when my Mother was 2 she was a twin her brother was Charlie, their surname was Melluish the other children was William, Doris, Connie,Rene and the other name I dont Know. the father was from germany, the mothers name was Sussana Frances Davis, and the Father William, I would like to know more about the family, as I dont know anything at all, I grew up in Chingford, but the war was on so we never saw anyone at all, I think that my g/mother died about 1961, but I`m not sure, also Charlie had a Daughter called June, who live in Walthamstow now. My mothers name was Gladys. Hoping someone can remember the family. Yours truly
Ruby James email
---
MASON
My gggrandfather Benjamin MASON and his wife Ann lived at 2 Pembroke Street from at least 1858 until his death in 1880 and hers in 1887. They were buried in the cemetary in Queens Road, but the grave was re-used in the 1930s. He also owned property in Eden Road somewhere. Has anyone any connection to this family ?
Gail Oliver email
---
MAUNDER/STONE /PARTRIDGE Does anyone have any information about William Daniel MAUNDER who married Ellen STONE? (She was the widow of William STONE and her maiden name was Ellen PARTRIDGE-MAUNDER). They were married at Chiswick Parish Church on 22nd December 1875. William D. MAUNDER is described seperately as Draper, Barriser of Law, and Gentleman on three documents that I hold. The address in Walthamstow is 6, Orford Road. Ellen is also described as Draper. They were the parents of my grandmother Ethel Daisy MAUNDER who was born 3rd September 1879 at this address. Hilary Redman email
---
MARTIN nee PARISER
I am trying to find out where my nan is buried and also if any one has any information about my family, I would dearly love to hear from them. My mum, OLIVE ROSE MARTIN nee PARISER died last December, and I would like to know where her mum CAROLINE PARISER is buried so that I can arrange to have her ashes put there.I live in New Zealand, and don't know how to contact the cemetary. I was a wee girl when nannie died, but I am sure that it was up the road from the lighthouse. My mum,(Olive) was born and lived in GLENTHORNE ROAD , she was the youngest. She had two brothers, George and Ernie and one sister, Ethel. My uncle Ernie married DORIS and they lived in Glenthorne Road, they had a son DAVID and two daughters JEANIE AND DIANE. My Auntie Ethel married JOE WOODS, and they moved to MOORLAND Road and had two sons BOBBY and PAUL. Uncle George had two sons I think, one called ERNIE. My mum told me that in the war they had two Anderson shelters in the back garden because her grandad, who lived in the flat underneath them, had had a stroke. Any information about my family would be greatly appreciated. My cousin Paul sent me a photo of my nan, grandad, three great aunts, a greatgrandad and two baby uncles, george and ernie out the front of glenthorne road with a model of the boat my grandad built. He was a merchant seaman. I've encluded an attachment of the photo incase anybody recognises anybody. Hopefully and with thanks Sarah McDougall nee Martin email

---

Copyright notice: Images on this site are reproduced for the purposes of research and study only. Whilst every effort has been made to trace the Copyright holders, we would be grateful for any information concerning Copyright of the images and we will withdraw them immediately on Copyright holder's request.