---
Family Searches - C
---
Use the alphalist below to find any of the family surnames that have been emailed to us. Where more than one name has been provided for a particular entry it can be found under any of the given names. If you are able to respond to one of these searches for past relatives then use the email address after each entry.
A B C D E F G H I J K L M N O P Q R S T U V W XYZ General

---
12 Sep 2017 - Family Search: CHAPMAN
Hi Daniel

I would like to know of anyone surname Chapman from Walthamstow.
My Nan was Maud Chapman and my grandad was Alfred.
They had three sons: Alfred, George, William and one daughter Alice. I am Ann and I am Alice's daughter I was born in 1946. I have lost contact with all my cousins and would love to have news of them. We used to live in Markhouse Road next door but one to the Mission Hall. My maiden name was Collier my elder brother was Tony. My nan lived in Markhouse Road until the mid sixties then she went to live in Gosport Road corner of Ringwood Road with my uncle Will and aunt Lil.
Anumber information would be welcome.
It is so interesting being on this site thank you.

07 Apr 2015 - Family Search: Cunnington
Hello there
I have just found this site and it is really lovely to see all the memories and stories.
I am looking for my Grandfather's family who lived in Walthamstow from 1905 onwards. His name was Harry Cunnington, he had brothers Benjamin, George, John. I know he married in 1922 to Ivy Rafter and had two children Leonard and Joy.
I know Walpole Road was one address at the time of the first world war and I am sure some of them must still be around. I would be really grateful for any information about them.
Once again great site.
As you know, I replied to you by the private Email facility, telling you that I had found a picture of William John Cardo in a St John's Ambulance uniform complete with medals and I suggested that he must be the Cardo family member for which the Cardo Memorial Hut was named. Unfortunately, at that time I wasn't able to give you the location of the hut.
I am pleased to advise you that I can now remedy this situation and tell you that I have found reference to the Cardo Memorial Hut in two successive reports of the Walthamstow Medical Officer of Health for 1933 and 1934. As a result, I am pleased to advise you that it was located opposite the Water Works in Forest Road.
http://wellcomelibrary.org/moh/report/b19876397/14#?asi=0&ai=14&z=-0.0349%2C0.8496%2C1.2604%2C0.5411
(1933)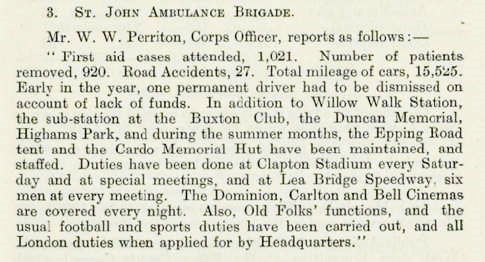 http://wellcomelibrary.org/moh/report/b19876415/17#?asi=0&ai=17&z=-0.3934%2C-0.0024%2C2.247%2C0.9646
(1934)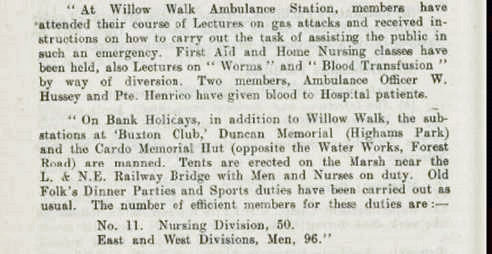 Respects,
30 Mar 2015 - Family Search: Cardo
Dear Daniel,
Back in January I emailed some queries about the Cardo family and have now received a helpful private reply. We are particularly interested to learn more about a building believed to be in a park/recreation ground close to a road junction on the Leabridge Road.
We now know that it appears to be known as the Cardo Memorial Hut. One website refers to its use as a first aid point on bank holidays by the St. John Ambulance Brigade in 1933.
Can anyone throw light on its origins, precise location and which member of the Cardo family it commemorates?
10 Jan 2015 - Family Search: Cardo
Dear Daniel,
We have been carrying out research into the CARDOs my husband's mother's family. I am wondering if any of your Walthamstow Memories correspondents might be able to help.
We were told some years ago by a chance acquaintance of a pavilion/summer house building on a sports ground on the Leabridge Road, bearing the name CARDO. It was near a road junction at which our informant regularly had to wait in the traffic on his way to London. Can anyone tell us about this? Several members of the family were active in sports and we would like to know which member of the family it commemorated, and its exact location if it still exists.
The Cardos were bootmakers, their business having originated in Plaistow and Stratford in the late 1800s, and a branch of the family had shops in Leytonstone (where they also had a factory) and in High Street, Walthamstow until 1926. Is there anyone in the Walthamstow area who remembers the shops, or maybe had relatives who might have worked for them?
CHATTERS & HAGGER - posted 12 Mar 2009
Does anyone have any information about a Chatters or Hagger family living in Walthamstow in about 1810? I am particularly interested in finding a baptism record for Thomas (Hagger or Chatters) who was born about 1810 and who was transported to Australia in 1829. Thanks.
Brian Chatters email
---
CUNNEW
I have taken on a huge task and at the moment am not doing very well!!! My grandmother Doris was born in Walthamstow in 1919, is currently 87 years old, and not in very good health. She has been trying to trace her brother and sister for over 70 years and has had no success; she has even tried Cilla Black on Suprise Suprise, but no success. I am hoping that perhaps you can help?
Her mother, Rosina CUNNEW (nee Hughes, born in Wales, had a brother called Bert?) died in or around 1926, and shortly afterwards, her father James CUNNEW took her younger sister, IVY CUNNEW, aged approx 5yrs, and her younger brother, JAMES (JIMMY) CUNNEW, aged approx 3yrs, for a 'bike ride'. He came back without them, telling my nan that they had been adopted by a rich family in Greenwich. My nan has been searching for them ever since. I have just started myself, but with very few details to go on, I am not doing so well!!
Please, if anyone can give me any information, it would be greatly appreciated. I think my nan has resigned herself to the fact that they may be dead, and that she may never find them, but it is such a sad story, and there must be SOMEONE out there that can give me some info - any info - on who the adpotive family are, or what king of agency was used - eg Barnado's, Salvation Army, church... I would dearly love to be able to give my nan the information she has been seeking for seven decades, if only to put her mind at rest. If you think you can help, please email me, or call me on 01733344142, or 07930335864.Thank you very much for your time,
Vicky Bennett email
---
CRUMP
I am trying to trace my birth father Albert Richard Crump, if anyone knows of him please contact me.
Jill Bates email
---
CARTWRIGHT & MONK
Both sets of great Grandparents come from Walthamstow. Monk and Cartwright. I am now trying to find out info on the Cartwright side. Alfred James Cartwright married Eliza Washington and lived at 27 Hartington Road Walthamstow in 1895. They had 11 or 12 children I only have Ethel's birth date.
1. Ethel born March 05, 1896 *** this is the direct relative Immigrated to Canada in May of 1919
2. Edith married Fred Aug 22, 1918
3. Rose
4. Minnie married a Harry Williams 3 children: Minnie, May, Alfred
Have a picture of Minnie with the Queen I am assuming it is Minnie's 90 or 100th birthday
5. Violet
6. Daisy
7. Violet have a picture of her with a goat
8. Alice: picture of her with daughter ?? May and son Ward
8. Herbert
9. Percival
10. Alfred
11. Thomas
12. Male
If anyone has info on this family I would be grateful to obtain any of it.
I have many pictures of the 1920-40 years of Walthamstow which I would be willing to share.
Debra Monk email
---
COOPER
Hello my name is Mark Cooper and I am doing family history research and was wondering if you could help me in any way. The people I am looking into is my grandfather and his parents. They are Cedric Norman Cooper born april 5 ,1918 30 York rd Walthamstow. His parents were Alfred Cooper( a blouse cutter) and Elizabeth Mary Cooper who was also Cooper before they married. Cedric married in Australia in 1940 and I believe that his parents also came to Australia . Any assistance would be greatly appreciated , with thanks.
Mark Cooper email
---
CURTIS & PREEDY
Hello, I am trying to trace anyone who may be related to or remember ELSIE MAUD CURTIS, born 1911 at 119 Lynmouth Road, Walthamstowe. She was the daughter of GEORGE CURTIS and EMMA PREEDY, it is believed died they around 1932. Elsie was last heard of in Guildford, Surrey. Any infromation regarding them or possible cousins, workmates, (George was a printing machine minder), would be of great value. Many thanks,
R Jackson
---
LUNN/CLARK/SAPSFORD
My husband's grandparents were married at St Mary's Church, Walthamstow in 1896. Albert Seaton LUNN had been born 1872c at Streatham in Essex but lived with his grandparents in Dogmersfield in Hampshire after his father died when he was about 10 years old. Edith Lucy CLARKE was born 16Dec1875 at Back of Castle, Parish of Walthamstow - the daughter of William CLARKE and Amelia SAPSFORD. In the 1881 Census, William and Amelia and their seven chidlren lived at 13 Payze & Gatehouse Cottages in the parish of St Peter in Walthamstow. The family continued to live in the Walthamstow/Woodford area for many years. William and Amelia's children were Amelia Selina, William J, George, Jessey, Marian, Albert and Edith Lucy - born between 1852 and 1875. Albert and Edith moved from Walthamstow soon after their marriage, living at Godalming, Wickam and Dover before leaving for Australia in 1912 and 1913. My husband and I visited Walthamstow in 1999 but did not have all this information at that time. We have a copy of Edith's birth and death certificates and the church copy of her marriage to Albert Seaton Lunn. Would love to contact any descendants of the CLARKE/LUNN or SAPSFORD families in your area. Do the addresses I have from the certificates still exist? Hoping to be able to further my research with your help Regards
Vicki Smith, Geelong, Victoria, Australia email
---
CRUMP
I am looking for any information on the Crump family of Walthamstow. George (packing case maker) & Charlotte Crump (nee White) lived in Cranbrook Road & South Grove and had several children one of them Henry Thomas Crump being my husbands Grandad. Some of their other children were put into Barnados Homes and sent to Canada. I think that both George & Charlotte were married before. Would love to know if anybody has any information on the Crumps please. email

---
16 Feb 2009 - Family Search: Counsell/Lee/Little/Quinn
I am working on my family tree, and would appreciate any information on these families, who lived in Walthamstom in the first part of 1900.
My grandparents (Daniel Joseph & Eliza Ellen neé Stacey) lived if the Ballard Almshouses (Maynard Rd), and later my grandmother moved into the Squires Almshouses.
My Aunt Nellie Kate Quinn (neé Lee) lived in (31?) Bacontree Avenue, with her sister Lily.
Enid May Counsell married my uncle Albert Edward Quinn, I believe they had a son called David in 1936.
Lastly, I've come across a Mr. L. Little, who lived (in 1935) at 354, Hoe Street and was also connected with the family.
Any - no matter how small - piece of information shall be accepted with gratitude. Thanks.
---